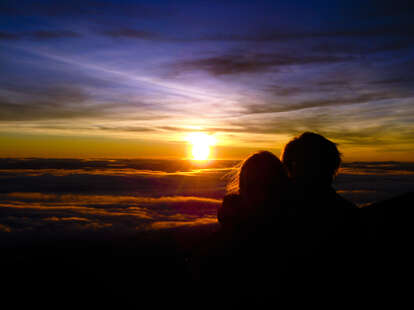 <a href="https://www.flickr.com/photos/awiederhoeft/3257323496" target="_blank">Flickr/_Wiedz</a>
<a href="https://www.flickr.com/photos/awiederhoeft/3257323496" target="_blank">Flickr/_Wiedz</a>
We know, we know, rolling out of bed early after a night out is the LAST thing you want to do on vacation. Isn't not getting up early one of the reasons you're on vacation in the first place? Wrong! Well, mostly right, but it turns out there are a few tourist sights around the world so spectacular when viewed at the crack of dawn that you're absolutely gonna want to set the alarm clock, no matter how hard you went the night before. Trust us, these are 12 of those sights.
Ganges boat ride
Varanasi, India
When you're waking up: 5am
Why you're letting tomorrow morning ruin tonight: Seeing the busy riverbanks in the morning glow is like stepping straight into the pages of Nat Geo.
With the first signs of the sun, pilgrims from all over India flock to the shores of the Ganges in Varanasi to bathe, pray, do laundry, and cremate their loved ones (but not all in the same spot!) before the heat of the day sets in. A one-hour rowboat ride -- which can be arranged in advance at your hotel -- up and down the bathing ghats offers the best view of the action. Whatever you do, though... DO NOT touch that water.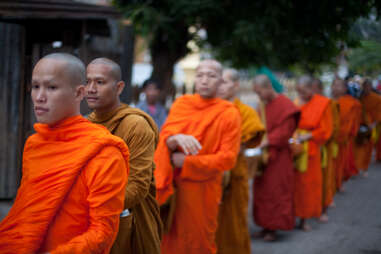 Giving morning alms
Luang Prabang, Laos
When you're waking up: 5am
Why you're letting tomorrow morning ruin tonight: The monks parade through town every morning to collect their daily food from devout villagers and onlookers.
The collecting of alms in Luang Prabang has become one of Laos' most iconic sights. The silent, single-file line of orange-cloaked Buddhist monks winds through town and tourists are invited to take part by placing morsels of rice into their collection bowls. Things are less crowded in the town's backstreets, where there's also a fascinating local morning market where they sell everything from eggplants and crabs, to catfish and live frogs.
Feeding the dolphins
Monkey Mia, Australia
When you're waking up: 6:30am
Why you're letting tomorrow morning ruin tonight: Daily dolphin interactions at Monkey Mia begin at 7:30am.
Jostling for a chance to feed a fish to a wild dolphin may sound gimmicky, but hey, SeaWorld stays in business for a reason, right? Western Australia's Monkey Mia beach is much cooler than SeaWorld, though, and allows guests hang up close and personal with Flipper in his natural environment. Just don't be THAT guy running down the beach trying to catch up with the dolphins as they swim away. Also, watch out for the emus -- they're scary.
Borobudur Temple
Java, Indonesia
When you're waking up: 3:30am (ooof)
Why you're letting tomorrow morning ruin tonight: Seeing the ancient temple at sunrise is nice, but real talk: this is Indonesia -- try to go places in a car during the day and you'll be stuck in traffic for hours. So you really have no other choice.
Borobudur is one of the world's most impressive ancient Buddhist sites that you've never heard of. Others have, though, and the place is heaving with tourists during the day. So, if you're staying in Jogjakarta as most visitors do, the hour-long drive is best started before sunrise when the roads are clear (still, rock that seatbelt HARD) and the temple grounds are empty. That sunrise photo op and the sweet tie-dye temple T-shirts sold in the parking lot are just added perks.
Chatuchak Weekend Market
Bangkok, Thailand
When you're waking up: 8am
Why you're letting tomorrow morning ruin tonight: This huge, covered-but-un-air-conditioned market begs to be hit before the heat and crowds set in.
(Fake) sports jerseys, harem pants, tie-dye, sunglasses, Chang beer tank tops, Thai iced tea, cutoff Levi's jorts, Buddha statues... we could go on and on -- this market is fantastic. Stalls open around 9am on the weekends and unless you want to pass that same Hello Kitty hair-clip stand over and over, we recommend that you set your sights on finding a map straight away.
Hot-air ballooning
Cappadocia, Turkey
When you're waking up: 4am
Why you're letting tomorrow morning ruin tonight: The alien-like landscape is best viewed from above in the morning light.
The lava features in the Cappadocia region of Turkey are locally referred to as "fairy chimneys," but, let's be real: those rocks look like... No matter what they look like to you, they're worth crawling out of your cave early -- yeah, tourists actually stay in caves here -- to hop on a hot-air balloon tour. Added bonus, the rainbow-colored, balloon-dotted landscape is the ultimate Instagram shot (Hefe with a ramped-up Lux, naturally), and really, isn't that the only reason we do anything these days?
Bali's morning market
Ubud, Bali
When you're waking up: 6am
Why you're letting tomorrow morning ruin tonight: After 8am, the local morning market shutters and the space is taken over by a typical tourist-trap souvenir bazaar.
Bali is beautiful, but we can't help but feeling like it's just a little bit too... well, Western, for us these days. Yeah, we said it. Which is precisely why an early morning walk through Ubud's market is the perfect way to score some actual local culture. Before dawn, Balinese vendors set out everything from flowers for prayer, to fresh meat and dried fish. Wear closed shoes if you're squeamish (there are some serious garbage heaps) and don't forget your camera. Or your iPad, if you're that guy.
Tuna auction at Tsukiji Fish Market
Tokyo, Japan
When you're waking up: 3:30am
Why you're letting tomorrow morning ruin tonight: Only a limited number of spectators are allowed into the 5 and 6am auction sessions per day, and the line to be one of the lucky few forms early.
Okay, admittedly, if you're not into huge warehouses full of raw fish, then this one might not be for you. Although look at the picture above -- that fish-mongering ninja looks pretty tough! Whatever. For everyone else, Tokyo's Tsukiji Fish Market is one of the most legendary places in the world (not on the set of an adult film studio) to be a voyeur. The tuna auctions that occur each morning see fish being sold for hundreds of dollars per pound (actually, kilo) and if you're early enough (and lucky), you could be in the room when those buyers do their auction thang.
Sunrise at Haleakala Crater
Hawaii, USA
When you're waking up: 2am (maybe just don't go to sleep on this one?)
Why you're letting tomorrow morning ruin tonight: If the sun rises between 5:30 and 6:30am and the drive is two-plus hours, you do the math. Also, the pregame stargazing is insane.
With a 10,000ft summit, the weather at the top of the Haleakala Crater is more like that on the moon than in the rest of Hawaii (the moon is cold guys, right?), but it's still way worth packing an extra sweater to watch the sun rise over the cloud cover. The parking lot might be insane and you might risk driving off the mountain while ascending in the pitch dark, but after getting lei'd, this is one of Hawaii's most iconic experiences.
Game drive
Masai Mara, Kenya
When you're waking up: 5:30am
Why you're letting tomorrow morning ruin tonight: You know how it gets hot in the middle of the day and no one feels like doing anything besides taking a nap under a tree? Animals feel like that too.
Your typical safari schedule at the Masai Mara Natural Reserve in Kenya will include two game drives per day -- one around 6am and one later in the afternoon. It's no coincidence that these coincide with the cooler hours of the day. During the early morning trip, you're more likely to spot that lion, cheetah, or leopard before its midday cat nap (duh). Most morning drives will include a bush breakfast too, so not all is lost.
Bagan temples
Burma
When you're waking up: 4:30am
Why you're letting tomorrow morning ruin tonight: Sunrise at Bagan is the new sunrise at Angkor Wat, but there's no nightlife in this temple town anyway.
These thousands of Buddhist temples and stupas were commissioned on the plains at Bagan between the 11th and 13th centuries, and while there are certainly plenty of remaining structures to explore by horse and cart or bicycle by day, there's nothing quite like seeing the site bathed in the pink light of sunrise. It's popular to watch either from the higher floors of one of the temples or from a hot-air balloon. Either way, be sure to take a walk through Old Bagan village right after to watch the young monks collecting alms and doing other morning monk-y things.
Chichen Itza
Yucatan, Mexico
When you're waking up: 5am
Why you're letting tomorrow morning ruin tonight: You could go to Chichen Itza during the heat of the day, but you'll be joining the rest of the party-hardy groups that come from Cancun and the flocks of vendors that arrive to meet them.
To hit the ancient Mayan ruins at Chichen Itza early, you'll either have to book a crack-of-dawn tour that's leaving from Cancun or the other east coast beaches, or stay the night in a town closer to the site. We know -- resisting a night of tequila shots at Señor Frog's is tough to do, but getting home from a trip to Mexico without just one cultural thing to tell your parents about is certainly worse. Of course, they wouldn't be mad, just... disappointed.