You've just landed in Thailand, the most adulterous country in the whole world. And, while you've been following these top 10 Thai Instagrams leading up to your trip and have some semblance of a plan, you're still not sure what exactly to hit while you're there.
Well, allow us to make your planning a little easier with these 12 things you gotta do in Thailand that do not involve recreating your favorite scenes from The Beach.
Travel through the city canals in Bangkok
With your journey most likely starting in Bangkok, you'll want to hit a few things in the city before venturing out into the countryside. Beyond the high-rises, Buddhist temples, and busy streets, the city boasts an extensive system of canals connected to the main Chao Phraya River that you're definitely gonna want to explore. It's so massive, in fact, that some refer to Bangkok as the "Venice of the East." Hop on a boat anywhere along the canals, and be sure to hit one of the many floating markets.
Eat like a local
Because you order pad Thai every time you eat takeout, you're obviously going to have to start with it here, too. But after that, expand your taste buds (and spice threshold) with a bowl of tom yam (a hot and sour soup made up of lemongrass, fish sauce, and crushed chili peppers) or soma tam (a green papaya salad with a kick). Curry, coconut, fried noodles, and spicy plates are all representative of authentic Thai cuisine -- be sure to have slices of watermelon or a sugary drink on hand in case things get too hot. Thailand also boasts a rich range of fruits you don't eat that often at home, including jackfruit, mango, durian, papaya, rose apples, and the pod-like tamarind.
Drink like a local
While Bangkok is known for its paid-for-pleasure delights in the Red Light District, a good time can be had wherever you are so long as you have a good (and even better, cheap!) drink in hand. Two local beers to know are Singha and Chang, and Thailand liquors include SangSom rum and Mekhong whiskey.
Get a massage. Every. Damn. Day.
Sure, a Thai massage at home can cost over $100, but in Thailand, you'll only drop about 350 baht, or around $10. So get ready to make it rain. Word of warning, though: if the establishment you choose maybe, kinda, sorta also looks like a brothel -- it may very well be. No need to worry though, just let the masseuse know that you're not interested in -- as tour guides put it -- any hanky panky.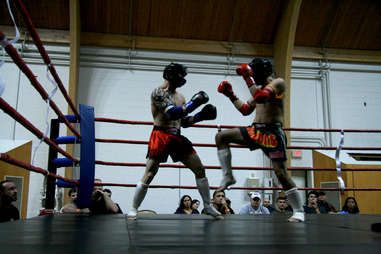 Go to a local Thai boxing match
Muay Thai is the traditional fighting sport of Thailand and you can catch a live fight in the Ratchadamnoen Stadium. Although if you're a huge Muay Thai enthusiast and always make your friends listen to your thoughts about recent UFC brawls, visit Thailand in March for the annual World Wai Kru Muay Thai Ceremony in the Ayutthaya Historical Park; it brings together 1,000 fighters from more than 65 countries. If you have no idea what Muay Thai is, but played a ton of Street Fighter as a kid, the character Sagat was a Muay Thai fighter. So there you go.
Shop for custom-made clothing
Bangkok is known for its wide range of tailors who offer custom-made shirts, suits, and other stylish accouterments for far less than you'd pay in either the US or Britain. As always, use common sense when shopping and avoid deals that sound bogus; a good deal is a suit and two shirts for 8,000 baht (just under $250). You'll also need to wait at least five days to a week (at minimum) before the suit is ready (anything less than that, walk away).
Visit the beaches at Phuket, Krabi, and Khao Lak
Home to some of the most picturesque beaches in the world, three spots to absolutely hit include Phuket, Krabi, and Khao Lak. While each offers white sand and clear ocean water that feels perfect each time you go in, all three have different offerings. Go to Phuket for the nightlife, Krabi for both relaxation and adventure sports (such as rock climbing), and Khao Lak for small-town charm -- it's the go-to for couples and honeymooners.
Island hop
Sure, you could just stay on the island of Phuket (the largest island in Thailand) or hang on one of the mainland beaches, but why do that when Phuket alone has over 30 smaller islands on its coast, and Khao Lak rocks several that are accessible via kayak or boat? Work off all that pad Thai and Singha you've been taking down by kayaking to the islands.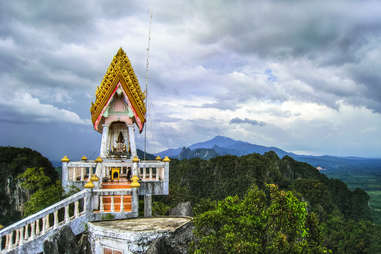 Climb to the top of Tiger Cave Temple
Tiger Cave Temple (Wat Tham Suea), a Buddhist temple located in northeast Krab, sits at the top of a steep, 1,237-step stairway. After subjecting yourself to the pain, possible dizziness, and overall strain of climbing all of those stairs, you'll be rewarded not only with the warm fuzzy feeling of accomplishment, but also with the stunning, panoramic, 360-degree views of the land, forest, and limestone cliff formations. On a clear day, you can also spy the Andaman Sea and tropical islands.
Visit an elephant park
Because everybody who visits Thailand's got an elephant-riding pic on Instagram, go a step further and spend the day (or night) at an elephant camp. Thai Elephant Conservation Center in Lampang, which cares for more than 50 Asian elephants and offers rides as part of homestay and trekking programs, is the only government-owned elephant camp in Thailand. During the day, elephants showcase traditional logging techniques, as well as their agility, painting, and musical abilities (apparently, they love to play "Free Bird"). The overnight homestay option has a one- to three-day program in which guests learn how to handle and care for an elephant, while hardcore elephant enthusiasts eager to learn the way of life of a true mahout (elephant rider) can enroll in a one-month trekking program that goes deep into the forest.
Stay at a boutique hotel
Treat yo' self to a stay at a boutique hotel to get a taste of local luxury and design. In Ayutthaya, the minimalistic Sala Ayutthaya is surrounded by local markets/restaurants and offers rustic luxe rooms by the local river. The Tubkaak Krabi Boutique Resort in Krabi offers a lush tropical beachfront experience with your own private villa, a grand gourmet breakfast buffet, and views of the magnificent Hong Islands. And in Khao Lak, Casa de La Flora is perfect for those seeking an eco-friendly, modernist spot with an infinity pool and easy walk to town.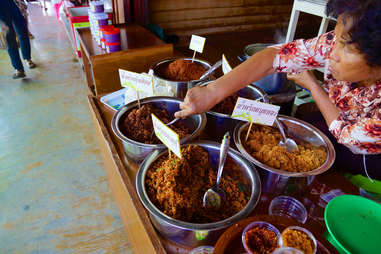 Buy spices and ingredients to bring home
Assuming you've enjoyed the food (and, really, that's a pretty safe assumption), bring back some local ingredients like long pepper, chilies, curry power, and star anise. Just make sure they're dried so you don't have issues with TSA. Or pick up some oyster sauce, fish sauce, and shrimp paste -- they make great gifts and you really can't go wrong with any of them.
Andrew Villagomez is a freelance writer and blogger who covers travel, men's fashion, and other lifestyle topics. Along with Thrillist, he has also contributed to Travel + Leisure, Details, Passport, and Essential Homme. Check out his blog, and follow him on Twitter and Instagram at @VeeTravels