The World's Longest Yard Sale Is Coming to 700 Miles of Middle America Near You
One of several ironies within the hand-wringing over rural America's alleged neglect by coastal elites is that the people lamenting our underappreciation of "flyover country" rarely talk about it like it deserves anything different. The reason so many of our country's best under-the-radar, surprising, and otherwise slept-on travel destinations are in the Midwest, or at least the middle-ish regions of the country, is because vast swaths of the US are painted as the most boring, homogenous, and deeply uneventful places on Earth. Urban Americans are lectured to familiarize themselves with small-town culture out of a sense of civic duty or some such, but from a travel perspective people rarely just pick up and go.
In 1987, Jamestown, Tennessee, resident Mike Walker set in motion an event that will finally put, like, six states on the map. That was when he launched the 127 Yard Sale (named for an eponymous highway) to lure drivers off the interstates and into the wondrous small towns they'd never have otherwise known were there. The annual event soon spread into Kentucky, and so on and so on until, 32 years on now it also runs through Michigan and Ohio and Georgia and Alabama.
"For the most part, the route … still goes through pretty rural areas," says Josh Randall, the yard sale's spokesman. "There are a few [cities] like Chattanooga and Cincinnati, but the vast majority is what you'd consider the countryside. You'll see a lot of fields, lot of cow pastures."
Today, 127 Yard Sale is the World's Longest (or alternately Largest) Yard Sale, spanning 690 miles and pulling hundreds of thousands of spectators and bargain-hunters into its orbit each year. It's enormous. It's weird. It's the Great Wall of Made in China. It's Cracker Barrel: the Extended Remix. It's O.B.O. Americana on full display. Here's what we know about it.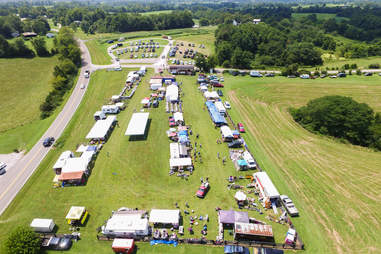 127YardSale.com
First things first -- when is the 127 Yard Sale?
The whole shebang is held each year from the first Thursday in August through the first Sunday -- so, this year from August 2-5.
How does it work?
"You'll have people who, they happen to live right on the route so they'll just set up in their front yard just like a typical yard sale," Randall says. "Or property owners with a big field will rent out to a bunch of vendors who'll all set up together -- 25, 30, sometimes hundreds of them together. Some set up in convention centers, or agricultural-type expo centers."
Lots of vendors will have some means of accepting credit cards, but all things considered you're better off going with cash. Some people like to strategically ship things home as they go, lest their trunks and pockets fill up by Friday.
What's the route?
The 127 Yard Sale begins in Addison, Michigan, and ends down in Gadsden, Alabama. Or vice versa; there are no rules here. Highway 127 comprises the bulk of the route. It runs out in Chattanooga, Tennessee, where the mantle is taken up by Lookout Mountain Parkway.
Do people do the whole thing? 690 miles?
The idea isn't to see the entire thing from top to bottom -- you don't get a T-shirt or anything if you finish the whole route. As a ballpark for those of you who want to cover some ground, aim for maybe 100 miles per day. Much more than that and you're really spending the weekend in your car, and the point here is to actually stop places and see things. Scenic drives are great. Enjoy them any other weekend of the year when there isn't so very much to stop for.
"If you try to stop everywhere it's quite the task," Randall says. "There are a few people who try to do the whole thing but that's almost impossible."
Are there any especially good parts? If so, where
So, because of the sheer size of the yard sale it's almost impossible to track all the changes from one year to the next and determine what will be where. You can, however, search the route online for hubs of 25 vendors or more.
Tennessee and Kentucky typically boast the highest concentrations of vendors. Which isn't to say those vendors are necessarily any more or less interesting, or charming or treasure-laden or whatever particular aesthetic you're projecting onto all this; just that there are more. The section radiating out from Crossville, Tennessee -- with Signal Mountain to the south and the birthplace site Jamestown to the north -- will reliably have a whole boatload of vendors. If you find yourself as far down as Georgia and Alabama, try to hit the particularly lovely stretch that follows the Lookout Mountain Parkway.
(Check out Thrillist's guide to the best mountain towns in America here.)
What are the hours?
Lol no. This is entirely subject to the whims of each individual vendor, but generally speaking -- very generally speaking -- you're looking at mid-morning through dusk.
And what am I looking for?
Human connection?
No, like, what kind of stuff is for sale
Honey, it's all for sale. Antiques, furniture, car parts, old computers, new computers if for some reason that makes sense for someone, vegetables from people's yards -- whatever. "It's … well, it's eclectic," Randall says. "Antiques are always a big one, but I mean, it's just anything and everything. Coca-Cola collectibles. Whatever's the latest kind of crafting trend."
Who goes to this?
As much as such things can be ascertained -- it's not like there's a 127 Yard Sale census -- the route attracts a mix of locals hitting up vendors in their area and visitors who travel from out of state(s) for the purpose of experiencing the thing as, like, a curiosity. Randall speaks of "one lady from California who drives out every year, turns it into a two-week vacation, drives back." She typically hits Tennessee and Kentucky, which is also what Randall recommends you do if you're open to suggestion here.
Does the yard sale get Weird?
Uh huh. In that charming, deep-fried-giant-gummy-bears-at-the-state-fair kind of way that all the best yard sales and even the most mediocre Midwest and Midwest-ish novelty attractions hope to achieve.
"A lot of times you'll get vendors who, in an effort to draw attention to where they're set up, they'll have some unique item," Randall says. "This one guy once had a giant giraffe, life-size, made out of plastic. Must have come from an amusement park? I don't know where these people get this stuff, but anything you can imagine someone dragging out there, they've done it. In Signal Mountain somebody had a full-size coffin with one one the lids propped open with a sign that said … ah, there's been so many, but it was something funny. [Editor's note: "Killer Deals," we think it is.] You'll see a lot of unique signs, funny phrases. 'Our crap is your treasure.'"
(Check out Thrillist's guide to the weirdest law on the books in every state here.)
 
Sign up here for our daily Thrillist email and subscribe here for our YouTube channel to get your fix of the best in food/drink/fun.