Usually when you need a good scare, you just check out your credit card statement to see how much you spent last month.
But if you're really out to prove you have, like the awesome '80s t-shirt line, no fear, well, try sleeping in a haunted hotel. And we don't mean the Casper-the-ghost kind. We're talking Vigo the Carpathian, The Ring kinda ghost scares.
From murderous wives to moaning soldiers, these creepy cribs will keep you up all night. And not in the good way.
Estes Park, CO
Let's start with the obvious: The Stanley Hotel inspired Stephen King's The Shining. And those creepy kids in the movie can allegedly be heard giggling and running amok on the fourth floor, especially around room 418.
Hotel founder and inventor of Stanley Steamer automobiles (not the steam cleaning dudes), F. O. Stanley, and his wife are often seen passing through the lobby, or playing piano in the music room, and a handful of former employees are said to haunt their former posts. The ghost of a housekeeper who died on the grounds allegedly roams around room 217, for example. The hotel plays the Stanley Kubrick film version of The Shining on loop on one of its cable channels, and fittingly, also offers ghost tours.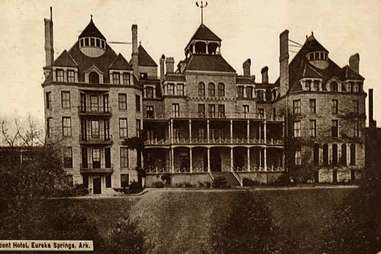 Eureka Springs, AR
Built in 1886 and part of the Historic Hotels of America Association, this extravagant property in the Ozarks claims to be the most haunted hotel in the country. Originally a luxury hotel and spa, it went bankrupt and re-opened as the Crescent College and Conservatory for Young Women in 1908, before becoming a fake cancer hospital. That's when things got creepy.
Founder Dr. Norman Baker, a man with no medical training, used the hospital as a front to experiment on humans -- alive and dead. He dispensed useless treatments to the living while raking in dough from their families. Eventually, he was sent to jail for fraud. Now, his experiments haunt the grounds, and the apparitions include Dr. Baker himself; a stonemason that fell off the roof and died; a nurse pushing a gurney; Theodora, a cancer patient; and a former student who committed suicide. Of course, there are ghost tours as well, which include a midnight visit to the morgue.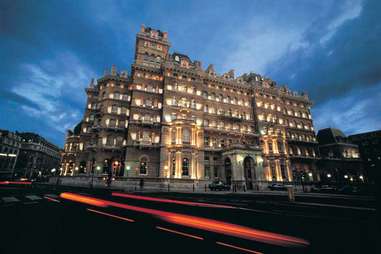 London, England
Said to be England's first "grand hotel", the five-star Langham Hotel has hosted distinguished guests like Oscar Wilde and Mark Twain. But it's the spooky stuff that's accumulated over 149 years that puts the hotel on the list, including a German prince who leapt to his death from a window before WWI, and a man who killed his wife and then himself on their honeymoon. Other spotted spirits include Napoleon III, who spent some of his exile in the Langham, a man with a bloody gash on his face, and various butlers and footmen. Room 333 is said to be the most haunted of all the rooms in London's most haunted hotel.
St. Francisville, LA
This stately home is said to have been built on an ancient Native American burial ground, which pretty much never works out. And apparently 10 murders were committed within the hotel's walls since the 1700s, the most well-known of which was William Drew Winter, who was shot on the porch and managed to crawl up 17 stairs before dying. He can occasionally still be seen doing today, according to legend.
Now, no fewer than 12 ghosts call the B&B home. There's the lady with the curly hair; the Native American woman; the girl who shows up only before thunderstorms; the children playing on the porch; and Chloe, the slave girl who was hanged by fellow slaves after poisoning the house mistress and her two children. There are also strange noises, blood stains that won't disappear, cold spots, footsteps, and randomly appearing handprints. Basically, all the vagaries of a daycare, except from ghosts and not toddlers.
Los Angeles, CA
In life, Marilyn Monroe spent two years at this landmark hotel. In death, she wanders about the premises, dancing in the ballroom or staring at herself in the mirror of her favorite room, number 229. She's not alone, though. Apparently the ghosts of Carole Lombard and Errol Flynn hang out, too, and Montgomery Clift is regularly heard playing his trumpet from room 928, where he stayed while filming From Here to Eternity. Which is ironic, considering he basically checked in for all of eternity.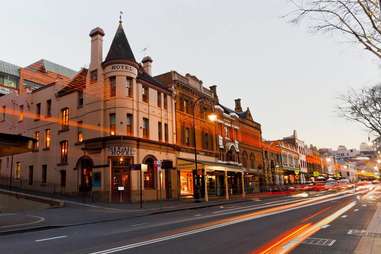 Sydney, Australia
Sure, a continent formerly populated by convicts would be rife with tales of murder, but this hotel in particular is said to be frequented by spirits of ill repute. As in, prostitute ghosts.
Located in The Rocks, Sydney's oldest neighborhood and once a seedy slum full of crime, the hotel used to be a sailor's hostel. Room 8 is said to be haunted by the spirit of a colonial-era sailor who either wanders the halls or stands still and stares at you while you sleep. Other sightings include more seamen and a few prostitutes. Make your own joke there. And like any business-minded establishment, the hotel's also pimping out its ghosts with tours.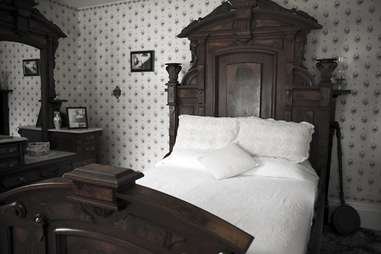 Fall River, MA
Nothing like a good axe murder to get those spirits sighted. Ever heard the ol' nursery rhyme "Lizzie Borden took an axe, gave her mother 40 whacks. When she saw what she had done, gave her father 41"? No? Well, that's what allegedly happened here in 1892, and now the crime scene is a B&B. Imagine if they did that at OJ's ex-wife's house. Not that OJ did it, or anything.
It's said that Lizzie, a spinster, murdered her stepmother in cold blood with an axe, and her father for having the gall to remarry. Both victims have allegedly made appearances since. And rather than going with anonymous landscapes or flowers, the inn uses crime scene photos for décor.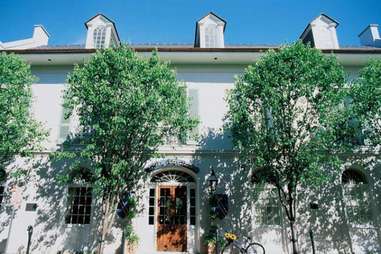 New Orleans, LA
The ghosts of Confederate soldiers allegedly haunt this hotel, which was a hospital during the Civil War. Many a wounded soldier have been seen shuffling down the halls, moaning for help, and guests have reported gruesome scenes of bloody soldiers lying in rooms, groaning in agony. And it's not even from anyone accidentally leaving Lifetime on the TV.
In building 500's room A, a lovesick soldier who loves rock reportedly changes the radio to listen to WTIX-FM 94.3, an oldies rock station. He's been spotted in his 1930s military garb, complete with medals, and was even recorded during a séance as saying "I need to leave. She doesn't love me, she loves you."
Monmouthshire, Wales
This hotel is one of the oldest pubs in Wales, dating back to 1100, and the first floor is said to have been used as a Court of Law during the Welsh revolt and beyond, when almost 180 men were sentenced to death by "Hanging" Judge Jeffreys. For some reason the hangings were executed right from the beams of the inn itself, leaving some real "Brooks-was-here" bad karma. Judge Jeffreys is said to roam the inn looking for people to condemn, and guests claim to have felt ropes tightening around their necks while they slept, with some even boasting visible marks days later. Very BDSM, if you're into that sort of thing.
Florence, Italy
A smorgasbord of spirits refuse to check out here, from a ghostly child skipping down corridors, to a woman knitting in a chair, to a maid that just won't quit. Guests have reported spectral sightings and random chills, as well as the feeling of being watched, grabbed, and of an icy breath sliding down their necks. Some have even claimed to see the apparition of a pink, transparent man, which may or may not be Benito Mussolini, as the fascist leader stayed at the hotel in the past.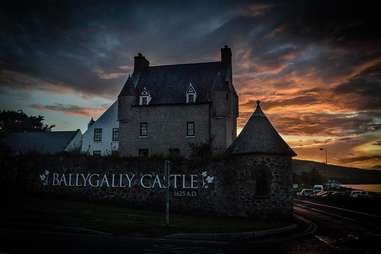 Ballygally, Northern Ireland
This former castle is haunted by Isobella Shaw, lady of the castle in 1625. Legend has it Lord Shaw locked her into a room and starved her after she gave birth to a daughter instead of a male heir, and Lady Shaw died trying to escape. It's kinda like the inverse of Rapunzel, or something.
Today, more than 400 years later, she still roams the premises in search of the child she never got to meet. Her room has been recreated and turned into "The Ghost Room", which is open to visitors.
Lagan, Sweden
Unrequited love makes for epic tragedies and insistent ghosts. This lavish former country home of a baron is haunted by a peasant boy who fell in love with the baron's daughter. Upon being discovered with said boy, she was forced into an arranged marriage with someone else. Her lover consequently hanged himself in room 324 the day of the wedding, and still mopes around in hopes of winning her over. Pretty sure dying isn't a good way to actually win someone's love, but whatever.
Pluckley, England
Pluckley is the "most haunted village in England", at least according to the Guinness World Records. Elvey Farm, a dairy farm built in 1406 and turned B&B in the 80s, sits at the center of all things supernatural in Pluckley; ergo, it must be the most haunted hotel in England.
Robert Du Bois, who stabbed himself to death, claims the guest lounge as his favorite haunt, while farmer Edward Brett, who shot himself in 1900, has staked his territory in the former dairy, his last words of "I will do it" echoing through the room. And he sure did it. There's also an unknown man-ghost in military garb squatting in the barn (said to look like Stalin), the so-called Red Lady bemoaning her dead child in the graveyard, and the White Lady who haunts the church. Very Reservoir Dogs ghosts, these ones.

Intrigued? This website lets you book nothing but reputedly haunted rooms.

Sophie-Claire Hoeller is Thrillist's associate travel editor, and hasn't slept since writing this. Follow her @Sohostyle