14 American Cities With Crazy Underground Tunnel Systems
<strong>San Francisco, CA |</strong> Evan Thompson/Flickr
<strong>San Francisco, CA |</strong> Evan Thompson/Flickr
Old American cities hide many old secrets, and if you believe National Treasure (yes), then you know there's cool shit stashed below the sidewalks. You just need to know where to look. Before you do any ill-advised digging, we've done it for you. Here are 14 cities with deep roots and even deeper holes in the ground.
Boston, MA
Abandoned subway tunnels
No surprise here, but Boston has abandoned subway tunnels, and they're the oldest in the country. Many of the passageways are sealed, and they often lead to forgotten relics such as the Scollay Under station and the former underground rapid transit yard at Harvard. Other interesting treasures found in the depths include mosaic-tiled station signs, rusty tracks, and an old connection that linked Boylston Street to the South End. (Totally useful.) A crazy guy from Abandoned Subway Tunnels went "spelunking" below the Hub, and you can view his photos here.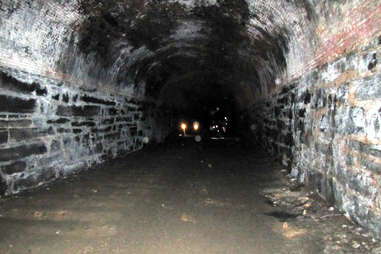 Brooklyn, NY
Abandoned subway tunnels under Atlantic Ave
Like Boston, age-old Brooklyn has its share of deserted subterranean artifacts, and the most well-known is the cavernous subway tunnel under Atlantic Ave. Commissioned by Commodore Cornelius Vanderbilt (yes, that Vanderbilt) in 1844, the tunnel connected two stations so that trains didn't need to be pulled by horses before being reattached to their engines. Sounds exhausting. When steam locomotives were banned in 1861, the tunnel entrances were sealed and everyone forgot about the tunnel AND steam locomotives. According to lore, there's a train engine buried down there, too.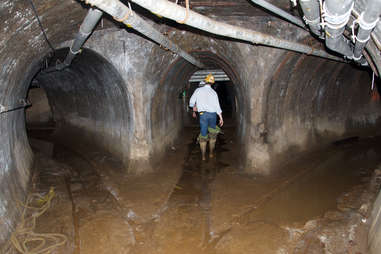 Chicago, IL
Many, many tunnels
Chicago has both Boston and Brooklyn beat with SIX different sets of "left behind" holes in the ground: the Pedway, CTA tunnels, cable car tunnels, freight tunnels, water tunnels, and "The Deep Tunnel." (Please stop smirking.) The cable car tunnels pre-date the "L," are 60 feet below ground, and went unused after the city switched to elevated trains to get over drawbridges (circa 1906). "The Deep Tunnel," or Tunnel and Reservoir Plan (TARP), heads down 350 feet and is essentially there to accommodate excess rainwater runoff. The freight tunnels, unique to Chicago, were designed for tiny trains and were used to transport coal and freight between prominent buildings within the Loop (i.e. City Hall, Merchandise Mart).
Dallas, TX
Underground rail and freight tunnels
Back in the roaring '20s, these rail tunnels were used to conveniently transport merchandise between the Santa Fe Freight Terminal and the Fashion District. And they "probably" (definitely) carried hooch back and forth to the University Club during Prohibition. #convenient. Dallas also has the mildly-used-nobody-cares-about-anymore pedestrian tunnels linking major downtown buildings below street level. Originally designed to ease street congestion and get people out of the Texas sun, they're now a civic joke and hindering actual street-level development.

Detroit, MI
Prohibition/Underground Railroad tunnel
Detroit loves its booze (yeah, Stroh's!), and it's perfectly logical that many of Motor City's speakeasies had escape tunnels during that stupid time when booze was illegal. One notable example is Tommy's on 3rd Street. Their secret passageway leads to Fort Street Presbyterian Church (across the street) and was also likely part of the Underground Railroad. Of course, it served Tommy's well during prohibition as the Purple Gang kept the neighborhood stocked with bathtub gin.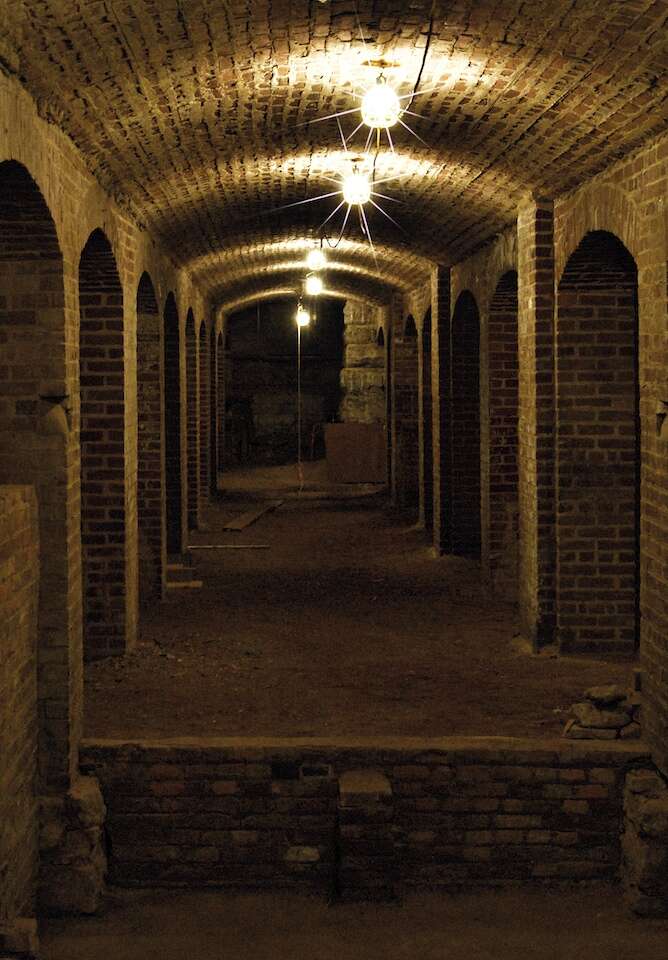 Indianapolis, IN
Market St catacombs
Lurking below Indy's historic City Market is a series of catacombs once used as "cold" storage to keep perishables fresh before refrigeration existed. (And also health codes.) The brick-arched construction is reminiscent of ancient Rome, and some of the passageways are still in good shape for being 130+ years old. (Note: not as old as Rome.) Major bonus: the City Market team is offering limited tours of the catacombs on Saturdays from May through October, and on Halloween. Find out more here.

Los Angeles, CA
Prohibition tunnels
There are 11 miles of old tunnels under LA, and they should be honored for supporting the City of Angels for so long. They were first employed as service tunnels, then Prohibition happened and they were used to transfer liquor to speakeasies like King Eddy Saloon. (True story: the mayor's office ran the supply chain.) Apparently, if you go behind the Hall of Records on Temple Street, there's an elevator that will take you down there… and you didn't hear that from us. LA also has abandoned subway and equestrian tunnels, but most of these subterranean passageways have been sealed due to being, umm, unsafe.

Louisville, KY
Multiple tunnel systems
Louisville (aka The Gateway to the South) was established in 1778 and boasts some major history, many layers of which are concealed under the streets. There are tunnels leading to/from Sauerkraut Cave that acted as storage for the Lakeland Asylum for the Insane. (That's not creepy at all.) Other tunnels branch out from derelict civil defense shelters and connect to building sub-basements downtown. Even Southern Baptist Theological Seminary has a rumored passageway from the president's house to an undisclosed campus building across the street, but it's likely just an old steam tunnel. (Sorry, Scooby.)


Minneapolis/St. Paul, MN
Abandoned hydro power and bootlegging tunnels
The Twin Cities, especially St. Paul, have labyrinthine networks of caves and tunnels, and these man-made elements date back to the 1840s. There are seven different systems in St. Paul and most are former utility corridors. In addition, there are old industrial tunnels under the Ford Assembly Plant and giant hydropower conduits below the historic Pillsbury A Mill. Not to be outdone by other city's Prohibition secrets, Minneapolis boasts its own bootlegging byway from The Belmore apartments to Liquor Lyle's.
New York, NY
New York City Water Tunnel Number 3
The sprawling underbelly of New York City has more tunnels than the Jets have excuses, from speakeasy escapes (R.I.P. Chumley's) to abandoned MTA routes. And those secret tracks under the Waldorf Astoria. However, most folks don't know about Tunnel Number 3. Under construction since 1970 (and due approx. 2020), this conduit will eventually link NYC to the Upstate New York water supply, and will pass through Yonkers and Central Park before ending in Astoria. (Don't worry, Tunnels 1 and 2 already do the same thing.) When first planned in 1954 (what??!!??), pundits dubbed TN3 "the greatest nondefense construction project in the history of Western Civilization." Bold, but not quite. It IS the largest capital construction project in city history. (Close enough.)

Philadelphia, PA
Abandoned "City Branch" railway tunnel
The City of Brotherly Love has a long history, and much of it is buried under the sidewalks. Before you go all Nic Cage/Ben Gates, you can still catch faint glimpses of the old "City Branch" railway tunnel along its 15-block run down Broad Street. Closed in 1992, the 52-foot wide cavern could accommodate six tracks of Philadelphia & Reading freight trains that carried supplies to where those factories once stood. Good news/bad news: every few years, planners talk about doing something with City Branch, but nothing has happened yet. Go figure. Ideas include turning it back into a commercial railway, adapting it to another transit mode (car, bus, commuter rail), and morphing it into a park. (Ummm…what?)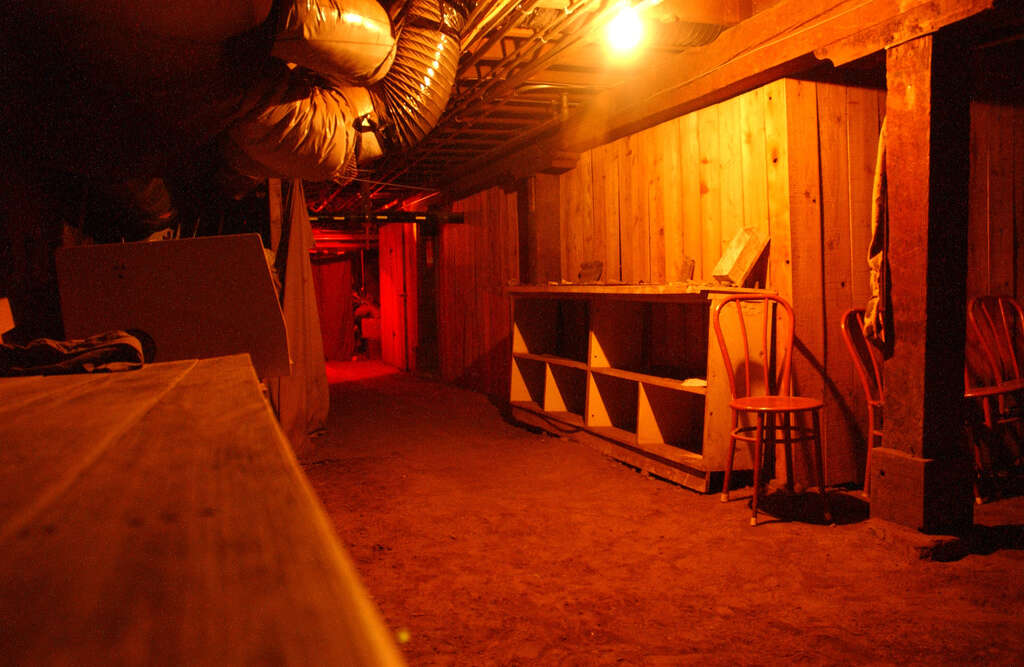 Portland, OR
Shanghai Tunnels
Ok, so these tunnels might be more generally well-known, but they have a cool name and a crazy story. Back in the seafaring days, "shanghaiing" meant kidnapping someone and then forcing them to work aboard a ship for no pay (aka slavery). Enter the "Portland Underground," a series of interconnected basements and brick passageways that enabled this totally illegal hiring practice. Unsuspecting dudes would get dropped through a trap door, captured, and then carted off to a tiny holding cell. Many artifacts remain, such as the aforementioned trap doors and holding cells, and you can get the full scoop on the guided tour.

Salt Lake City, UT
Tunnels under Temple Square… and beyond…
Salt Lake City's tunnel system lacks the dirt and seediness of other subterranean webs, but they're still full of mystery and intrigue. Sort of. On a basic ho-hum level, the confirmed tunnels originate in Temple Square and unite downtown LDS church buildings so that members can avoid the weather (and the public) when traversing. Here's where the plot thickens: conspiracy theorists are very sure that tunnels now head over to the Salt Palace Convention Center and the city-county building. When asked, church officials remain silent on the subject. (Cue ominous music.)
San Francisco, CA
Abandoned train tunnels and old freight transport tunnels
San Francisco's hidden depths are vast, and several urban explorers have documented their findings… after they endured foul sewage, rats, and waist-deep freezing water. (No thanks.) Along with other major cities, SF has its share of underground speakeasies/brothels with escape routes, as well as abandoned utility and train tunnels. You can find those antique railways on Market Street through an old Muni station, but then there's the feces, rat, and water issues we mentioned. North of Civic Center, there's an early 1900s tunnel used to transport soldiers and materials, and it was in service until 1990. Like Portland, Fog City participated in "shanghaiing" and the Old Ship Saloon has a trap door to a secret basement which, naturally, linked to another set of tunnels. (cue more ominous music.)
Sign up here for our daily Thrillist email, and get your fix of the best in food/drink/fun.