The earth wants you inside of her, and these are her craziest caves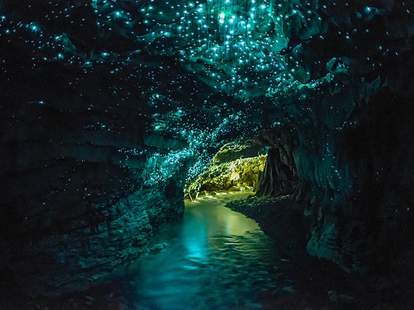 Whether or not you're an experienced spelunker, these are 15 of the coolest caves you'll ever see
This is the Soon Dong cave in Vietnam. It's the largest cave in the world, and was only discovered in 2009. It has an entire forest inside of it. How something like that can stay hidden is anybody's guess.

The Crystal Caves in the Naica mine in Mexico. Exploration is difficult -- you need to know someone who works there, and you can only go for 10mins at a time

The Actun Tunichil Muknal caves in Belize hold the skeleton of a teenage girl ("possibly a sacrifice victim") whose bones have been calcified to a sparkling, crystallized pile of hypnotizing creepiness

The Reed Flute Caves in China -- about 180 million years old.

Fingals Cave in Scotland looks like prehistoric Legos

Skaftafell cave in Iceland, which sounds cooler and more original than "that glacier" cave

At the Glow Worm cave in New Zealand, loud noises will make the critters light up, which makes for awesome fun

Hamilton Pool, Texas. Yes, you can swim here.

The temple-filled Batu-caves in Malaysia.

Tadrart Acacus in Algeria -- the cave paintings in here date back 12,000 years!

Minnehaha Falls, Minnesota. In the winter, the waterfall freezes up mid-flow

The Crystal Cave Bermuda can be explored above and below water.

The Canary Island's Cueva de los Verdes is a five mile lava tube... with a concert hall inside.

The Carlsbad Caverns in New Mexico have yearly mass bat migrations. Sweet

Majlis al Jinn Caves in Oman is the second largest cave chamber in the world, with an inside measuring more than 13 million cubic feet!