The first thing that probably comes to mind when you hear Virgin Atlantic is their mildly eccentric, playboy CEO, Richard Branson. Maybe their sexy flight attendant uniforms. Definitely not Richard Branson wearing a sexy flight attendant uniform. Although he did once, after losing a bet. He also served drinks onboard.
Virgin Atlantic took to the skies 30 years ago this Summer, and despite its rise in popularity, there remains a lot we don't know about the airline's humble past. Or about Virgin America (the 2007 US spinoff that Branson owns in part), for that matter. So to celebrate Virgin's birthday, we compiled this list of 15 fun facts about both airlines.
1. Richard Branson wanted to call Economy Class "Riff Raff"
As in the British lower class, not your least favorite rapper of all time. It's probably for the best that the cheeky CEO was overruled.
2. Virgin planes have saucy names like Miss Behavin and Hot Lips
Instead of boring names that no one cares about, like G-VELD A340-300, Virgin affectionately christens its fleet with monikers like Tinker Belle, Jersey Girl, and Soul Sister... ensuring all of them are undoubtedly bullied and/ or hit on by other planes at the terminal.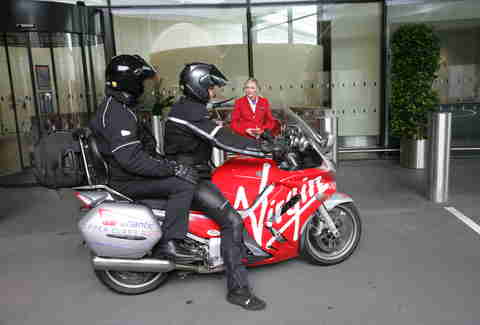 3. A guy on a motorcycle used to pick up Virgin Atlantic customers and bring them to the airport
In the early '90s, Virgin Atlantic treated each of its Upper Class customers to a chauffeured motorcycle ride to the airport. Today, first-class flyers receive a free limo ride instead.
4. Passengers ask for really weird things from the flight attendants
Like, can you give my Barbie doll a massage? Or, can you help me look for my missing glass eye? One hungry passenger even, according to a survey of 3,000 crew members, reportedly tried to order a Big Mac meal on board. "Wait, there's no McDonald's on this flight?!?!"
5. Virgin raids its customers' fridges to design its in-flight menu
To determine the onboard meals it offers frequent flyers, Virgin's Food and Beverage team visited actual passengers' homes to stick their noses inside their refrigerators. Literally, they went to people's houses. And judging from the last in-flight meal added to the menu, their customers are enjoying a lot of smoked salmon and English mustard potato salad.
6. More than 500 meals are taste-tested before being added to the menu
Yep, the airline's Food and Beverage team tastes more than 500 sample meals before a final menu is set or a new item is added.
7. Richard Branson enjoyed a brief stint as a flight attendant
After losing a GrandPrix bet to AirAsia's CEO Tony Fernandes, Branson kept up his side of the deal by playing the part of a female AirAsia flight attendant, dressing up in a slinky red suit with matching lipstick to serve drinks and show passengers proper flight safety procedures. Here's the 2013 video proving that Branson's airline has much sexier flight attendant uniforms.
8. Virgin produced the first film to be shot at 35,000ft on three commercial flights
In 2012, the romantic comedy Departure Date (starring Ben Feldman and Nicky Whelan) was filmed for eight days straight on flights between LA, London, and Sydney. As per the airline's regulations, the film crew were only allowed two carry-ons each, and couldn't film when the seat belt light came on. The cast and crew racked up a total of 28,358 miles, and some of the paying commercial passengers were featured as extras. Watch the trailer and behind-the-scenes footage here. 
9. Virgin Atlantic was the world's first airline to fly pets 
Virgin flew its customers' cats and dogs from the US to London's Heathrow Airport for the first time in 2003, and has since carried more than 15,000 animals on board. The number of transatlantic poop-related disasters that have occurred at high-altitude remains unknown, however.
10. Two babies have been born on-board Virgin planes
On Mother's Day in 2004, a baby girl was born aboard a Virgin Atlantic flight from Lagos to London. She was aptly named, Virginia. And in October 2012, a woman gave birth to a baby boy on a flight from London to Johannesburg, leading the plane's cabin supervisor to tell The Mirror, "One minute we were delivering drinks, and the next we were delivering a baby".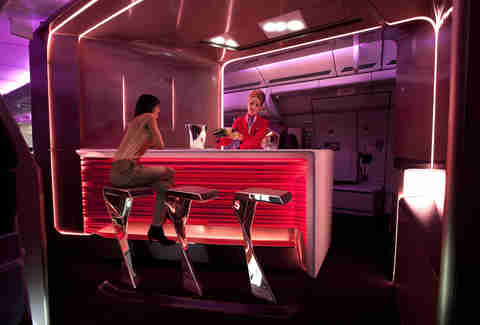 11. Virgin Atlantic's A330 aircraft has the longest onboard bar in the sky
Passengers in the Upper Class cabin on the airline's A330 planes can drink at the world's longest onboard bar. Introduced in 2012, the bar measures almost nine feet long, is adorned with over 1000 Swarovski crystals, and beams colorful LED lights to make you think you're drinking cocktails in a swanky club rather than at 30,000ft. 
12. Virgin America is the first airline to unveil a cheeky, pocket-friendly boarding pass
Because everyone ends up folding their boarding passes anyway, the airline came up with a simple, yet clever solution: a foldable boarding pass. Yep, it displays all your essential details -- flight/seat number, departure/arrival time, gate/terminal -- all while sliding comfortably into your back pocket.
13. Steve Fossett singlehandedly flew around the world in a Virgin plane 
In February 2005, the aviation pro and first man to fly around the earth in a balloon successfully circumnavigated the globe in Virgin Atlantic's lightweight GlobalFlyer plane -- the only aircraft to have made a 25,000-mile, round-the-world trip on a single tank of fuel. 
14. Delta Air Lines owns 49 percent of Virgin Atlantic
Yep. In June 2013, Delta Air Lines bought a 49 percent stake in Virgin Atlantic from Singapore Airlines for $360 million. It might seem like a strange investment, but it's well worth it for Delta, which now gets to fly its customers more frequently to London's Heathrow Airport.
15. Virgin crew haven't always worn red
While Virgin's known for its signature flight attendant unis, they haven't always worn red. Or even suits/skirts for that matter. Back in 1989, crew members working Japan-bound flights paid tribute to their destination by donning authentic kimonos. And once upon a time, the Virgin Atlantic cabin crew even looked like this... 
Chloe Pantazi is an editorial assistant on Thrillist's travel team. On the Virgin Atlantic flight she took when she moved to New York, from London, she had both the window seat and the seat next to her for the entire journey; it was the most legroom she's ever had in Economy. Follow her on Twitter at @ChloePantazi.