Everyone thinks their college is the best college. And while no college is outright BAD, some are certainly better than others. And from there, it reasonably follows that one college -- and the town that makes it what it is -- must be the finest of them all.
Over the course of many tireless months working much harder than actual college students, we'll be conducting our noble Search for America's Best College Town. Now keep in mind, we're not really talking about academics at all, and in some ways, even sports are only a small part of the formula. It's the everything else -- the bars, the burgers, the bars, the buildings, the lovable famous weirdos on the streets, the weather, the bars -- that build a college town's case. Get ready to re-enroll.
Next up: Ann Arbor, home of the University of Michigan. From Ken Burns and corned beef to Kerrytown and The Big House, here are 16 reasons why it's a college town you'll never want to leave.
The built-in progression of bars
The bars in Ann Arbor have school-like progression. Skeeps is like a freshman. Then all the places on State are more like sophomores -- still exploring, but you've been there. Junior year, you really think you know what you're doing, and that's Ricks. And then it all comes together senior year, with more Ricks but plenty of Main Street bars sprinkled in. It's like the party Circle of Life.

And speaking of bars, let's talk about Ashley's
The most Ann Arbor-y of the Ann Arbor bars rocks over 90 international beers... ON TAP! Plus, your servers know more about their suds than most students do about their majors. And those pesto fries. Good God, those pesto fries.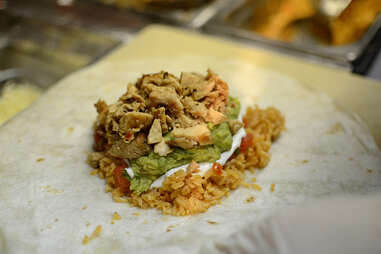 There's a ridiculous array of late-night eats
You've got greasy pizza (South U), gourmet pizza (Pizza House), cheap burritos (Pancheros), fire-infused quesadillas (BTB), cheesesteaks (Mr. Spots), sammies (Jimmy John's), candy-laced milkshakes (Quickie Burger), and most importantly, Fleetwood's Hippie Hash: hash browns topped with "grilled green peppers, onions, tomatoes, broccoli & mushrooms". And then topped again, with feta. Also, gyro meat.

Two words: Ken Burns
It's only a matter of time before this Ann Arbor native (raised but not born) does a five-part PBS documentary on his hometown, right? In terms of other power players, Ann Arbor's reared the founders of HP, craigslist, Adobe, and Borders, while UM claims famous alum like Darth Vader (okay, James Earl Jones), Tom Brady, Lucy Liu, and Arthur Miller.
The Big House
It's only the largest (and greatest) stadium in the United States with a capacity of over 110,000. Now imagine everyone chanting "Go-Blue". Yea, we're done here.

The pickup basketball is legit
Especially the intramural hoop on campus. Former D-I players (now grad students) make the top divisions a gauntlet, so getting into the semis is a HUGE accomplishment.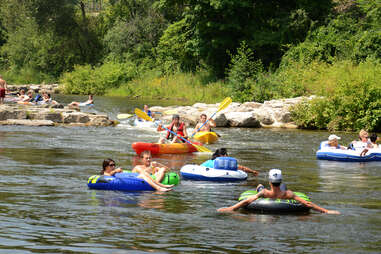 Summers are a total wild card
The town slows down and the lazy river/rooftop drinking heats up. Plus, popular bars don't get as crowded.

The Arb
Many a sunny Saturday afternoon has been lost hanging out in the Arb, a 123-acre conservatory full of fields, hills, trails, trees, and guys playing guitars under trees while their friends toss the disc.
Hash Bash
Since getting caught with a small amount of pot in Ann Arbor is a mere $55 civil infraction, nobody's scared away from this 420-friendly rally/festival that goes down every April.

There is trivia every night of the week
Who knows if it makes us smarter, or just more likely to win on Jeopardy, but there is, literally, trivia every night. And we love it.
The live-music scene is totally underrated
The artists come because of the venues: Blind Pig. The Ark. Hill. Everyone from Chance the Rapper to Ben Folds has played Ann Arbor. But more importantly, legends like Bob Seger and Iggy Pop, as well Mayer Hawthorne and Andrew W.K., all got their starts here.

Hill Auditorium
With the goal of building an acoustically perfect concert hall, they opened this beauty in 1913. Over 100 years later, the acoustics are still perfect.
The corned beef at Zingerman's
An Ann Arbor classic, this deli is so highly regarded it deserves its own entry. You know a spot's the tops when presidents pop in for a sandwich; last year, before a speech, Obama rolled with Zingerman's Reuben.

You can chill out in Kerrytown
A neighborhood full of people with no idea who coaches Michigan's football team, Kerrytown is all farmer's markets, co-ops, incredible food, and lovable weirdos.
The haircuts at Coach and Four
Relax on a bench made of hockey sticks, crack a beer, and then top off your high-and-tight with a close, warm, shave. If it was good enough for Bo...

You never have to leave
It's a rare college town where you can go to school, raise a family, and grow old -- all without people commenting about how you're that creepy dude who never left after graduation.

Everett Cook is proud graduate of the University of Michigan. His work has appeared in The New York Times, The Los Angeles Times, The Boston Globe, ESPN the Magazine and SB Nation. You can follow him on Twitter at @everettcook.