Everyone thinks their college is the best college. And while no college is outright BAD, some are certainly better than others. And from there, it reasonably follows that one college -- and the town that makes it what it is -- must be the finest of them all.

Over the course of many tireless months working much harder than actual college students, we'll be conducting our noble Search for America's Best College Town. Now keep in mind, we're not really talking about academics at all, and in some ways, even sports are only a small part of the formula. It's the everything else -- the bars, the burgers, the bars, the buildings, the lovable famous weirdos on the streets, the weather, the bars -- that build a college town's case. Get ready to re-enroll.

Next up: Gainesville, home of the University of Florida. From party rafting and gator encounters, to drag racing and sunbathing coeds, here are 16 reasons why there's no better college town in America.
We invented Gatorade. You're welcome.
Created for University of Florida football players in 1965, it's now a staple for gym rats, hangovers, and mathletes the world over.

It inspires the best of the best
Maya Rudolph, Joaquin Phoenix, Against Me!, Sister Hazel (come on, that one song was catchy), Bo Diddley, Tom Petty, part of The Eagles -- they all call G'ville home. And that doesn't even count alums. Gator grads include Erin Andrews, Bob Vila, the dude from Office Space who wants his s-s-stapler (Stephen Root), and Wendy Thomas. Yes, of Wendy's.
There's a bat house
Every evening, those in the know gather at dusk to watch more than 100,000 bats (!!) pour out of this place in droves, taking off in every direction. Just don't forget to bring an umbrella; sometimes they like to poop mid-flight.
Mr. Two Bits rocks our world
The octogenarian Gator fan knows how to rile up a crowd, and his celebrity successors are holding their own as well. With 88,548 screaming fans at The Swamp (the largest stadium in the Sunshine State, mind you), it gets loud.
Partying on a raft
For years locals have been stuffing way too many people into cars (including into the trunk), to head to Ginnie Springs for some good old-fashioned day drinking. Hop on a float, tie a cooler to it, and down the river you go with a beer in hand.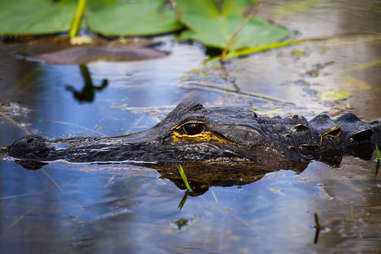 Training to become a real life Gator Boy
UF's mascot was aptly chosen, since there are literally gators all over campus. Not holed up in a pit, not behind glass in a giant tank, but sunning themselves by the dorms and swimming around Lake Alice. Just keep your distance, and you should be all right.
The 34th Street Wall
God knows how many layers of paint this wall has seen; from art, to marriage proposals, to political statements, you name it. A tribute to the victims of serial killer Danny Rolling, however, has been respectfully untouched since it went up in 1990.

Buy freshly butchered beef -- on the cheap
Thanks to UF's Beef Teaching Unit, anyone can purchase cuts of beef and pork for ridiculously low prices. Students from the university's College of Agriculture learn the ways of the band saw while tending to the school's herd.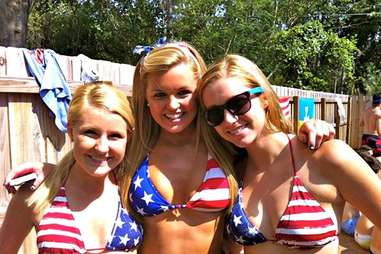 Girls sunbathe all over campus
With Florida's nearly year-round sunshine, female students have been known to lay out their beach towels pretty much anywhere on campus to catch some rays. And when it gets cold (you know, like, 68 degrees), they resort to Ugg boots and Daisy Dukes.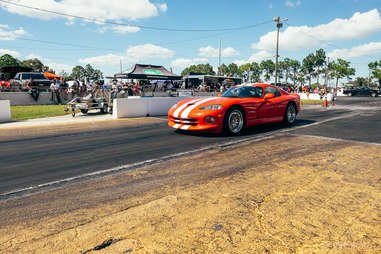 We (legally) drag race through town
Every March, the National Hot Rod Association hosts the Gatornationals here to kick off the drag racing series. Think four days of revved engines and sweet, sweet speed.
Satchel's Pizza, 'nuff said.
So many spots are iconic to Gainesville (Flaco's, Dragonfly, Pizza by the Slice), but perhaps the greatest is Satchel's Pizza, a hipster's paradise where you can explore a junk museum before eating your pie in a freakin' van!

The strip club serves pretty damn good food
You know you're getting close to Gainesville on I-75 when the billboards for the classy Café Risqué start popping up. Hell, they even have free trucker showers.
DON'T TASE ME BRO!
Things that happen in Gainesville tend to go viral, like when a student was tased by the UPD during a John Kerry speech.

Our rivalries run deep
Tigers, Vols, and Seminoles best not wear their game gear around the Swamp. In fact, our rivalry with the University of Georgia is so intense that the annual football game is played in neutral Jacksonville, where we throw what's known as the World's Largest Outdoor Cocktail Party.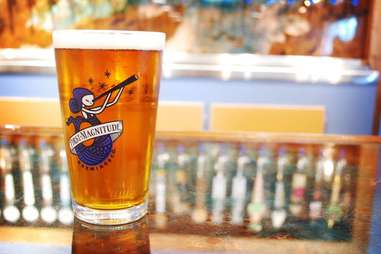 Not one, not two, but three breweries
Gainesville is chock full of bars and craft-beer spots, but it's never fresher than straight from the tap at Swamp Head, First Magnitude, and Alligator Brewing.

With the Later Gator and SNAP, you always have a ride home
So you're not all, like, "Dude, where's my car?" after a night out downtown, there's the late-night bus and van service that safely shuttles sloppy gators home. You haven't truly lived until you've done the Gator Chomp by day, and vomited in the van by night.

Christiana Lilly is a proud Gator who spent way too much time downtown. She's still pissed no cops came to rescue her from the herd of cows that wandered into her apartment's parking lot junior year. Oh, Gainesville. Follow her @christianalilly.