Everyone thinks their college is the best college. And while no college is outright BAD, some are certainly better than others. And from there, it reasonably follows that one college -- and the town that makes it what it is -- must be the finest of them all.
Over the course of many tireless months working much harder than actual college students, we'll be conducting our noble Search for America's Best College Town. Now keep in mind, we're not really talking about academics at all, and in some ways, even sports are only a small part of the formula. It's the everything else -- the bars, the burgers, the bars, the buildings, the lovable famous weirdos on the streets, the weather, the bars -- that build a college town's case. Get ready to re-enroll.
Next up: Lawrence, home of the University of Kansas. Here are 16 reasons why it tops every other college town in the country.
We're the center of the Google universe
Lawrence is the default starting point for Google Earth, because the director of engineering Brian McClendon is a KU alumnus.
Our mascot is a made-up mythical bird
Not only does that mean we're original, but it also means that we have free rein to declare our powers superior to other common mascots. (Have you seen our titles? Rock Chalk!)

Basketball exists because of us
The Jayhawks' first coach, James Naismith, invented basketball. Literally. And the Jayhawks have won three NCAA national championships — not to mention the Helms Foundation championships in 1922 and 1923 — and have been to 14 Final Fours. No big deal, but we dominate.
24-hour access to cream cheese donuts
Grab Muncher's doughy pouches of smooth cream cheese to fight off tomorrow's hangover, or pick them up in the morning to make the walk of shame slightly more bearable. These golden pastries are so good that a man hid in the ceiling just to be closer to them. For real.

We're home to the Smutty-Metaphor Queen
With Patricia Lockwood's scholarly words on boob-pics and Twitterverse "sexting" getting the New York Times' stamp of approval, we've got a real role model on our hands. You may not be into poetry, but that means you've probably never read her musings.
We have the ultimate home-court advantage
NCAA voted us the loudest, most intimidating arena in college basketball. "Pay heed, all who enter. Beware of the Phog."

Not only that, but Teddy Roosevelt pronounced our chant THE greatest
Not only did a president give us major props, but troops also used the chant when fighting in the Philippines in 1899, in the Boxer Rebellion in China, and in World War II. Beat that.
Funny people love us -- and some of them are our own
Paul Rudd and Rob Riggle are both KU alumni, and Jason Sudeikis grew up in Kansas City, so it's no coincidence if KU makes it into a SNL sketch.

The "Pope of Trash" chose us
The godfather of the Beat Generation, William S. Burroughs, put us on the map. He lived out his last days in Lawrence, no doubt consuming copious amounts of liquor and other substances. London, Paris, Berlin, Morocco, and New York (where he lived previously) all carry a torch for this dark and twisted artist, but his final home was in Lawrence.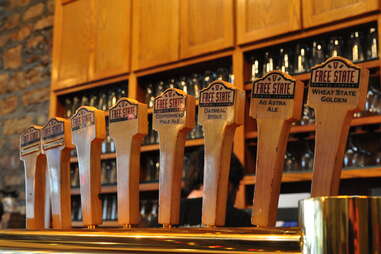 Speaking of drinks, we don't screw around when it comes to beer
Free State Brewery and 23rd Street Brewery both have your back on game day; Ted's Taphouse is responsible for introducing Lawrence to breweries like lesser-known Evil Twin and Horny Goat; and Merchants, a local gastropub with farmhouse fare, rocks 30 draft craft beers on tap.

Dirt-cheap drink specials for everyone
And don't think you're limited to getting trashy with 32-ounce schooners of domestic suds for $2.50; get bougie boozy with $4 martinis at The Eldridge Hotel. Let's face it: we'll most likely see you at dollar night at The Hawk, a college bar notorious for the infamous Boom Boom Room.
Our entire town does everything before it's cool
PBR, fixed-gear bikes, mason jars, DIY musicians, mustaches… need I go on? It's the hipster stop you make before moving to Portland or Williamsburg.

There's a regular night dedicated to booty tunes
The latest dance party to take over Lawrence? ASSJAMZ. No, it's not some weird VHS you'd find at a store with no windows. It's a packed room of sweaty, booty-shaking madness set to the booty throwbacks of our generation. Beware of the Butt. (That's not a saying, but it should be.)
We're home to Dennis, the doll-in-a-stroller guy
And he's just as cool as anyone in Hollywood to LFKers. We've got a Facebook page for this local celebrity with more than 4,000 likes to prove we like to keep it weird.

Good music matters here
This year's loop-pedal internet sensation Kawehi lives in Lawrence, and it's not uncommon for LFK up-and-comers like Your Friend to get signed. Plus, the DIY music scene is outta control: EDM, punk, rock, folk, bluegrass, hip hop, and indie everything that you can think of. One band self-describes their style as milk. You can't make this up.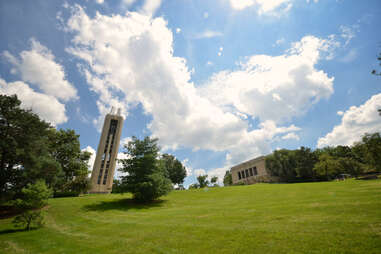 Killer calves
Sure, Kansas is flat. Except for the giant hill (properly named Mount Oread) that our beautiful campus is located on. Good luck graduating without perfectly sculpted legs.
Nadia Imafidon is a proud Lawrence townie, Jayhawk, magazine editor at Sunflower Publishing and singer in soul/funk band Sharp 9. The size of her hair very closely resembles the size of her ego and she woke up like this. Bow down @nadia_imafidon on Twitter.