Everyone thinks their college is the best college. And while no college is outright BAD, some are certainly better than others. And from there, it reasonably follows that one college -- and the town that makes it what it is -- must be the finest of them all.
Over the course of many tireless months working much harder than actual college students, we'll be conducting our noble Search for America's Best College Town. Now keep in mind, we're not really talking about academics at all, and in some ways, even sports are only a small part of the formula. It's the everything else -- the bars, the burgers, the bars, the buildings, the lovable famous weirdos on the streets, the weather, the bars -- that build a college town's case. Get ready to re-enroll.
Next up: Berkeley, home of the University of California, Berkeley. Here are 18 reasons why it tops every other college town in the country.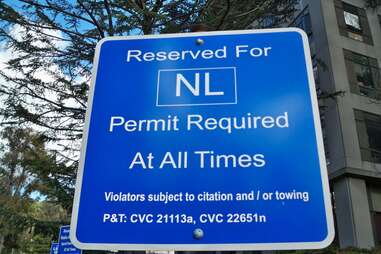 There's Nobel Laureate parking on Cal's campus
Oh, someone at your university won a Nobel Prize? That's cool. Cal is responsible for SEVENTY-TWO Nobel laureates (only 835 have won the Prize, ever), and they all have cars. Probably nice ones.

Everyone here is super smart, but unlike all the other super smart towns out there...
...telomerase, human-genome sequencing, oncogenes, vitamin E, the cyclotron, SIXTEEN chemical elements (including Berkelium), the dinosaur extinction, universe expansion acceleration, 250 planets -- all discoveries made in Berkeley. That dude you're doing sake bombs with? Probably going to change the world.
Triple Rock is one of the first brewpubs in the entire country
And it's got a secret roof deck where you can throw back their seasonal IIMAXX Imperial IPA.

Pyramid Alehouse and the Sierra Nevada Torpedo Room?
Both also in the land of the Golden Bears.

Missy Franklin is a student here
The chick who who won FIVE Olympic medals during the 2012 Games. NBD.
Just, Top Dog.

Martin Luther King spoke to about a bazillion people in Berkeley
Did MLK ever do this on your campus? Yeah. Didn't think so.

One of the bars has a red urinal with a Stanford logo on the pee zone
There are few pleasures in life greater than peeing in that urinal.
From Jerry Garcia to Sarah Bernhardt, Corazon Aquino to the Dalai Lama, Janet Reno to Bill Cosby, the Greek Theater is one of the most storied amphitheaters in the world
It's also where they host a bonfire every year before The Big Game (aka the Cal-Stanford rivalry game) and burn, like, infinite palettes of wood, and you get a sunburn even though it's the middle of the night.

The most powerful weapon in the history of the planet? Conceived behind the football stadium.
Do you really wanna argue whether this is the best college town in America with the dudes who invented the atom bomb???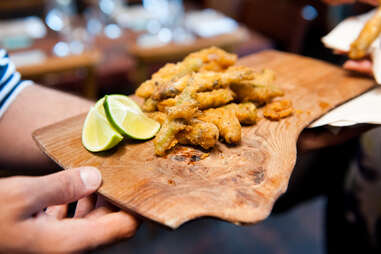 The best bar dudes in SF? All opening stuff in Berkeley.
Including the Bourbon and Branch guys in the old Beckett's Irish Pub, a gargoyle-ladden 1925 French provincial building that might be one of the coolest in Northern California.

The best bar/restaurant people in THE WORLD? All already opened stuff in Berkeley.
When your parents come for graduation, you celebrate at Alice Waters' Chez Panisse. Ya know, Gourmet Magazine's former Best Restaurant in America.
You can see every Cal football game for free
Thanks to Tightwad Hill, a perch 100ft above the east rim of the stadium that has zero ushers checking what's in your water bottle. Repeat: ZERO ushers checking what's in your water bottle.

Our golf course has an Alcohol Bat Phone
Tilden Park in the Berkeley hills has a phone on the ninth green where you can order food and tall boys and then pick them up at a drive-through window between the front and the back nine. That's right, drive-through tallboys ON A GOLF COURSE. If that isn't a hallmark of the world's best college town, nothing is.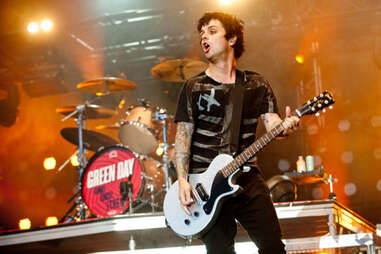 Green Day wrote "Longview" in a basement near campus
Underneath a Victorian house at 2243 Ashby that generations of students have played beer pong in.

Cal has one of the largest greek systems on the West Coast, which means a lot of awesome parties
The guys at Delta Upsilon throw a $10,000 party every year with a waterfall down their main staircase, a porch moat with a legit 25ft bridge built by a certified engineer (smart alums FTW!), and, if you can find it, a magical elixir called "Sling Punch" that you'll drink out of a hollowed-out coconut.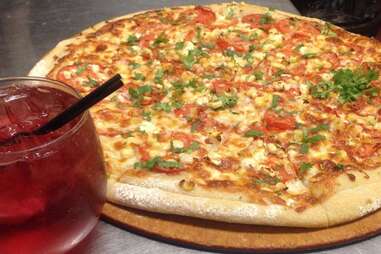 But only if you buy beer or cocktails. Not-decisions, not-decisions.

Boom.
Grant Marek is a senior editor at Thrillist and an avid proponent of getting two Chicken Apples. Say "Go Bears" to him on Twitter: @grant_marek.