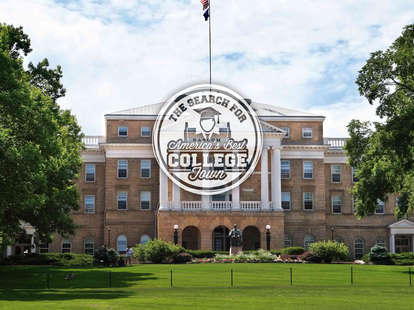 <a href="http://www.shutterstock.com/gallery-11733p1.html?cr=00&amp;pl=edit-00">Suzanne Tucker</a> / <a href="http://www.shutterstock.com/editorial?cr=00&amp;pl=edit-00">Shutterstock.com</a>
<a href="http://www.shutterstock.com/gallery-11733p1.html?cr=00&amp;pl=edit-00">Suzanne Tucker</a> / <a href="http://www.shutterstock.com/editorial?cr=00&amp;pl=edit-00">Shutterstock.com</a>
Everyone thinks their college is the best college. And while no college is outright BAD, some are certainly better than others. And from there, it reasonably follows that one college -- and the town that makes it what it is -- must be the finest of them all.
Over the course of many tireless months working much harder than actual college students, we'll be conducting our noble Search for America's Best College Town. Now keep in mind, we're not really talking about academics at all, and in some ways, even sports are only a small part of the formula. It's the everything else -- the bars, the burgers, the bars, the buildings, the lovable famous weirdos on the streets, the weather, the bars -- that build a college town's case. Get ready to re-enroll.
Next up: Madison, home of the University of Wisconsin. Here are 18 reasons why it tops every other college town in the country.
There is a bar where can drink totally for free
…on your birthday, anyway. Just hit the Nitty Gritty for limitless complimentary libations on your b-day (or the guy on your I.D.'s b-day).
You don't have to be 21 to drink in a bar, if your parents say it's cool
They literally just have to be there and say "it's cool". Which it obviously is.
Wando's gives you FREE BACON when you buy a beer.
Every Tuesday, purchase a fine canned beer for just a buck, and the benevolent/murderous bartenders at this University Ave. stalwart will give you FREE BACON. And when I say FREE BACON, I mean BASICALLY A POUND OF FREE BACON. On a plate. All for you.
The Scrambler from Mickie's Dairy Bar is a military-grade hangover cure
You're dizzy. Your cheeks are sweating. You only remembered to put one contact in, and you just realized your TA from Anthro is in front of you avoiding eye contact. But you will not get out of line. Because the only thing that will turn this hangover into a glorious day drinking in your pajamas is a pile of cheese/gravy-covered eggs, potatoes, and abundant, abundant meat.
Before it was made co-ed, even the senior members of the administration called Liz Waters the "Virgin Vault"
Not on the record.
The Memorial Union Terrace will sell you tons of beer, then throw in live music and scenery for free
Where else in this world can you buy a pitcher of Spotted Cow with the dining card your mom thinks you're using to buy cobb salads, listen to an up-and-coming high school punk-synth band, look at boats that you're too poor to own since you're in college, and maybe steal the most iconic uncomfortable metal chair in history? Nowhere, is the answer. In case you didn't see that coming.
Chris Farley grew up there
And Anders from "Workaholics" also went to school there. But more importantly: Chris Farley. Now go watch Tommy Boy tonight.
Sledding on stolen cafeteria trays
It's amazing that people have anything to put their lunch on come the first snowfall, considering nothing says fun like squeezing your newly acquired 15 pounds onto a lunch tray and hurling yourself down Bascom.
State Street is the world's premiere Halloween tourist destination
And because it's always about 30 degrees, Madison residents step up to the challenge each October to find a costume that is both attractive and warm. Except for the guy dressed like a boob. There's always a guy dressed like a boob. Watch out for the tear gas.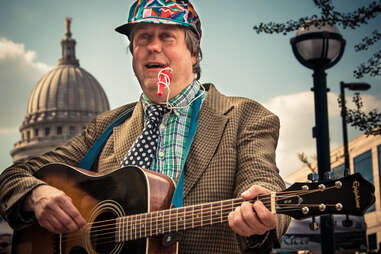 The street people are wonderfully lovable, even the terrifying ones
Piccolo Pete's snazzy tunes have been the soundtrack to every post-KK, pre-Sunrise Cafe walk of shame anyone's ever done. Being cat-called by Scanner Dan is a badge of honor any girl would be proud to wear. And as for Art Paul "Peanut Butter Sandwich" Schlosser, I'll leave you with this Wikipedia excerpt: "On June 29, 2010, Schlosser appeared on America's Got Talent appearing under the name Buddy Holly Cheesehead, singing 'Eating Cheese.' He was booed off stage almost immediately".
The first day of above-freezing weather after a long winter is pure magic
It's like a scene from a Disney movie: animals are singing, people are looking to the sky in gratitude, the cleavage comes out in an inappropriate but intriguing way, and the grassy lawns are full of ladies soaking up those 42 degree rays.
The Onion started there
Area men claim that if you get a journalism degree from UW, there's a 100% chance you'll end up working for the Onion, if they hire you.
It's a damn good thing they made that stadium out of concrete.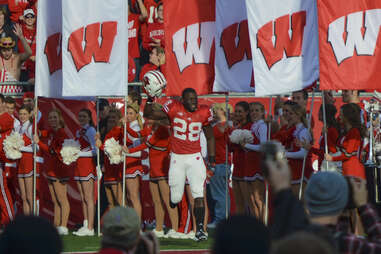 14. The entire ESPN-viewing world can hear you saying "Eat Sh*t" and "F*ck You" on TV
And also that YOU. WANT. MORE. BEEEERRR!!!!!
The "World's Largest Brat Fest"
A few years back, a world-record 209,376 brats were sold at the festival. This year, Scott Stapp from Creed was the entertainment… so, luckily, they also sell beer.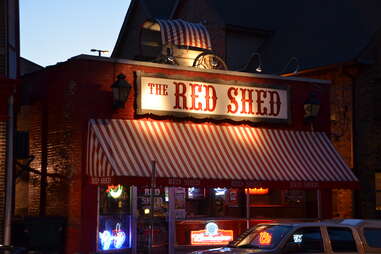 The Red Shed's "Real Thing" is basically a liter of Long Island Iced Tea in a Mason Jar
For just $7.50, this is the type of drink you accidentally order, then wake up on Willy Street with someone else's pants on.
The Capitol Building has the second-largest dome after the one in DC, and is actually legitimately amazing inside

Seriously, go in there sometime! Maybe not after Wando's.
The Rodney Dangerfield classic Back to School was filmed on UW's campus
Ah, Great Lakes University -- home of the Hooters. Madison played a partial backdrop to the movie, though many of the scenes were shot back in Hollywood due to the long, snowy winter. Conclusion: Wisconsinites are even more badass than Rodney Dangerfield.