Michigan is not exactly wanting in the beach department. There are 3,000 miles of Great Lakes shoreline... and that's not even counting the Pretty Fantastic Lakes shorelines inland. Do you like your sand in dune or bar form? Petoskey or skipping stones? Hell, even if you want some gross-ass, leech-infested swimming hole, we've got them by the dozen.
Beach towns also come in all shapes and sizes. And, like the beaches they occupy, not all are created equal. These 19 places combine the essential elements of great food, great booze, and water, and are the best beach towns in the state. Just in time for your last summer hurrah.
Recommended Video
The Most Overlooked Mediterranean Paradise in Europe
19. Copper Harbor
We have no lack of love for this northernmost tip of the continental United States, but the beaches aren't really places for summertime frolicking. Lake Superior's name is no mistake -- its shores really aren't that welcoming. This part of the UP is better for hiking than for beaching, but if you find yourself out this way, dinner with a view overlooking the lake at Harbor Haus is an absolute must, followed by beers at Brickside Brewery.

18. St. Ignace
The best thing about St. Ignace is the view of the Mackinac Bridge from Kiwanis Beach. Also the proximity to Clyde's Drive-In, home of one of Michigan's best burgers. It's not really all that much by beach life standards, but there's a pretty cool fireworks show over Moran Bay on Lake Huron every Saturday through most of the summer, and you can kayak from here to Mackinac Island. (You know, if you want to save the price of the ferry!)
17. Cheboygan
Located on the shores of Lake Huron, Cheboygan State Park has seven miles of lake frontage with a mix of habitats from marshes to dunes and beaches to wetlands. Cheboygan also has Burt Lake State Park with 2,000ft of sandy shoreline. There's definitely plenty of beachfront in Cheboygan, but there's also a lot of grassy and rocky shores -- not always ideal for beach-goers. Dining and nightlife is also lackluster, but a beer on the balcony patio at the Cheboygan Brewing Company, where the focus is all on classic German styles, is an instant cure for the post-beach doldrums.
16. Mackinaw City and Mackinac Island
You love Mackinaw. And we love Mackinaw! There is no denying that Mackinac Island is painfully picturesque, but as for the actual beaches themselves... not so much. The beaches on the island are small and rocky and not really the kinds of places where one does beachy things. As for Mackinaw City, it essentially serves as a holding pen for the Island and we all know you're not there for those beaches.
Plus, while a substantial number of shops and small restaurants have been crammed into the city right by the ferry docks, none of them are particularly interesting. (Except for ye olde sword store Enchanted Knights (because SWORDS) and also the fancy new Starbucks, because sometimes Starbucks is a beacon of hope when you're in semi-remote northern Michigan and need a place to grab a coffee/pee/use Wi-Fi.) Even so, much love to the Pink Pony.

15. Petoskey
Oh, Petoskey. We love you for everything you are, and also because you're not Harbor Springs. We love Sunset Park, on top of the bluffs overlooking Little Traverse Bay with the stair tower to Bayfront Park below. We love Bayfront Park, with the central promenade connecting the park to the downtown Gaslight District. We love the clock tower and the gazebo, and we especially love the Bayfront Park waterfall. A real waterfall! Take lots of selfies in front of it, then go have dinner and raid the wine cellar at Chandler's, a northern Michigan favorite. What we don't really love are the beaches themselves but hey, did we mention the waterfall?!
14. Ludington
Ludington State Park has a beautiful stretch of sand that's seven miles long, with some of it accessible from outside of the park, if you're being cheap. Within the park is the lovely Hamlin Lake Beach area with warm, shallow waters, and just to the north is the 3,450-acre Nordhouse Dunes Wilderness Area. There's plenty of wilderness and sand to explore, and Lake Michigan's beaches are the best in the state, but... that's about all there is to do in Ludington, aside from the standard boating and golfing. There are also lighthouses to look at if you're retired, because for some reason retired people really like lighthouses. Otherwise, Muskegon isn't too far.
13. Charlevoix
It's not a "beach town" the way you might think of a "beach town," meaning a cute Downtown with lots of shopping, and restaurants, and pastel-colored beach shacks, and guys walking around in board shorts and women wearing bikinis as tops, but there's plenty here to keep you occupied once you've finished the beach portion of your day.
Walk the Charlevoix South Pier to the lighthouse (of course) at the end. Bike down the 26-mile Little Traverse Wheelway. Hunt for Petoskey stones at Fisherman's Island State Park. Check out the "Mushroom Houses" of Charlevoix, which look like hobbit huts. Take a twilight tour followed by a farm-to-table dinner at Castle Farms, a legit French Renaissance-style castle built in 1918. Sip beers at the brand-new Lake Charlevoix Brewing Company (with the most Michigan-iest tap handles of all time -- shaped like lighthouses!). Oh, and there's plenty of beaches, of course.

12. Suttons Bay
The Leelanau Peninsula is just simply a place you want to be all day, every day, all summer long, what with all of the vineyards and wineries and ciders and beer and the really and truly farm-to-table restaurants. It manages to be both rustic and sophisticated all at the same time, and nowhere is that balance more apparent than in the epicenter of Leelanau, Suttons Bay. There is a public beach at Marina Park, and it's small, but there's also fantastic dining at places like Martha's Leelanau Table and 9 Bean Rows; all of the cute everything-you-would-expect-them-to-be boutiques through Downtown Suttons Bay; and the entire Black Star Farms campus with the winery and tasting room, Hearth & Vine restaurant, Leelanau Cheese Co., and a pretty terrific B&B at the Inn at Black Star Farms. The beach, however, is secondary to all of this.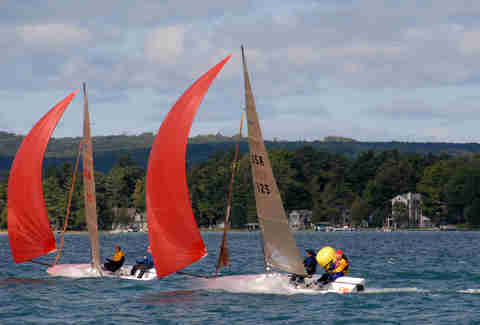 11. Empire/Glen Arbor
So: the Sleeping Bear Dunes, maybe you've heard of them? Back in 2011, Good Morning America named it the most beautiful place in America. Hell, we even named Empire one of the best unspoiled American beach towns you can actually afford. We combined Empire and Glen Arbor here since they really function as two sides of the same coin with the national lakeshore sandwiched between them. Individually there's not a whole lot going on at either one outside of the dunes. Together there's still not a whole lot going on, but after taking a million selfies on the Pierce Stocking Scenic Drive and the 260ft Dune Climb there's probably not a whole lot else you're going to want to do anyway. There IS the iconic Art's Tavern and Grocer's Daughter Chocolate in Glen Arbor, and the Cherry Hut to the south of Empire in Beulah for cherry pie (which you must), then again sometimes you want to go to the beach and just be. These are the perfect towns for that.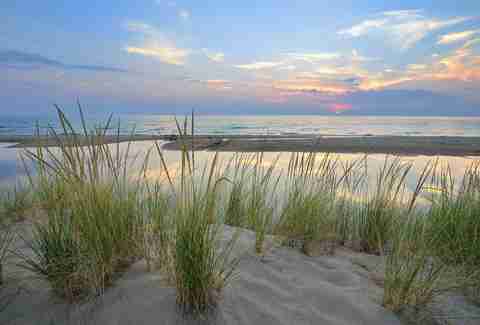 10. Pentwater
Pentwater Public Beach is a pretty damn awesome white sand beach. Ride your bike along the boardwalk, get a game of beach volleyball going, or just coat yourself in baby oil and soak up the sun. Nearby is the popular Gull Landing restaurant & bar with two bars, a huge patio, live music, and daily breakfast complete with Bloody Mary bar. There are also the Silver Lake Sand Dunes, a 2,000-acre mountain of sound, and the only dunes east of the Mississippi where you can drive a dune buggy. This is all you really need for a quick weekend getaway.

9. Sawyer
Yes, you've heard of the Sleeping Bear Dunes. Everyone has heard of the Sleeping Bear Dunes. Subsequently, everyone goes there. But there's a funny little thing about Michigan's stock of sand dunes: they run pretty much the entire western coast of the state along Lake Michigan, all the way into Indiana (yea, there's even an Indiana Dunes National Lakeshore!). And some of them, like the ones in Sawyer on the southwestern side of the state, get pretty damn tall -- 260ft at the Warren Dunes State Park in Sawyer, in fact.
So you can do all your dune-climbing and rehydrate with a beer at Greenbush Brewing Co. afterwards, maybe even make a quick jaunt over to Journeyman Distillery -- one of the best craft distillers in Michigan -- and even drive just a bit farther to Round Barn Winery, Distillery, and Brewery, and St. Julian Wine Co. It's not the best wine the state of Michigan has to offer but hey, you're here. The only problem is all of this involves a lot of driving, which is just a bit counterintuitive/problematic for a post-dunes booze tour.
8. South Haven
Located on the shore of Lake Michigan at the mouth of the Black River, South Haven was once known as "the Catskills of the Midwest" and also "the Jewish Brigadoon," as the resort crowd that flocked there every summer in the first half of the 20th century was predominantly... Irish Catholic! Kidding, they were Jewish. So there you go, some history.
South Haven has seven public beaches and a great view of the South Haven South Pier Lighthouse (another lighthouse!), but before you check them out, start your day at Café Julia for a specialty coffee and homemade pastries. Later, grab a glass of wine and a cheese plate at Channel Wine Bar for lunch, then share small plates and sip on cocktails at Taste for dinner. Sure, Chicago visitors will loudly remind everyone within earshot that none of these places are AS GOOD AS CHICAGO, but that's because Chicagoans are the absolute worst.

7. Manistee
All of the beaches in Manistee are public and they're the big, beautiful kind of beaches that are full of sugary-soft sand. Oh, and if you like impossibly charming historic buildings lining a quintessential American Main Street, or cute riverwalks (and cute bridges, and cute marinas, etc.), and if you just want to miniaturize it all and put it in your pocket to keep with you forever to make you smile when you're feeling blue, then Manistee is for you. Unfortunately, the dining and drinking culture -- and man, this pains us to say -- leaves a lot to be desired. SO CLOSE, MANISTEE.
6. Benton Harbor/St. Joseph
Just a bit north of Sawyer are Benton Harbor and St. Joseph, sister cities that practically share Silver Beach County Park. While St. Joseph is certainly the more charming coastal resort-style town of the two, Benton Harbor is stronger in the cultural areas, and by "culture" we mean things to eat and drink. There's Charlie's Piggin' N' Grinnin' for award-winning barbecue, La Perla for Mexican food inside of a grocery store (which is second only to gas stations for random places where you can get awesome Mexican food), Café Mosaic for coffee and sandwiches, The Mason Jar Café for excellent breakfast and brunch, and The Livery for some truly fantastic beers (especially its sours, like their barrel-aged Maillot Jaune).
There is also an emerging Arts District that's home to a guy who learned glassblowing under Dale Chihuly. Not that St. Joseph doesn't have stuff to brag about what with rooftop views of the water at RyeBelles, and one of Michigan's best pizzas at Silver Beach Pizza, but you're really there for the huge expanse of soft, well-maintained sand.
5. Traverse City
Traverse City has everything you need to make you feel like you're in civilized society but still somewhat away from it all. It has consistently ranked tops in listicles such as this one for being the best and the foodiest and the wine-iest and the Main Streetiest and the small towniest and the film festiest and the beeriest (OH HAI). Stay at the Holiday Inn on West Bay Beach, because there are a thousand rooms, and it's right on the beach, and it's easy walking distance to Downtown, and there is a "nightclub" (OMG it's so weirdly stupidly fun though, really), and it will just make your life easiest.
Spend the rest of your time exploring Downtown, which is full of fantastic breweries and beer bars like 7 Monks, The Filling Station, Brewery Ferment, Terra Firma, Brew, and Right Brain. Get a proper pour-over made with Intelligentsia beans at Morsels. Enjoy the "northern Michigan Italian" cuisine of five-time James Beard nominee Chef Myles Anton at the exceptional Trattoria Stella in the slightly freaky but mostly cool Village at Grand Traverse Commons (formerly a sprawling mental asylum, now a sprawling historic preservation project). Seriously, do all that because while West Bay Beach is pretty terrific, but you're not likely to spend a whole lot of time on the beach itself -- which is why Traverse City misses the top spot by a few here. BEACH TOWNS, people!

4. Saugatuck/Douglas
Nicknamed "The Great Art-Doors," Saugatuck -- along with its sister city across the river, Douglas -- has gained a reputation as a Great Lakes arts destination, thanks to ties to the Ox-Bow School of Art, the Saugatuck Center for the Arts, and art galleries like the Armstrong De-Graaf International Fine Art gallery. Downtown Douglas has ample boutique shopping and "antiquing" enthusiasts will also love the Saugatuck Antique Pavilion, where we're not saying that you're going to find a pristine set of authentic vintage Eames shell hairs, but you probably will.
Stroll along the boardwalk while sipping coffee from Uncommon Coffee Roasters, make your lunch out of oysters on the half shell at Everyday People Café, and for a real treat that will even impress an uppity Chicagoan, make the 15-minute drive to Salt of the Earth in Fennville, one of the best restaurants in the state of Michigan (and also the best place for brunch in the area!). Oh, and hit Saugatuck Brewing Company. Obviously.
3. Holland
There are many reasons to visit Holland, but there are just a few you really need. 1) Tunnel Park: as previously noted, Lake Michigan's lakefront is full of dunes. There is also a dune here, but there is a tunnel through it. Hence the name. 2) New Holland Brewing: Founders and Bell's get all the attention, but New Holland is making some of the best beers (and spirits!) in the state. Stop by its brewpub in historic Downtown Holland. 3) Tulip time: every May the city of Holland becomes a real-life Dutch impressionist painting as it celebrates the budding of hundreds of thousands of Technicolor tulips, an annual celebration since 1929 honoring the city's Dutch settlement heritage. 4) Holland State Park Beach: with an expansive, sandy beach on Lake Michigan and Lake Macatawa, each with their own campgrounds. 5) CityFlatsHotel: a sister property to the CityFlats in Downtown Grand Rapids, this is hands down the hippest hotel you will find in any of Michigan's lakefront communities, guaranteed.

2. Muskegon
Another one from the shores of Lake Michigan... it's not that we don't love you, other four Great Lakes, it's just that, well, you're Jell-O and Lake Michigan is crème brulee. Muskegon has Pere Marquette Beach, one of only three "certified clean" beaches for public safety and environmental health on the Great Lakes. Enjoy 27.5 acres of sugar-sand beach and pristine water along two and a half miles of Lake Michigan shoreline at Pere Marquette Beach, or check out any of the other 27 miles of Lake Michigan frontage in Muskegon County, including a dog beach (rare in lakefront communities) in Kruse Park.
After you've cleaned the sand out of your toes, head to the iconic Dockers Fish House and Lounge for some shark tacos and cocktails outside at its Tiki bar. (Dear every other Michigan lakefront community: you need to get a TIKI bar!) Enjoy a gourmet lunch on a Taco Bell budget at COURSES Restaurant (operated by students at the Culinary Institute of Michigan), where a three-course prix fixe menu will set you back a whopping $15. Enjoy true waterfront dining at the The Lake House, knock back a pint at Hennessey's Irish Pub, mind your p's and q's at Pints and Quarts (a local favorite), and stuff your face full of cheese without fear of judgment at The Cheese Lady's original location (she now has several throughout the state and continues expanding). Plus get all your retail therapy done in the Lakeside Business District.
1. Grand Haven
Grand Haven, you are indeed pretty grand. You have a big, beautiful, soft, sugary-sandy beach at Grand Haven State Park with a lighthouse pier where people may or may not take a Thermos full of cocktails out to the farthest end to see if they get knocked off by the massive waves (and sometimes do). Your state park is among Michigan's best, and your beach was named AAA's favorite in the state. We love breakfast at Morning Star Café. We love a good Euro-style lunch at Elegance of the Seasons. We love a good cocktail on the rooftop deck at Snug Harbor. We love Fricano's Pizza. We love beer, and we love the beer at Odd Side Ales. We could suck down oysters at The Grand all day. We could suck down Rum Bombers at the Tiki bar in Jack's Waterfront Bistro + Bar all night.
There is plenty to do and see and eat and drink in your Downtown, but none of it takes away from what is ultimately the primary focus and your raison d'être: that big, beautiful beach... and those aforementioned cocktails. And yes, there's even a dog beach. This is a Michigan beach town at its very finest: beachy, breezy, and boozy.
Sign up here for our daily Thrillist email, and get your fix of the best in food/drink/fun.