Okay, first things first: go here, and immediately buy a ticket. Done? Great, now grab your calendar. Ugh, okay, buy a calendar, and draw a line between October 10th and October 13th, and write "Great American Beer Festival" in big letters, because that's what you just signed up for.
Now that's all sorted out, you just need to get to the Colorado Convention Center in Denver for the opening, and join this swarthy band of hooligans.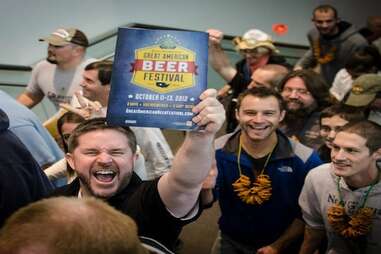 Clearly, when they first open the gates on Thursday at 5:30 p.m., it's quite exciting.
Once inside the Colorado Convention Center, what awaits is more goddamn beer than you have ever seen in one place in your entire life... 600 brewers... more than 2800 beers... Oh, good god!
It is a land so glorious that the Beer Man exists.
Everyone is SO excited there!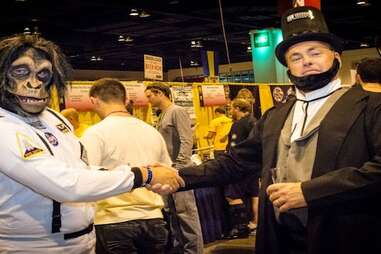 You're damn right that's Dr. Zaius and Abe Lincoln exchanging pleasantries.
Some people wear neat helmets when they go.
While others wear even NEATER helmets when they go.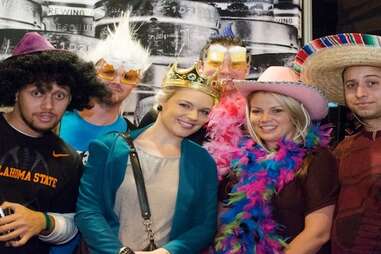 It was nice of all these people to wear silly costumes in order to make their white-haired friend feel less like a total freak.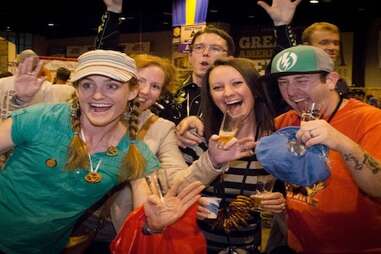 People who've been drinking for three days straight bring a whole new meaning to the term photo-bombed.
They have headphone dance parties in an effort not to disturb the beer drinkers.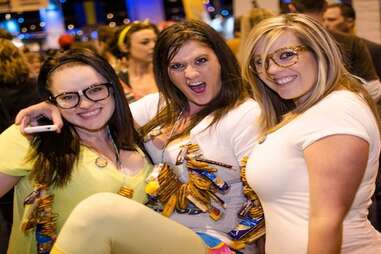 There are even girls there... Nerdy girls.
Some of the girls even get WAAAAAY into karaoke.
Throw away those ratty No Fear and Bear Whiz tees, because they've got literally thousands of beer tees to replace them.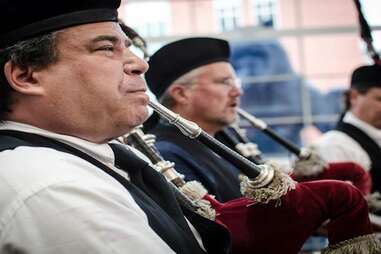 Naturally, there will be bagpipers.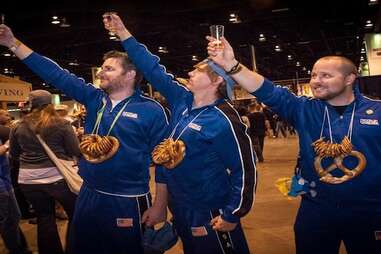 And just as naturally, there will be pretzel-wearing, track-suited lads saluting them.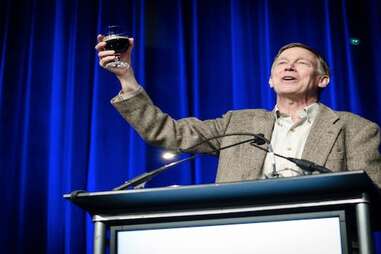 Even the Governor of Colorado (who also founded Wynkoop Brewery) will be there. His name's John Hickenlooper... Heheheheh.
All the brewers think a last name like Hickenlooper is pretty hilarious.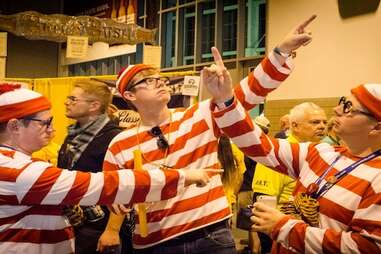 I bet you're wondering who these crazy Waldos are looking for.
Turns out they were looking for the founder of Sam Adams, Jim Koch, who has been running around threatening people with his claws again.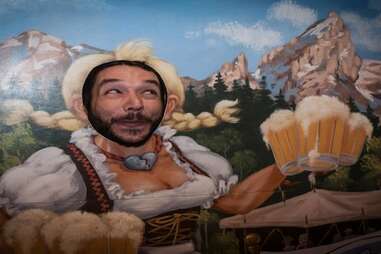 Or maybe he was just trying to make a pass at this guy.