Because almost everything you know about zeeee Oktoberfest you learned from the Wolfhouse brothers, here are 30 fun facts from a real-life German about the world's most magical annual beer festival.
1. The name is misleading. Probably to mess with foreigners
Because Oktoberfest is in September, for the most part.

2. It's 204 years old
Yup, the festival started its illustrious career in 1810, the same year the US annexed the Republic of West Florida, if that helps give you an idea of how far back it goes. Wait, it doesn't? Didn't know there was a Republic of West Florida? Yea, we looked that up.

3. In the beginning, there was no beer
Oktoberfest started as a wedding actually, and a dry one at that. It was essentially a way to let the poor people celebrate the nuptials of Ludwig von Bayern, the King of Bavaria, and princess Therese von Sachsen-Hildburghausen. Also, it kicked off with a royal horse race.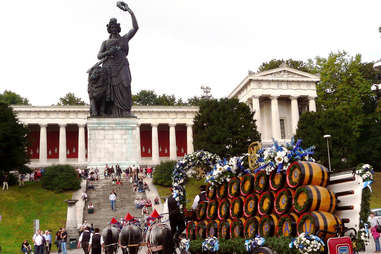 4. Calling it the 'Wiesn' will make you look like an insider
Oktoberfest is affectionately known as the "Wiesn" by locals, after the Theresienwiese, or the plot of land on which it takes place (which, confusingly, is named after the princess Therese. Make sense?).

5. It's not just a beer-infused mess; there's a lot of pomp and circumstance involved
Since 1950, each Oktoberfest begins with a parade of extravagantly decorated horses pulling kegs, as well as carriages full of waiters, staff, and tent owners. At noon on the first Saturday, the mayor of Munich taps the first keg of special Oktoberfest brew and yells "O'zapft ist!" -- Bavarian for "it's tapped" -- before 12 ceremonial shots are fired, signaling to tents across the fest that beer can finally be served. Locals line up as early as 6am.

6. It's been cancelled 24 times in 204 years
Usually because of war, or, you know, a bad case of cholera.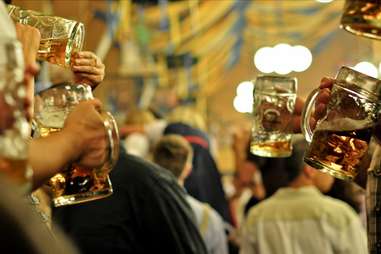 7. German efficiency is real
Experienced bartenders only need about 1.5 seconds to fill a mass (liter stein) with beer.

8. People drank 7.7 masses (remember, liters) of beer last year
That's 2,034,125 gallons, downed in 16 days.

9. This year, one mass of beer will cost almost $13
They don't call it liquid gold for nothin'.

10. That's a 1,081% price increase since 1950
No wonder the German economy is doing well.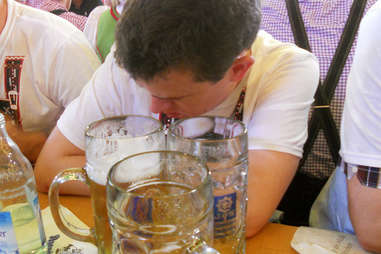 11. The beer at Oktoberfest is a special brew -- and extra strong
One mass of Oktoberfest beer is the equivalent of eight shots of Schnapps. It's specially brewed by Munich's finest breweries for the occasion and is about 1.3% stronger than your average draft suds.

12. Which can make for some dangerous drinking
Between 600 to 800 idiots a year suffer from alcohol poisoning as a result of drinking too much.

13. In fact, there's an onsite Red Cross tent and it's usually full
Last year, 7,551 people paid them a visit. Meanwhile, the cops were called in 2,031 times.
14. Oktoberfest is good for business, and we're not talking about the breweries
There are usually between 500 to 800 prostitutes working in Munich; during Oktoberfest, the number triples.

15. There's a special Oktoberfest cocaine -- and it's legal
Wiesnkoks is fun, but harmless – it's made from sugar and menthol.
16. There are 14 large beer tents
The largest of which, the Hofbräu-Festhalle, seats almost 11,000 people.

17. And approximately 118,000 seats
Though people mostly use the benches for dancing.

18. There's also a wine tent
But it's full of old people.
19. The whole thing shuts down at 11.30pm
That's when locals head to the clubs for after-parties. Never a good idea. Or are they?

20. But it also opens at 9am on weekends, 10am during the week
The whole thing is quite family-friendly actually, like a state fair. There are even more than 80 rides.

21. It's not just about beer – food is huge too
There are 140 restaurants and food stands this year serving everything from authentic fish sticks (like, literally, an entire fish on a stick), to schnitzel sandwiches and candy apples.
22. Oktoberfest helps the economy
Beside being known as Munich's "fifth season", Oktoberfest employs around 12,000 people.

23. It's always packed
More than 6 million people attend Oktoberfest annually.

24. Despite the international appeal, it's still a surprisingly local affair
Apparently, only 19% of Wiesn visitors come from outside of Germany.
25. Einstein worked there
Albert Einstein, of E=mc2 fame, once earned a living as an electrician of sorts, helping to set up one of the beer tents in 1896.

26. Forget wurst – roast chicken is the most popular Oktoberfest food
Around 482,361 roast chickens are devoured per Oktoberfest, compared to only 112,772 pairs of pork sausage.

27. Oktoberfest has its very own, pop-up post office
And, apparently, 130,000 postcards and gifts were sent from it last year.
28. Lost and found collects around 5,000 items each year
And pretty much every year they find a pair of teeth. Wedding rings also seem to get surprisingly loose during Oktoberfest.

29. Oktoberfest knows that beer goes right through you
And is prepared, with 1,800 toilets and urinals.

30. Around 130,000 steins are stolen each year
Or that many attempts are made, at least, as the bulky mugs are easily identified by security.

Sophie-Claire Hoeller is Thrillist's über-efficient German associate travel editor, and now homesick. Follow her @Sohostyle.