The 38 Best Things to Do in Sydney Under $30
Sydney's a frequent contender for one of the world's most expensive cities, but that doesn't mean penny-pinchers are barred from having any fun. From public parks and sprawling beaches to neighborhood bars and easy road trips, we picked out 38 affordable alternatives that don't involve hemorrhaging money.
1. Wander around The Rocks, a historic precinct
Situated next to the harbor, The Rocks was one of the first settlements in Australia. Make sure to check out the markets on the weekends, as well as the Foodies Market on Fridays.

2. Scope out the Sydney Observatory
The Observatory features stunning views of the harbour, and costs just $10 for a daytime tour.

Instead of spending $200 to climb the Harbour Bridge, walk 200 steps to the Lookout and spend just $13 to climb to the top. Along the way, you'll find exhibits outlining the bridge's history and construction.

This local pub sits just next to the bridge, and gives you a cheaper vantage point than some of its higher-end neighbors.
Entry is free at the Art Gallery NSW, which features collections of Australian, Aboriginal, European, Asian, and contemporary art. Catch Art After Hours every Wednesday, when the museum keeps its doors open until 10pm.

You've already visited one museum, why not double down on culture and wander the waterside MCA? The impressive museum features international exhibitions, installations, paintings, sculpture, and new media.

7. Take the Bondi to Coogee Walk
The coastal walk winds you along the beaches of Tamarama, Bronte, Clovelly and Gordon's Bay. The two-hour stroll ends at Coogee, where you can grab a pint at Coogee Pavilion.
Located just across the harbor from Circular Quay, Luna Park is the trippy carnival of your dreams -- or nightmares, seeing as the entrance is through a giant, freaky statue's mouth. The rides aren't free, but a few beers and a $12 ticket to stroll through the park can be just as entertaining.

The former empty container wharf had been closed off to the public for more than 100 years before it was transformed into a city park in August. Check out the Wulugul Pop Up space, where you can snap up some tasty fried chicken from Melbourne favorite Belle's Hot Chicken or Malaysian fare from Mamak. The popup runs through August 2016.

10. Ride the ferry to Manly
A trip to Manly is just $15 and is one of the easiest ways to explore the harbor. Check out the beach and grab $5 tacos and $9 cocktails at Chica Bonita or grab a beer and experience the lively scene at Manly Wharf Hotel.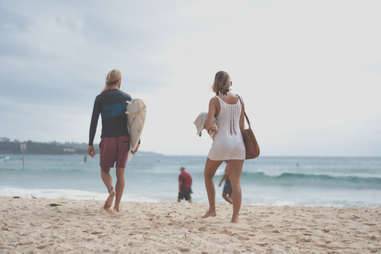 11. Take a scenic walk from Manly to Spit
It's nearly a four-hour commitment, but the hike boasts incredible waterside views that are well worth it. End your exodus with a rewarding pint at 4 Pines Brewing Company.

This club's proximity to the ocean (it's right next door) makes it the best spot for lawn bowling in the city. Kick off your shoes and enjoy an afternoon of barefoot bowls for just $12.

On the off chance you're more of an indoor bowling type, The Standard is your move. Outfitted with lanes, pinball machines, and pool tables, as well as (free) live music, this bar and music venue's revamp was inspired by the proprietor's trip to Brooklyn Bowl in Williamsburg.

14. Visit the Chinatown night market
Every Friday at 4pm, Dixon St is transformed into a bustling market with more than 65 stalls hawking everything from food to handmade jewelry. Even if you don't buy anything, the visit alone is an experience worth having.
Every Saturday during the summer months, watch for fireworks to light up the sky at 9pm. It's breathtaking, but more importantly, it's also free.

16. Snorkel at Shelly Beach
This local haunt is tucked away in Manly and features the Cabbage Tree Bay Aquatic Reserve, which means it's a protected haven for marine life and an absolute must for snorkelers of all skill levels.

17. Walk The Gap at Watsons Bay
The cliffside hike overlooks the Tasman Sea on the Southern head of the entrance to Sydney Harbor. Keep an eye out for the nudists at Lady Bay, and finish off your hike with some inexpensive fish and chips at the famed Doyle's on the Wharf.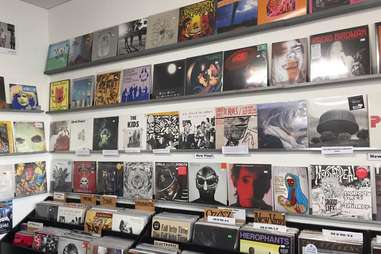 You can find all sorts of treasures with a walk down King St, but Newtown's vinyl offering is some of the best. Make sure to hit Newtown institution Repressed Records, along with Egg Records, for new and secondhand vinyl.

This World Heritage-listed park is just a 90-minute drive (or a 1-2 hour train ride) from the city, and known for its blue haze -- hence, "Blue Mountains." Enjoy a long hike, then check out the mountainside towns for lunch.

Hit the dance floor at this rock 'n roll dive bar and wash down a $5 slice with a Whisky Apple. While you might've done things you'll regret that night, this won't be one of them.

Pull up a beach chair, grab a cocktail jug (yes, a jug), and soak up the sun under one of the signature striped umbrellas at this bar in the middle of Sydney Harbor.
Located at Mrs. Macquarie's Chair between Circular Quay and Woolloomooloo, the cinema is one of the best spots to catch a film. Like a scene from a movie you're there to watch, the screen emerges from the water with the Opera House and Harbor Bridge looming in the background. Movies start at sundown, and tickets cost around $35.

Find fresh fish and chips for as little as $10 at the famed markets. It's as simple as that.

The Gardens offer some of the city's best views, so grab a bottle of wine and plant yourself for an afternoon picnic or a boozy lunch.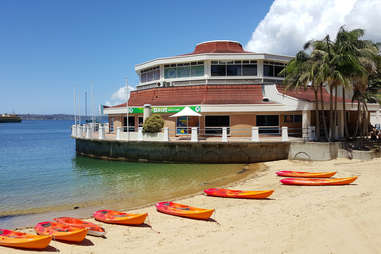 Rent a kayak for $20/hr on one of Sydney's most popular northern beaches and paddle on the wharfside over to one of the smaller beaches that are only accessible by boat. Protip: pack a picnic and spend a couple of hours at Store beach.

Manly is home to the only breeding colony of Little Penguins on mainland NSW. The population stands around 50 to 60 pairs, and the best place to see them is at Collins Beach on North Head, or around the old Quarantine Station -- ride the ferry to get there.

For just $20/hr, get your daily dose of exercise with a bike ride through this historic park. Keep your eyes peeled for the colony of flying foxes that hang out in the Lachlan Swamp!
Before the 1am lockout hits, head to this Papua New Guinean local haunt for $10 cocktails before hitting the dance floor for a sweaty and most likely hazy night of fun.

Movies can usually set you back at least $20, but you can snag a ticket for just $6.50 at Campbelltown's Dumaresq Cinema.

Drop into this Marrickville brewery to taste the latest batch and take home a growler topped off your favorite draft. Craft beers are available as little as $9.

There are plenty of options around town thanks to Sydney' unrelenting burger craze, but experience what all the hype is about in North Sydney at Five Points. For a $10 burger, it's well worth the trip.

For more than 13 years, this veggie-focused restaurant has successfully operated on the concept that you can pay what you want for your meal. Seriously.
A few restaurants around town serve up a mean Sunday roast, but Dove Olive's offering is a steal at $15 for generous portions of half a chicken, roast potato, gravy, pumpkins, and carrots.

After finding success in Melbourne, the Laneway Learning team brought its concept to Sydney to offer cheap and fun classes on just about anything. Most classes cost around $12 and are held around town in bars and cafes, ranging in subject from helping you perfect the Charleston to sock puppetry for adults -- which, apparently, is a thing.

For a hassle-free Sunday session, plan a barbecue at Blackwattle Bay in Glebe, where the barbies are new and the shoreline views of Anzac Bridge are some of the best around.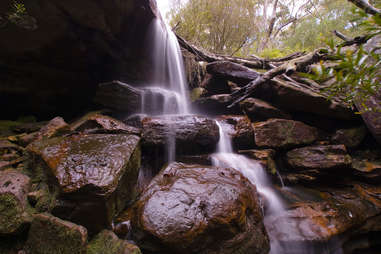 36. Road trip to Royal National Park
Less than an hour's drive away, the Royal National Park is a quick day trip full of options other than boozing at one of Sydney's waterside bars. Vehicle entry is just $11.

37. Swim at Andrew (Boy) Charlton
Enjoy panoramic views while lapping around ABC pool in Woolloomooloo for just $6.

38. Eat dollar dogs at the Soda Factory
Tuesdays at the Soda Factory are all about the American dream -- y'know, the one that includes five different gourmet hot dogs for just $1 each?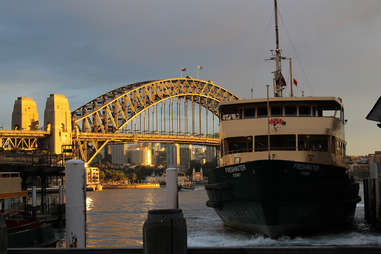 Bonus: extra trips on the Opal
If you're regularly tapping your Opal card, you may have figured out by now that transit is free after eight trips per week. Take an extra train ride instead of walking to lunch and get your eight trips in at the beginning of the week so it's free by Thursday. Warning: trips must be an hour apart or they count as a transfer.

Bonus: Family Funday Sunday
You can access unlimited travel between trains, buses and ferries for a maximum fare of $2.50 on Sundays.
Sign up here for our daily Thrillist email, and get your fix of the best in food/drink/fun.
Courtney Subramanian is a freelance journalist who preoccupies herself with too much walking. Follow her at @cmsub.