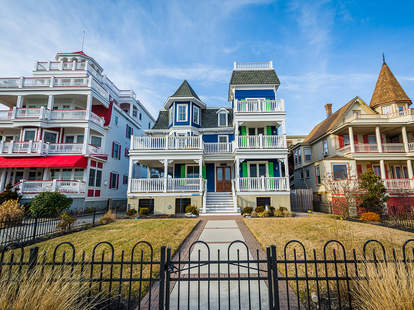 Just because you've broken out your heftiest puffer coat and keep a collection of cozy beanies by your door doesn't mean that beach season is over. Seriously. New York City's proximity to the sandy shores of the Atlantic Ocean doesn't change once temperatures drop below a steamy 80 degrees, and the beach is there whether you're in a bathing suit or not.
In fact, the colder months can be prime time for a weekend beachside getaway in the Tristate area: Less traffic on the Long Island Expressway on Friday afternoons (and maybe slightly less on the New Jersey Turnpike), lower prices at hotels and rental houses close to the waves, and easier-to-score restaurant reservations are just a few of the reasons you should push a few of your favorite sweaters into a suitcase and head to the beach for a weekend. Ready to sip spiked cocoa on the sand under a blanket at sunset? Book a romantic (or just friends!) getaway at one of these five local beach towns that thrive all year round.
Cape May, New Jersey 
If seasonal decor is your kryptonite, head out to the furthest point south on the Jersey Shore (about a three-hour drive from Manhattan) for all the cornucopias, holly, and vintage tchotchkes your holiday-loving heart can handle. Historic Cape May is lush with colorful Victorian homes, bed & breakfasts, and hotels that don't hold back on nostalgic decorations. Take a carriage ride through town to admire the architecture and winter sparkle and bring your favorite wine or beer to dinner at Freda's Cafe, a BYOB establishment full of charm and quirky dishes. Tuck yourself in early in a steeply discounted room at Congress Hall. Shoppers can also take advantage of the outdoor Washington Street Mall, a downtown pedestrian area flush with small, local boutiques and eateries. Outdoorsy visitors can also take advantage of Friday night campfire dinners at Beach Plum Farm or stop by the weekend market for produce and kitchenware to take home.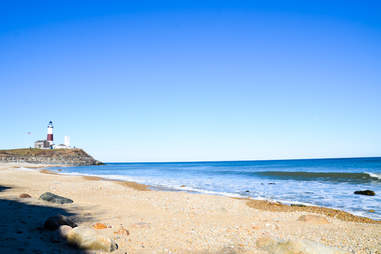 Montauk Lighthouse

| Flickr/Stacie
Montauk, New York
Hardcore surfers aren't skipping the waves due to low temperatures, but even out of the water, you'll be able to relish in Montauk's laid-back vibes, especially with the lack of the typical (and oft-maligned) summer crowds. The hyper-stylish Gurney's Resort brands itself as a year-round property, complete with an indoor saltwater pool, an outpost of the Italian restaurant Scarpetta, a comfort food bistro, coffee shop, cocktail club, and more -- so basically, you never have to leave the property if you want to spend an entire weekend in slippers. Currently, the off-season weekend booking promotion includes free rosé upon arrival plus $150 in resort credit and late checkout, so you can sleep in on Sunday. Those seeking more adventure in Montauk can head out to hike the 415-acre Camp Hero State Park; drink a seasonal beer at Montauk Brewing Company; and visit the Montauk Lighthouse, a National Historic Landmark. The colder months are also peak time for seal watching on Long Island, and the weekend Seal Walks at Montauk Point State Park help you spot the visiting marine creatures. 
Shutterstock
Asbury Park, New Jersey
Home to nearly 16,000 year-round residents, this quaint but lively oceanfront town is hardly just a summer getaway spot. Home of the legendary Stone Pony -- the venue known for launching the careers of Bruce Springsteen and Bon Jovi, among other artists -- Asbury Park's nightlife scene is worth visiting year-round. Retro bowling alley Asbury Lanes recently reopened with a performance by The Boss himself and the on-site diner (open late!) lets you fill up on burgers and tuna melts before a brisk stroll on the iconic boardwalk. Without the surge of tourists, you can chat with locals at the beloved Wonder Bar or just nest at the luxe Asbury Ocean Club Hotel. The property's brand-new spa offers incredible views from the comfort of the indoor relaxation area, and complimentary fitness classes are offered Thursdays through Sundays. 
Flickr/arvind grover
Rockaway Beach, Queens
As you probably know, the A train doesn't stop running all the way out to Rockaway Beach once the summer season ends. The neighborhood is home to over 13,000 locals, including families with historic ties to the area, avid surfers, and those just happy to enjoy some reasonable rent in Queens. These New Yorkers don't hibernate just because the sunbathing stops, and their thriving local businesses ooze beachside character, like the playful Rockaway Beach Bakery, which churns out sticky buns and everything-seasoned croissants for regulars year-round. Uma's serves rare-to-New-York Uzbek cuisine with South Asian and Eastern European staples like kebabs and dumplings that will warm your chilly bones. Thaw out at Hot Yoga Rockaway Beach and catch a show at Thai Rock, where you can stuff your face with several types of curry, noodles, and more, then dance to live music at the restaurant's lounge and stage. Outdoorsy folk may enjoy bird watching, fishing, or even surfing or paddle boarding when it's not too freezing outside, but there's no need to brave cold-water aquatic activities if you're cozier in a sweater stuffing your face.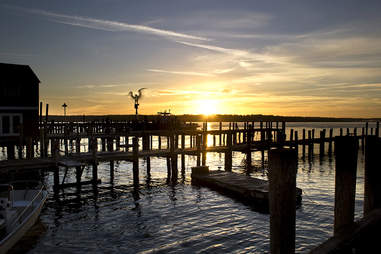 Mitchell Park Marina in Greenport Village

| Shutterstock
Greenport, New York
Go so far east you're almost at the end of the North Fork, to this tiny village in the town of Southold on Long Island. Optional: Turn off your phone for the weekend to relish in the old-school vibes of this centuries-old destination, complete with charming businesses like the 50-plus-year-old Burton's Bookstore. View archaic artifacts at the East End Seaport Museum (open Fridays through Mondays throughout the winter). Warm up at local micro-brewery Greenport Harbor, which pours seasonal beers on tap and hosts live music throughout the year. The restaurant at Little Creek Oysters is a must for any seafood fan to slurp down freshly shucked local oysters and clams and shop for fishing gear (or just seafaring-worthy souvenirs). Wineries, are, of course, a favorite diversion for North Forkers, with the chic Kontokosta Winery being one of the premiere stops for year-round wine tasters. Sober up (or just keep ordering off the wine list) at local favorite Claudio's, an upscale eatery dating back to 1870. To sleep, consider The Menhaden, a trendy boutique hotel boasting a very Moira Rose palate of black and white.