Paid Content For
6 Destinations to Put Your Airline Miles Toward in 2020
Paid Content For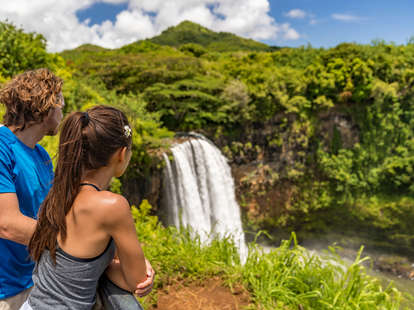 Wailua Falls

| Shutterstock
Wailua Falls

| Shutterstock
Having a few trips already lined up on your 2020 calendar is the key to making it through end-of-year deadlines and holiday shopping. Whether it's treating yourself to a break from the office next summer or figuring out where to whisk your dad off for Father's Day, there's no time like the present to put those frequent flyer miles to use.
Even if you're not a prolific airline passenger, an award flight may be closer than you think. Award trips with the Alaska Airlines Mileage Plan start at just 5,000 miles one way plus taxes and fees, and you can redeem award travel to over 800 worldwide destinations with Alaska and Alaska Global Partners. Elite status begins at 20,000 miles, too -- helping you earn miles faster and enjoy more perks along the way (hello, two free checked bags plus priority check-in and complimentary upgrades when available). And there are more than 600 in-flight streaming entertainment choices on most Alaska Airlines flights to get you in the OOO mood.
Since that's quite a lot of ground (and plane movies) to cover, we've highlighted six diverse, swoon-worthy destinations to help inspire your 2020 travel -- plus which film or TV show you should watch en route to get you in the mood. Don't forget a neck pillow and your sense of adventure.
Chase adventures (and waterfalls) in Hawaii
Booking a flight to Hawaii will certainly cure any winter blues you're experiencing, and Alaska Airlines makes four stops on the islands: in Līhuʻe (Kaua`i), Honolulu (Oʻahu), Kahului (Maui), and Kona (Hawaiʻi). Once there, spend your days taste-testing Kona's local beer and famous coffee straight from the farm; visiting Wailua Falls in Wailua River State Park for dramatic double waterfall photos; checking out street art, breweries, and the South Shore Market in Honolulu's Kaka'ako District; or snorkel alongside beautiful fish and coral in Maui's legendary Honolua Bay, part of the Mokuleia Marine Life Conservation District. Whichever island speaks to your particular vacay mood, we recommend watching Jurassic Park on the Alaska Airlines flight there. The movie was shot all over Hawaii, so it could be a great way to spark some day trip ideas (sans a hungry T-Rex, of course).
Embrace hiking and vino in San Francisco
Put your miles to good use on a West Coast adventure full of great hikes and even better wine. San Francisco is the perfect place to embrace both nature and wine country because you barely have to leave the city limits to experience either. Sample sights include snapping the best pic of the Golden Gate Bridge across the bay during a hike around Cavallo Point; experiencing an incredible winery without driving to Napa Valley; or taking a ferry to Angel Island, the largest island in the bay, for a bike ride with breathtaking views. Binge-watch Valley of the Boom or Full House on the way there for peak SF vibes.
Build out your 2020 festival calendar in Seattle
Seattle's buzzing, year-round festival scene is worth several trips in 2020 -- there's seriously a fest for every kind of adventurer and eater in this Pacific Northwest gem. You can dance to bluegrass at the Wintergrass Music Festival (February 20-23), sample Seattle's most iconic restaurants at Taste Washington (March 19-22), or watch the newest in cinema at the Seattle International Film Festival (May 14-June 7). No matter which Seattle weekend event is calling you, make sure to kick back and watch classic Seattle-set dramas on the plane, like Grey's Anatomy and Say Anything (no boombox required).
Museum-hop around our nation's capital
A weekend trip to Washington, DC, is an easy way to work your way toward priority check-in and preferred seating with Elite Status on Alaska (especially since the airline flies into three different DC-area airports). No matter what time of year you visit, museum-hopping around DC is one of the best ways to experience our nation's history by seeing iconic artifacts, artwork, and other historical documents up close. If you want to pretend you're 007 for the afternoon, head to The International Spy Museum and indulge your inner James Bond. There's also the National Museum of African American History and Culture, the Smithsonian National Air and Space Museum, and the United States Botanic Garden to keep you busy. And if you're already missing the capital on the Alaska Airlines flight home, keep the DC mood going with Meryl Streep starrer The Post.
See a different side of New York
With so much to do in New York City, it's not surprising that the Big Apple is about to draw a record 67 million tourists in 2019. On Alaska Airlines, you can fly into JFK or Newark airports and get yourself in a New York state of mind by switching between You've Got Mail, Night at the Museum, and Friends on the flight. Then, to beat those record crowds, you need to get out of Manhattan. Visit the real Little Italy on this food tour of Arthur Avenue in the Bronx, enjoy 52 acres of serene nature right in Brooklyn, ride the Staten Island Ferry for prime views of Lady Liberty, or head to Astoria in Queens for some of the best Greek food outside of Athens. And since on Alaska Airlines, you earn a mile for every mile you fly, your roundtrip ticket to NYC helps you get that much closer to elite statusand your next award flight (may we suggest Mexico or Costa Rica?).
Get back to nature in Los Angeles
A trip to Los Angeles is always in style, and it's easy to get there (and earn miles along the way) with over 25 Alaska Airlines routes across the country flying direct to LAX. Even though Hollywood is a big draw, the best kind of drama can be found along the surreal California coastline in Malibu at El Matador State Beach. After a picnic and a swim, boat around Catalina Island for more picture-perfect SoCal views. And when you're ready to get in a great workout, practice your vinyasa flow right on the beach or hike to a "secret swing" in Elysian Park that overlooks downtown. Good luck trying to leave… or trying to pick between all of the LA-centric entertainment options on the Alaska Airlines flight back. Bad Times at the El Royale, The Fresh Prince of Bel-Air, and A Star is Born are all good places to start.