7 Cold-Weather Destinations You Need to Visit This Winter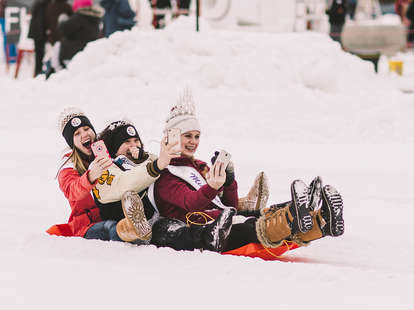 In the hustle and bustle of the holiday season, it can be easy to forget that winter has a lot more to offer than candy canes and Christmas trees. But our country is full of cold-weather places with unique ways to embrace the winter season that go beyond your local ski slope or ice skating rink. Yes, this could be the year you hit wooded trails via snowmobile, relax in hot springs in the shadow of a mountain range, or take an actual horse-drawn sleigh ride -- all you need is a free weekend, some willing family members or friends, and a warm wardrobe. So if you're ready to book a trip, add one of these destinations to your winter itinerary.
Experience The Great Northern festival
Minneapolis-Saint Paul, Minnesota
Chalk it up to hearty residents used to living through heavy snow and extreme cold, but no state does winter like Minnesota. If you want to hit all the best parts of the season in one go, there's no better time to visit than during The Great Northern festival. This 11-day winter extravaganza (January 23-February 2) includes a long list of seasonal fun on both sides of the Twin Cities. In Minneapolis, make sure to attend the Loppet Winter Festival, where you can walk on Lake of the Isles at night to see candlelit ice sculptures in the Luminary Loppet or play kubb, a Swedish outdoor lawn game, in the world's largest winter kubb tournament. If you prefer a higher octane event, head to the US Pond Hockey Championships, where you'll witness the best of the best from this proudly Minnesotan sport compete to win the Golden Shovel.

On the other side of the river, at the Saint Paul Winter Carnival, families should plan to attend one of the scripted parades, such as the King Boreas Grand Day Parade, which celebrates the coming of winter. Sledding lovers shouldn't miss the Vulcan Snow Park, and all attendees should make sure to see the ice palace -- one of the most unique and artistic elements of the annual festival -- as well as the ice sculpture garden and ice bars lit up at night in Rice Park. And don't forget that winter is also a great time to enjoy other parts of the Twin Cities, like the frozen waterfall at Minnehaha Regional Park.
Ring in the new year with a polar plunge
Portland, Maine
Many wintery-weather states hold polar plunges every year, but Maine might win the prize for the most committed to this chilly ritual. Several of its cities celebrate the new year in freezing fashion; the most famous being Portland's January 1 Lobster Dip, a 30-plus-year tradition and day-long extravaganza that includes a free buffet and live music. In order to run straight into the cold Atlantic ocean, dippers must raise a minimum of $100; raise more and you can bring home sweet lobster-themed swag. Even better, all the proceeds go to support the Maine chapter of the Special Olympics, meaning you can start the year with your karma on point.
After your plunge, swing by The Holy Donut for their delicious treat that is, uniquely, made with potatoes, or Tandem Coffee for a strong cup of coffee and a slice of delicious kabocha squash custard pie. Stay at the surprisingly affordable Press Hotel or the charming Portland Harbor Hotel in the Old Port, where you can walk the district's beautiful cobblestone streets and soak in the history of the city's oldest neighborhood. Tour the Victoria Mansion to see one of the most beautifully preserved examples of Italian Villa-style architecture in the US. If you're more ambitious, check out the Portland Trails website to find a diverse network of urban and rural paths where you can take in the wintry wonderland surroundings. And since a trip to Maine isn't complete until you've eaten lobster, head to Boone's Fish House & Oyster Room for the baked stuffed lobster that has been blowing minds since 1898.
Let an animal drive you around
Whitefish, Montana
Plenty of winter songs reference sleigh rides, but we're going to guess you've never actually been on one. Change that this year with a trip to Whitefish, Montana, where you can go on a traditional horse-drawn sleigh ride -- or even go dog sledding. Winter Woods Dog Sled Tours runs sleds pulled by beautiful Alaskan huskies for $90 per person, in small groups limited to four people or less, while Dog Sled Adventures Montana offers three tours a day (call for a price quote). Or stay at the Bar W Guest Ranch to partake in the on-site sleigh rides ($55, which includes a hot beverage) and dog sled rides.
Named one of America's top 25 small towns by Architectural Digest, Whitefish has a lot to offer beyond the outdoors. If you'd rather stay in town, check out The Firebrand Hotel, where you can snuggle up at the cozy Firebrand Lounge for elevated comfort-food snacks like wild mushroom poutine, campfire bison sliders, or huckleberry mud pie. Treat yourself to a mind-blowing tasting menu at Cafe Kandahar or French-style pastries and breads from Fleur Bake Shop. Enjoy the extraordinarily detailed bronze sculptures created by -- and eclectic artistic pieces curated by -- Sunti Pichetchaiyakul, an acclaimed portraiture sculptor, at Sunti World Art Gallery. Whitefish is also only a 35-minute drive from Glacier National Park, so seize the excuse for a day trip to see stunning winter mountain vistas at one of the country's top national parks.
Get cozy at a hot springs spa
Nathrop, Colorado
Winter in Colorado might be most famous for its ski slopes, but there's another great reason to visit in the colder months: the state's preponderance of mineral water hot springs, making for a naturally luxurious spa experience. Located a two-and-a-half-hour drive from Denver, the Mount Princeton Hot Springs Resort in Nathrop allows year-round access to revitalizing, natural pools of odorless, 140-degree water. Basic one-day access starts at $20-$25 to use the multiple hot-springs-fed soaking pools and the Chalk Creek springs. You can scale up from there to attend the day spa where you can access treatments, a juice bar, fitness center, and the Japanese-style cascading pools. You can also, of course, stay overnight at the resort in rooms that range from standalone cabins to cliffside guest rooms with views of the Rocky Mountains.

Make sure to reserve time while in Nathrop to saddle up with Colorado Trail Rides in nearby Buena Vista to experience Colorado's winter landscape by horseback. Ogle glittering gems and gold prospecting equipment at The Rock Doc, which claims to be the largest mineral shop in the Rockies. Before you leave, snack on delicious handcrafted goat cheese from Jumpin' Good Goat Dairy -- and buy some extra to pack for your return home.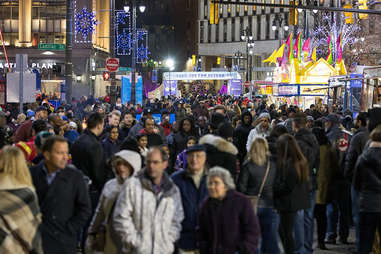 Celebrate the season at Winter Blast Weekends
Detroit, Michigan
Experience the renaissance of one of America's great Midwestern cities up close and take an affordable weekend trip with Detroit's Quicken Loans Winter Blast Weekends. Every year, over four weekends in January and February, this free event series takes over downtown's Campus Martius Park with activities for every family member and interest level. Experiences include ice skating, zip lining, live concerts, marshmallow roasting, eats from local food trucks, even a giant slide made of snow. (The 2020 weekend dates will be announced on November 19.)
Beyond the festival (or if you can't attend during one of the four weekends), there's plenty to do in Detroit indoors during wintertime. Soak in the 65,000-work collection at the Detroit Institute of Arts or pay homage to the city's roots as the birthplace of automotive manufacturing at The Henry Ford museum. Shop for timeless, Detroit-made goods at Shinola; get hearty Carhartt workwear in the city in which it was founded; or press your own vinyl at Jack White's legendary Third Man Records store. And make sure to groove over to Hitsville USA, the home of the Motown Museum, which looks back at the record label that gave us legends like the Jackson 5, Stevie Wonder, and Diana Ross.
Go on a romantic getaway
Lake Placid, New York
You might know the region surrounding Lake Placid as the site of the 1980 Winter Olympics (it even brands itself as the winter sports capital of the world), but it also contains excellent resorts. About a five-hour drive north of New York City, you can escape to a romantic wintery wonderland at places like High Peaks Resort, which features amenities like indoor pools, Norwegian kicksled rentals, spa treatments, and the historic Dancing Bears restaurant. If you want to really splurge, check out the gorgeous Whiteface Lodge, where active couples can enjoy cross-country skiing, snowshoeing, downhill skiing, snowboarding, and free ice skating. If you're more of a lodge-bound traveler they've got activities for you as well, like cozy bonfires, hot tubs, and a luxurious on-site spa to truly treat yourself.

If you aren't feeling sporty and want to leave your hotel, the Lake Placid Olympic Museum is an excellent (and warm!) way to spend a few hours. Don't miss the chance to ride the unique and recently renovated toboggan chute, which starts at a height of 30 feet and lands you right on frozen Lake Mirror. For hyper-local food and drinks, head to Taste NY Cafe at Whiteface Mountain, which only serves products from New York State. Order everyone's favorite meal of the day (breakfast, of course) all day long at The Breakfast Club, Etc. And if you need more ideas of what to do while you're there, check out Thrillist's roundup of the best winter activities in Lake Placid.
Hit the trails to enjoy unspoiled winter views
Hayward, Wisconsin
The town of Hayward in Northern Wisconsin might not be at the top of most vacation bucket lists, but you might want to bump it up there during the quieter winter months. Nestled near an 850,000-acre national forest, the Hayward Lakes area offers access to hundreds of miles of hiking trails year round. There are trails for every level of ability and activity interest, including hiking, snowshoeing, cross-country skiing, and even snowmobiling -- which lets you quickly traverse wide swaths of pristine forest. Rent a snowmobile from Hayward Power Sports ($269 gets your your own vehicle for seven hours), or if you feel more comfortable riding with an experienced guide, book a two-person, four-hour guided snowmobile tour for $349 through Runamuk Rides.
After you've worked up an appetite on the trails, savor hearty steaks and walleye filets at The Ranch Supper Club. Find time to drive by the Fresh Water Fishing Hall of Fame to take an Instagram-worthy selfie with the Shrine to Anglers, a four-and-a-half-story tall fish sculpture that you can climb to enjoy panoramic views of Hayward Lake. Make or paint an ornament at one of the classes at Out of the Woods Winery or Farmstead Creamery and Cafe. Or if you'd rather shop for crafts than create them, stop into Morrow's Native Art to buy delicately handcrafted items made by local Native American artists. As for where you'll sleep, stay at the Spider Lake Lodge for a homey log cabin feel with a Twin Peaks aesthetic, or nestle in at the historic McCormick House, both of which include breakfast with the price of the room.