A pup tent might've been fine when you were an Eagle Scout, but as an adult you need something a bit more robust when venturing out into the wilderness. Nobody wants to sleep with a loser in a lean-to, no matter how many merit badges he's got. Unless it's Bear Grylls. Everybody seems to love that guy.
Fortunately, innovations in tent technology mean that there are plenty of camping shelters to choose from these days. From the ingenious, to the practical, to the completely absurd, here are seven tents to consider for your next camping adventure:
Designed to be set up in the flatbed of a pickup truck, this ultraportable tent version of a truck canopy keeps you off the ground and provides a measure of protection against flash floods and uncomfortable terrain, other than the hard steel terrain of, well, your truck bed. There is an alternate version that fits an SUV though. If not for the Juggalo-esque "z" in its name, the Backroadz might be perfect.
It doesn't get much more futuristic than an inflatable tent. Heimplanet's models are held together by a geodesic outer frame of air tubes, referred to as the Inflatable Diamond Grid; using the included pump, the entire structure can be inflated in under a minute.
At $700, the three-person Cave model pictured above won't break the bank too badly, and while it's not quite as spacious as Heimplanet's uber-tough Mavericks, it'll still withstand gale-force winds (up to 75mph).
If using a pump's too much work, and you need your tent ASAP, then the 2Seconds by Quechua might be more your... speed (!!). With a flick of the wrist, this two-person shelter can be pitched in, you guessed it, about two seconds. Whether you wanna fling it into the air as dramatically as this dude, well, that's up to you.
Breaking the 2Seconds down's easy too, thanks to its color-coded clips; the whole structure can be folded away to a 2ft diameter flat circle in under two minutes.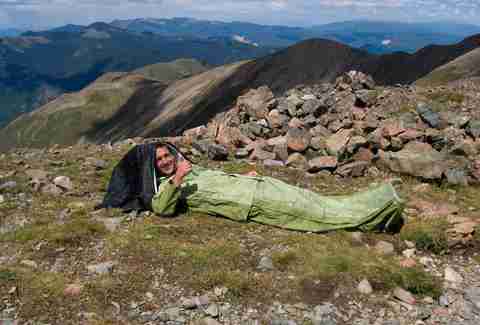 It's a tent, a sleeping bag, and a jacket all in one; consider your mind... blown! Once you've found your campsite, simply fold out the lower portion of the jacket and the upper tent/hood section, then lay on the ground. Voila, you're camping! Sort of? You're at least covered while laying on the ground.
Combine a tent, a treehouse, and the Death Star, and you've got the Tree Tent. With its wood-and-metal skeleton, 10-foot diameter, and room for a solar power station and wood stove, this spheroid shelter's a bit more long-term than the others on this list. If you're planning a week's-long hunting excursion in the Colorado Rockies, though, the Tree Tent Death Star's exactly what you'll want.
Arguably the best tent system with a punny Native American name ever, Gigwams can be daisy-chained together to create an endless field of interconnected shelters. Each Gigwam can comfortably sleep two, and the ability to move freely between connected tents makes them perfect for your next Eyes Wide Shut-swingers style camping retreat and masquerade orgy. You know, if you're into that kind of thing. It's also good for families, presumably.
For folks who require more versatility in their temporary arboreal dwellings, the Stingray's pretty much the pinnacle of possibility. You can either set it up flat on the ground, or opt to fasten it between three trees, hammock-style; if you choose to go vertical, you'll enter and exit via a rope ladder and trap door in the bottom.

Gianni Jaccoma is an editorial assistant for Thrillist Travel, and spent much of his childhood in tents nowhere near as cool as these. Follow him into the woods on Twitter @gjaccoma