7 of the most hilarious American-themed restaurants in the world
If Americans are good at one thing, it's not... sex. Or, apparently, being sexy. It's eating, of course. You knew that. And eating large quantities of artery clogging foods, to boot. We may as well have invented heart attacks and diabetes, and this distinction hasn't gone unnoticed by the rest of the world.
In fact, there are restaurants all over the globe trying their darnedest to be authentically American… and the results fall somewhere between hilariously embarrassing and just plain sad. Here are seven of the worst trying their best.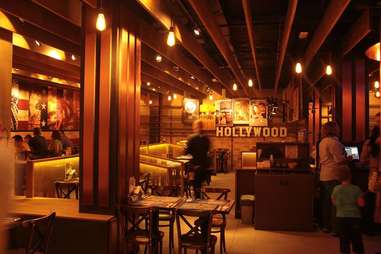 Founded by Californian expats and known for its massive portions of Tex Mex, BBQ, and burgers, Foster's may as well be a Spanish Applebees. Decorated how Spaniards apparently envision Hollywood, the place is tricked out with kitschy, cinema-related memorabilia like old movie posters and stage lights. In true American fashion, they even serve unlimited refills – a big deal in a country where you even have to ask for water.
More like American nightmare. Taking the whole American melting pot thing a bit too far, Dream serves everything from giant burgers and pizza, to sushi and bagels, all topped off with a $52 Cheeseburger Tower made from six beef patties covered in cheddar, onion rings, and chili. Inside, expect a décor that starts all vintage chrome & neon dine,r before deteriorating into a weird mess of Roman marble sculptures and Japanese manga. From Rosie the Riveter to Route 66, no American cliché is missed.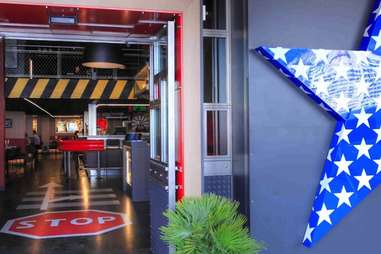 Apparently believing there were no good eateries that appealed to ordinary working folk in a town known for private yachts and Lamborghinis, the owners of this place settled on the surefire theme of... American sports bar! And then they loaded the joint up with sports memorabilia, steaks, and burgers. Oh wait, they also serve Mexican, Indian, and sushi. Best part, they boast "American-style service", so perhaps you avoid doing any of these things.
We're guessing that this chain of restaurants is the result of a combination of hypothetical things: 1) a Japanese owner who's never been to the US; 2) a Japanese owner who's watched too many old American Westerns; 3) a Japanese owner who's never run a restaurant before and literally has no idea what he's doing. Ok, that last part was kind of mean.
But really, the most American thing about this steak house is its name, and maybe the flatscreens flanking the dining room. Meals include hamburger stew with noodles, or steak with soy sauce, all delightfully translated into gems like "I stewed the Bronco hamburger and beef muscle meat of collagen plentiful."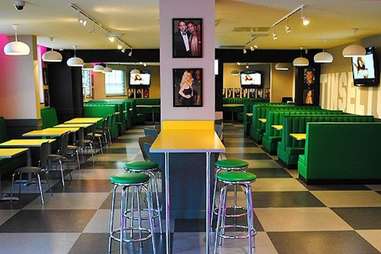 This garish version of a '60s American diner -- complete with a milkshake bar that you wouldn't even find in America -- seems to think that just naming food after US locales somehow authenticates it. With that in mind, you should definitely try the New York-style beef burgers, Chicago-style hot dogs, Texan BBQ chicken burger, or Cajun chicken. The most authentically American thing about the place? The everything's-bigger-in-America portions.
Confoundingly, this place has zilch to do with Captain America, or any of our favorite superheroes for that matter. Instead, the chain -- which claims to have brought the burger to Ireland in December of 1971 (that's like saying you invented the question mark) -- is a weird hodgepodge of stars and stripes, red, white, and blue…. and tons of memorabilia from Irish and international stars like U2, Colin Farrell, David Bowie, and Green Day. The menu is hilariously huge, and -- with dishes like a hot dog drenched in pizza sauce and pepperoni (named the PizzaDog, of course) -- seemingly a parody of what the Irish must think Americans eat.
Sweet tea comes with free refills, sausages are made in-house, ribs are hand-rubbed, and the beef brisket's smoked. Sounds pretty American to us, other than the fact that they use local spices and cuts of meat. There is, however, something slightly amusing about being greeted with a hearty "howdy" by Chinese waitresses decked out in cowboy hats, boots, and Lonestar state shirts. Not to mention the Texaco sign and Texas A&M football helmets decorating the joint.
Sophie-Claire Hoeller is Thrillist's über-efficient German associate travel editor, and is ashamed to admit she had her 12th birthday at the Planet Hollywood in Munich. Follow her @Sohostyle