7 of the world's kinkiest festivals
Because you've probably already crossed these five erotic vacations off your bucket list, here are seven of the world's kinkiest adult festivals to pencil into your pocket calendar -- all ranked from wholesomely virginal to downright debaucherous.
Ease into erotica the old fashioned way (think Dad's vintage Playboys stashed under your mattress) -- by looking, not touching. Over three days, you'll ogle provocative pieces in all mediums, as well as enjoy raunchy readings, titillating burlesque, and erotic short films; all capped off by a raucous dance party dubbed the Late Night Festival -- too bad the last thing you want to do after three days of watching p*rn is dance.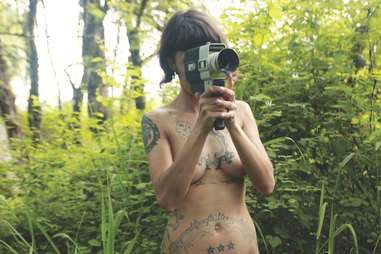 So, your girlfriend doesn't like you watching adult films… but what if she's in one!? Still no? Gotcha. Well, in any case, don't let that stop you from enjoying the HUMP! Film Festival (alone), which bills itself as the "sexiest, funnest, most creative dirty movie fest in the world". Basically, amateur directors submit five-minute tapes of people doing sex in order to compete in categories like "Best Kink".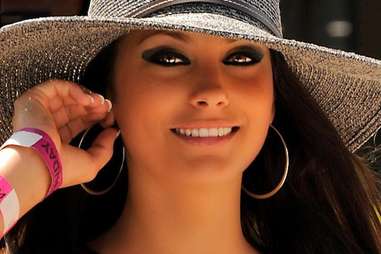 The Ponderosa Sun Club, a family (run?) nudist resort, is world famous for its annual nude beauty pageant during which gorgeous women compete for the title of Miss Nude Galaxy. Mind you, this goes down in Indiana. And Ron Jeremy is a judge. That's not all, there's also exotic dancing, a wet t-shirt contest, a "Screaming O" competition, and a series of other random lewd acts to help make it one of the more raunchy weekend getwaways you'll ever take. Just so you know, the woman pictured above -- 4th place (!!). If that tells you anything about the competition.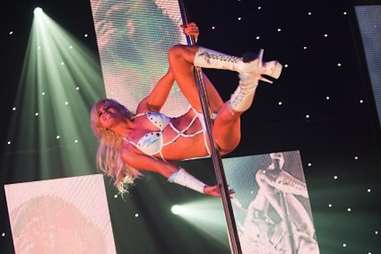 Despite the catchy name, Sexpo, The Sexuality and Adult Lifestyle Exhibition (as it's officially known) is pretty much sex fest light; the event features amateur strip tease, professional pole dancing, and naughty hypnotists, as well as some of the biggest adult film stars in the biz. Hundreds of exhibitors peddle the latest and greatest in kinky toys.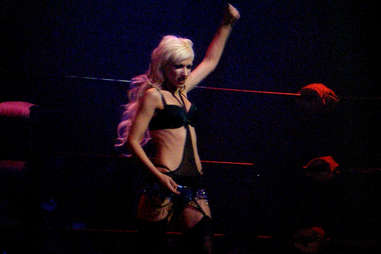 Packed with the county's foremost adult stars, the Kutemajrvi Sex Festival takes place in a stunningly scenic little village and features live bands, strip shows, exotic dancers, a sex toy expo, and the famous Aphrodite competition, which is a beauty pageant that may or may not involve nudity. Hailed as the most sophisticated of fests, there're even professional lectures on sex and sexuality from some of the world's top researchers in the field.
The world's largest leather event, Folsom (as the locals call it) has been dominating the BDSM and fetish scene since Bolero was in theaters -- ahhhh Bo Derek. Spread over 13 historic city blocks, it's pretty much like your favorite summer block party (live tunes, games, food stalls) but with sex toys, public floggings, and people bound, gagged, and dressed in latex. If they're dressed at all.
Since prostitution is legal in Denmark, the Danes had to find a way to turn the kink up a notch. With whips, chains, piercings, and strippers galore, they succeeded in creating a super-hedonistic convention ripe with booths that cater to literally any and every fantasy or fringe fetish, no matter how depraved. It's like a wild S&M Comic Con, but with whips.
Sophie-Claire Hoeller is Thrillist's über-efficient German associate travel editor, and has had frequent flyer status since she was born in a Lufthansa terminal. Follow her @Sohostyle