Leaving town quick, whether for fun or necessity, is something every man should know how to do and do well. Here, find the essential guide for getting equipped to get out of your burg and into an adventure not-so-near you.
Wear Your Wardrobe
Don't have time to pack? Wear everything right on your body. A few pairs of underwear, a pair of Levi's 501® jeans, a t-shirt (or two), a button down, and a hoodie or sweater and you've got enough outfit combinations to serve any occasion on a multi-day trip. 
Get those jeans right here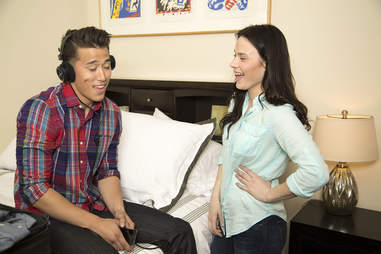 Grab Some Massive Headphones
Listening to your "best of dub step vol. 8" playlist is great, but you're really rocking these big guys to block out ambient engine noise on the flight. Why? Because being in an airplane cabin is like being 50 feet from an in-use jackhammer. Fun!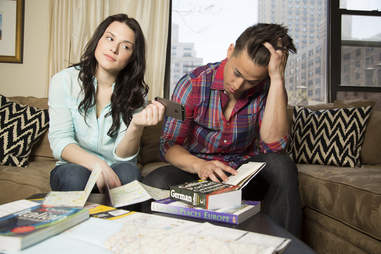 Now Equip Your Phone
Download the essentials -- international texting, accommodation finders -- so you're prepared before you leave. And grab some apps that will work whether they've got access to a network or not, like tipping & city guides and translation apps.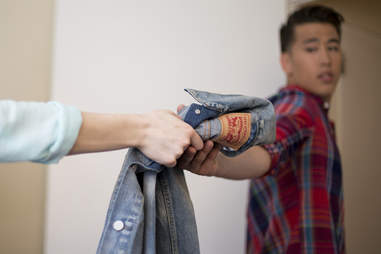 Wear A Coat That Looks Good Roughed Up
Getting out of town quickly means not having time to do dry cleaning, laundry, or maybe even pack a toothbrush. Grab the kind of gear the looks good without cleaning (maybe even better), like a Levi's® Trucker Jacket. The more distressed the denim the better it (and you) will look.
Grab that jacket
Pick A Hub
A flyaway doesn't have to end at one destination. Make your first port of call accordingly with an airline hub city. A pitstop in Seattle's Sea-Tac airport opens up your journey to Alaska. Want to go international? A simple trip to Denver gives you direct routes to Poland, Thailand, and Peru.
Get Really Random
Hubs are great for the "planning" sort, but if you really want to get adventurous, choose your destination totally at random. Hit here to pick a totally arbitrary set of geographic coordinates, because you probably don't have a collection of tiny flags for all 196 of the world's countries.
If All Fails, Hop A Train
If those random coordinates landed you in the Indian ocean, why not skip the flight all together? Booking a seat on an epic train line can land you in multiple US destination cities and, unlike a plane, you'll actually travel in comfort. Some awesomely named examples:
The Sunset Limited: Los Angeles to New Orleans
The Adirondack: New York to Montreal
The Coast Starlight: Seattle to Los Angeles
The California Zephyr: Denver to San Francisco
The Empire Builder: Chicago to Portland