Airport runways can be surprisingly intricate, downright terrifying, or, if you're stuck on one, a living hell. Unless, of course, the pilot buys you pizza. 
But they can also be pretty crazy. As in, there-are-railroad-tracks-running-straight-across-the-tarmac crazy. Which is why, with a little help from Quora, we rounded up 8 of the most fascinating strips of tarmac on the planet. Take a look.
Gibraltar Airport -- Gibraltar
Gibraltar Airport's runway is the only one in the world to cross a highway, and the territory's busiest road no less. Thankfully, the airport operates just 30 flights a week. 
Matekane Air Strip -- Lesotho, Africa
Landing at Matekane Air Strip in Lesotho, Africa, requires bringing the plane to a full stop just feet short of a cliff perched some 2,000ft off the ground. No wonder it made it onto our round-up of the world's most terrifying runways.
Agatti Aerodrome -- Lakshadweep Islands, India
Located off India's west coast, Agatti Aerodrome is the only runway in the archipelago. While it's currently 4,000ft long, they're actually building a 1,500ft bridge on stilts to extend the airstrip over the water. The project to build the nation's first bridge-on-the-sea runway is expected to be completed by 2016. 
 
Princess Juliana International Airport -- Saint Martin
Imagine peacefully reclining on the beach and looking up to see a giant jet zooming down over you, just a few feet from your head. At the beach on the Caribbean island of Saint Martin, you don't have to imagine -- it's real, and it's insane. And it's also beautifully depicted in these pictures.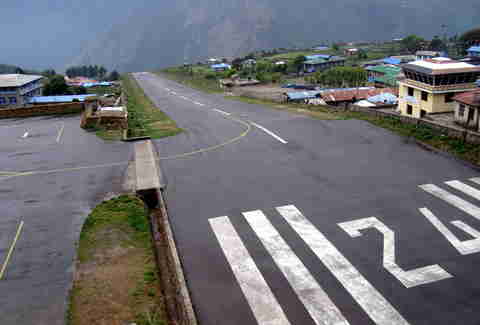 Tenzing-Hillary Airport -- Nepal
Planes headed to Nepal's Tenzing-Hillary Airport, near Mount Everest, land on a runway built a staggering 9,200ft above sea level. And if that wasn't enough to make you reach for the airplane safety card, it's also near a cliff's edge. Unsurprisingly, this one also made our list of the world's scariest runways.
Gisborne Airport -- New Zealand
The only known intersection of a runway with a railway in the world, planes and trains (no automobiles) can get insanely close to each other at Gisborne. To avoid crashes, air traffic controllers turn the lights on the runway red or green, while a ground controller does the same for the trains. Skip ahead to the 2:50 mark of this (unnecessarily long) video to spy a plane landing over the railway.
Malé International Airport -- The Maldives
Set on the island of Hulhulé in the Maldives, the 10,499ft-long runway at Malé International Airport spans the atoll's entire length, and is flanked by water on all sides. While the runway looks to be in the middle of nowhere, the airport's actually just a short, 10-min boat ride from the capital, Maldives Malé.
Courchevel Airport -- France
Like a scene from a James Bond movie, planes touching down at Courchevel Airport land on a short, 1,722ft-long runway atop a cliff in the French Alps. Not only that, but it slopes upward at an 18.5 percent gradient, so planes come to a halt going uphill.

Chloe Pantazi is an editorial assistant on Thrillist's travel team. She firmly believes that landing is far better than taking off. Follow her keeping calm on Twitter at @ChloePantazi.