We've said it before, and we'll say it again: few things are as baffling as travel accessories. They're either super weird, super useless, or super fascinating in an "I can't believe somebody actually made that" kinda way -- but one thing they rarely are... is super cool. 
Here's our latest installation of totally asinine gear you're probably not going to want to schlep around on your next trip.
Coffee addicts can now precariously swing a cup of scalding hot java right behind their exposed legs, and above the only clean clothes they brought on their trip. You can almost hear the screams of pain echoing through Terminal B from here. $10 to $13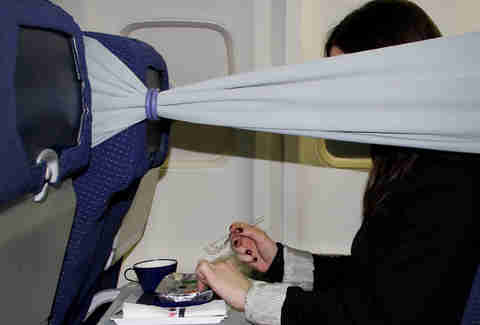 B-Tourist
Designed by two graduates of the Bezalel Academy of Art and Design in Israel, this privacy curtain of sorts (which also has pockets!) would almost be brilliant if it didn't make you look like a sociopath. Although, to be honest, that might be worth not having your seatmate chat to you for the entire flight. Not yet for sale.
Stick it to airlines (with their preposterous baggage fees) by wearing your luggage on board. Yes, the super stylish Rufus Roo jacket has pockets large enough to hold both a laptop and up to 22lbs of cured meats, or whatever items it is you travel with these days. $60
Yes, there are probably all kinds of nasty bacteria lurking on your tray table but unless your licking the peanuts directly off of it, is it really worth looking like Jack Nicholson from As Good As it Gets? Or, better yet, like someone who should be living inside a plastic bubble? Although speaking of living in a bubble... $10

Taking the good old inflatable neck pillow and making it even more awkward looking, Virginia doctor and designer Ravi Shamaiengar came up with the head-shelf, which he claims is "part engineering and part origami". $59
Have you ever been sitting in coach and thought to yourself, "I have so much leg room that I totally should've packed an expandable plastic footrest into my carry-on?" No, of course you haven't, because you've actually BEEN ON A FREAKING AIRPLANE (!!), unlike the people who sell this product. $30

We've never seen an eye massage on a spa menu before, but apparently eyeballs need to unwind too. This mask dispenses TLC in the form of facial rub-downs, warmth, and -- much like Marky Mark and Funky Bunch -- good vibrations. $130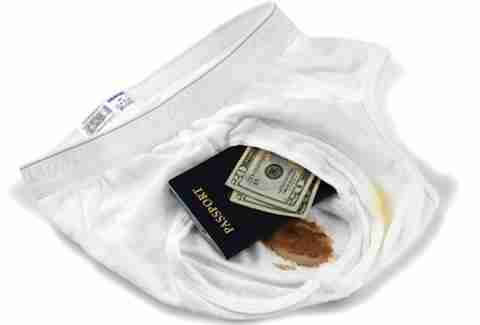 These disgusting faux stained briefs with a clever secret pocket will absolutely keep your valuables safe because, as the website states: "With its realistic, yet crude markings, you won't have to worry about leaving them strewn on the floor. No would-be burglar or hotel maid will ever think to pick up these hidey-whities." $18
Sophie-Claire Hoeller is Thrillist's über-efficient German associate travel editor, and has had frequent flyer status since she was born in a Lufthansa terminal. Follow her @Sohostyle.