Amazing Cliff Houses You Can Actually Rent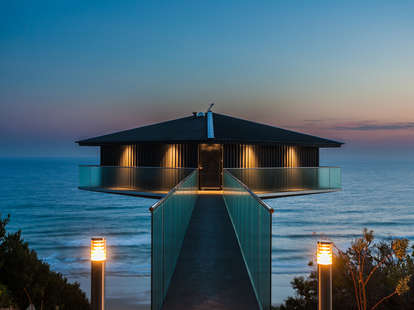 <strong>The Pole House |&nbsp;</strong>Courtesy of great ocean road holidays
Do you like livin' the high life? Sittin' on top of the world? Being above it all? Then you're really going to love these killer (hopefully not really) houses, all of which are perched on cliffs and have amazing views, and all of which the owners will let you (yes, even YOU) rent out for the right price.
Fairhaven, Australia
The Pole House is suspended 132ft above the beach so that guests feel like they're floating on air when inside. This one's more of a romantic getaway since there's only one bedroom, but if you like the person enough and aren't afraid of heights, you'll be excited to spend the night in what very well may be Australia's most famous home. The house is only accessible via a 76ft-long walkway and features floor-to-ceiling retracting glass walls with jaw-dropping views and a suspended fireplace for romantic snuggles and/or keeping the place warm. While the property is officially "not suitable for children," it is clearly ideal for making them. Rates start at $575, and there's a two-night minimum.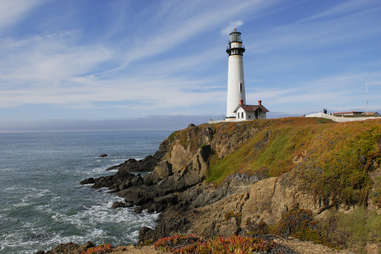 Pescadero, CA
Cliffside mansion out of your budget? Not so fast. Fifty miles south of San Francisco, there's a hostel housed inside historic lighthouse keepers' quarters on a cliff above the Pacific Ocean. You can opt for a shared room ($29) or a private room with a double bed ($78). Or just find a few friends and rent the entire place for $174. There's a fire pit, a boardwalk along the bluff, and the best feature: a cliff-top hot tub that's only available to hostel guests. See? Being poor isn't always so bad after all!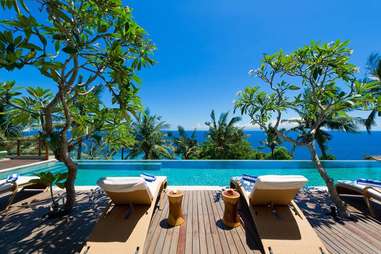 Lombok Island, Indonesia
When you get tired of watching monkeys swing from trees, you can kick back and enjoy the views that extend across the ocean to the peak of Bali's Mount Agung. Then you might want to take a dip in the infinity pool and ask the villa butler if he'll refresh your cocktail. Which he will. 'Cause that's his thing. All for anywhere from $675 to $925 a night.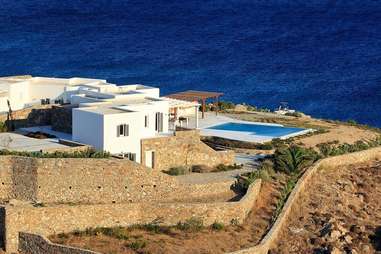 Elia, Mykonos, Greece
You're going to want to "call dibs" on the master bedroom with the terrace that overlooks the Aegean Sea -- let your friends crash in one of the other four bedrooms. Set high on a cliff with mountain views, this home also has a swimming pool, garden, and a path that "tumbles" down to the beach. You may tumble too if you venture down after more than a few drinks. During the summer, this sweet pad will cost you about $3,000 with cleaning service; if you want the in-house chef, you'll have to fork over a little extra.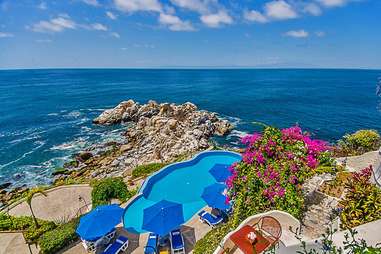 Puerto Vallarta, Mexico
Round up the troops because you're going to a Mexican mansion. Villa Mia has 15 bedrooms, 19 bathrooms (!!), a barbecue and bonfire area, two palapa bars, a squash court (for all of that exercising you'll be doing), a 16-person hot tub, and a cliffside infinity pool. You won't have to lift a finger the entire time you're there thanks to the housekeepers, chefs, and waiters whose services are included in the price. Admittedly, it's a little steep over the holidays ($4,200/night) but much more reasonable from January-May ($3,700/night). But hey, you only have to stay four nights minimum and with 30 people, that's a mere $500 a head!
Amalfi, Campania, Italy
Not only can you stay in this Italian villa perched on a cliff, but so can 13 of your closest friends. Who you'll probably (definitely) need to recruit since it costs $1,800 a night with a seven-night minimum (that's $12,600 for the mathematically challenged). The good news -- other than the fact that you're staying in a villa on a cliff in Italy -- is that you'll be welcomed with a cocktail and served breakfast every morning while maids change your filthy sheets. There are also outdoor showers, a rooftop terrace, a pizza oven (what? It's Italy), and a sea-water pool that you can access by carefully skipping down 130 steps to the ocean.
Kamala Beach, Phuket, Thailand
This 8,000sqft house looks a little like it might fall down the cliff and into the Andaman Sea. But it won't! Which is good because the six bedrooms, live-in chef, and steps down to the ocean -- not to mention the infinity pool that juts out over the rocks -- make it a prime vacation spot. It only sleeps 12, though, which means it could be a little hard paying the $2,500 to $5,500 daily rate.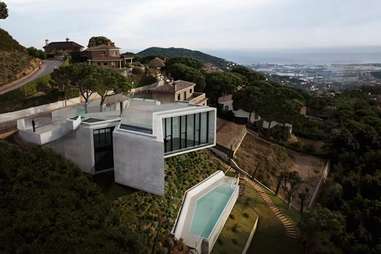 Barcelona, Spain
This house on a steep hill overlooks a Spanish valley. The "X" shape is the architect's solution to the owner's desire for views of the ocean and the mountains, as well as privacy. Basically, this 3,200sqft, four-bedroom abode is all about the views. And the double-height living room. And the pool. And that you can totally book it starting at around $3,000 a week.
St. Thomas, US Virgin Islands
This house (if one can really call a 7,500sqft mansion a house) is perched so perilously close to the edge of the cliff that it really does seem like it might fall into the water. Don't let that stop you from bringing 13 of your friends though (or enemies if you're a pessimist or a James Bond villain). Chill out by the pool overlooking the water, hang out at one of the nearby white sand beaches, or just watch the turtles and seabirds doin' their turtle and seabird thing. Nightly rates start at around $1,100.
Sign up here for our daily Thrillist email, and get your fix of the best in food/drink/fun.
Daisy Barringer is an SF-based writer who is terrified of heights, but would oddly love to stay in all of these homes. Follow her on Twitter: @daisy.