Turns out, you don't have to be one of the world's sexiest royals to sleep like a king. At least not if you're trekking around Europe. From Irish fortresses, to English dungeons, to the massive mansions of former dictators, here are nine castles and palaces where you can bunk down for the (k)night.
 
Cong, Co. Mayo, Ireland
One of the oldest castles in all of Ireland, Ashford was built in 1228 and was once home to Sir Benjamin Lee Guinness. Yeah, from that Guinness brewing dynasty. The castle hotel has been welcoming royalty, dignitaries, celebrities, and heads of state since 1939, and it recently reopened following a multiphase renovation.
Fife, Scotland
Yep, even Airbnb's in on the castle game. And among one of the listings you can book is this 12th-century beauty in the heart of Scotland. It'll be greeeeattt! Allegedly the location of secret Scottish parliaments, military sieges, and a safe haven for escapee monarchs such as James VI and I in 1583, the castles sleeps up to 13 people and guests can even stay in the converted dungeon bedroom with a vaulted ceiling.
Denbighshire, UK
In northern Wales, this late 13th-century stone castle has a bit of gory past, as it had its own dungeon, whipping pit, and drowning pool -- probably why it used to be known as The Red Castle. Although now it's a hotel where they hold medieval-like feasts and people report paranormal activity.
Porto, Portugal
Once a monastery (and then a palace to a wealthy family), this 19th-century structure was turned into a luxury InterContinental property in 2011. Palácio das Cardosas was a main social, political, economic and cultural axis of the city of Porto, one of Europe's oldest cities and, yes, the home of Port wine.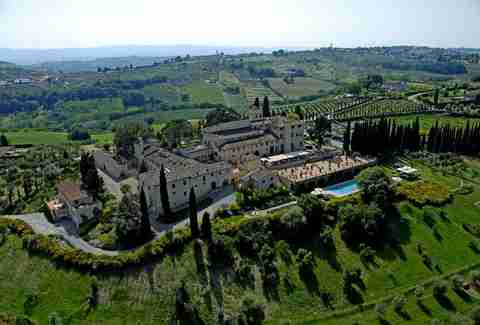 Tavarnelle val de Pesa, Italy
Forget the Italian villa, crash at this 12th-century Tuscan castle instead. Featuring olive groves and vineyards, the former home of an Italian nobleman is now a luxury hotel with a massive ESPA spa to really basic bro it up on your Insta.
 
Gstaad, Switzerland
Isolated in the Swiss Alps, the Gstaad Palace hid a large portion of the country's gold reserves in a two-story bunker during WWII. Over 100 years old, the palace dominates the chalet-heavy ski town of Gstaad with its 104 room castle-like presence, and once hosted famous faces such as Louis Armstrong, Liz Taylor, and Marc Chagall.
Bucharest, Romania
Originally built as a guest home for Romanian dictator Nicolae Ceauşescu, Marriott turned the massive palace into a 400-room hotel 10 years after his execution. Located behind the 12-story Bucharest Parliament Palace (aka the People's Palace), the Bucharest Grand Hotel is known as a "city within a city" because of its extensive amenities, which include an upscale shopping gallery, casino, fitness club, and six different restaurants and bars. Or, if you just like the idea of sleeping in a tyrant's bed, here are six more dictator palaces in which you can spend the night.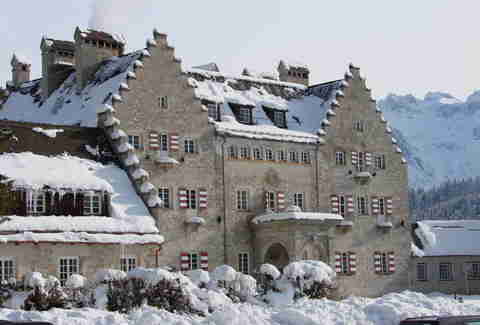 Elmau, Germany
Proving not all castles need to be centuries old, the Schloss Elmau is practically a kid in the castle-laden land of the Bavarian Alps. But with youth comes vigor -- or in this case, with five restaurants, four spas, and a handful of lounges.
St.-Tropez, France
This 19th-century castle sits on a hillside overlooking the Bay of Pampelonne and allows for a tranquil stay in the chic Mediterranean town of Saint-Tropez.
Sign up here for our daily Thrillist email, and get your fix of the best in food/drink/fun.
Andrew Villagomez is a freelance writer and blogger who covers travel, men's fashion, and other lifestyle topics. Along with Thrillist, he has also contributed to Travel + Leisure, Details, Passport, and Essential Homme. Check out his blog, and follow him on Twitter and Instagram at @VeeTravels