Commuting sucks. Unless it involves a prison sentence, and you're the one getting out. But in general, it usually means gridlocked traffic, sardine-packed subways, and hours of wasted time.
Which is why water commutes are so special. The salty air, the stunning views, the (often) public transportation-level prices -- many ferries can be used as a cheap alternative to pricey tours. Add in the bonus of that smug, "I'm basically a local" feeling (Staten Island Ferry excluded), and you'd be foolish to pay for an organized boat ride.
But which scenic sails are worth seeking out? Here are nine of the world's most captivating.
Recommended Video
Double Chicken Please Is a Traveling Bar in the Back of a 1977 Vintage Van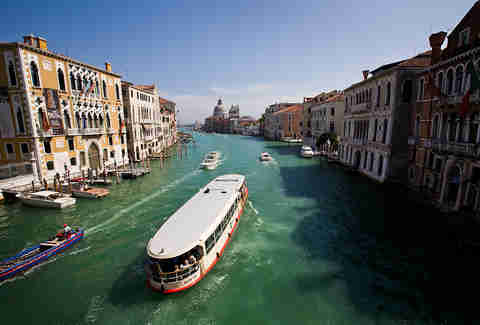 Between Piazzale Roma and Lido
Locals wouldn't be caught dead in a gondola, and neither should you. Instead, take the Linea Uno on a vaporetto -- water bus -- and make 20 scenic stops from the Piazzale Roma to the beautiful Lido, a swanky island off the city. You'll enjoy a laid-back tour of the Grand Canal and the beautiful old palaces that flank it, as well as catch a view of St. Marks Square and the Rialto bridge.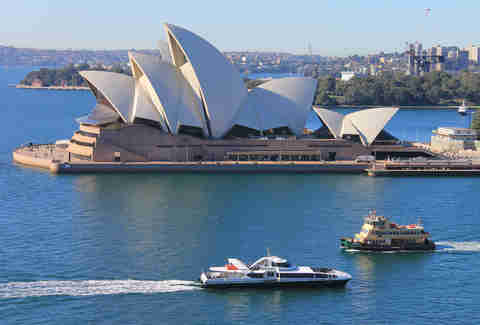 Between Sydney and Manly
If you only have time to do one thing in Sydney, this should be it: 30 short minutes will take you through a highlight reel of the city's must-hit sights, including the Sydney Opera House, Harbour Bridge, the Botanical Gardens, and a full view of the downtown skyline. If you're lucky, you may even spot a whale or dolphin frolicking alongside the ferry.
Between Kowloon Peninsula and Hong Kong Island
Starting in one of the most photographed harbors in the world, Victoria Harbour, Star Ferry has been shuttling locals since 1888. Snag an upper-deck seat for about 28 cents, and you'll enjoy undisturbed views of Hong Kong's epic skyline; travel around 8pm and the boat will stop so passengers can watch Hong Kong's nightly Symphony of Lights show, the world's largest permanent light/sound display complete with lasers, music, and fireworks.
Between Eminonu Quay and Uskudar
It's transcontinental travel minus the jet lag, or air fare: In a mere 20 minutes, you'll cross the Bosphorus from Europe to Asia. Continue along the Golden Horn, and you'll pass domed mosques, the famous Topkapi Palace, the Ottoman shipyard, the church of St Stephen of the Bulgars, and sail underneath the Galata Bridge.
Between Midtown and the Financial District via Brooklyn
Its tagline isn't "the civilized commute" for nothing. Alongside harried New Yorkers heading to work, you'll pass under the majestic trio of bridges that connect Manhattan and Brooklyn; soak in the Manhattan skyline, historic Jane's Carousel in DUMBO, and both Governor's Island and Lady Liberty in the distance as you sip a cup of Brooklyn Brewery java from the boat's café. Or, you could just turn it into a boat-based bar crawl.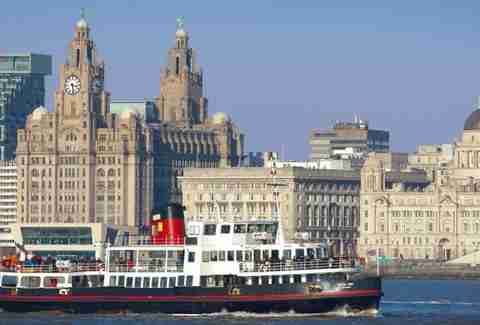 Between Liverpool and the Wirral Peninsula
Ok, so there might not be an awe-inspiring skyline or world-famous landmark to nod approvingly at (although, Liverpool's waterfront is a UNESCO world heritage site -- the more you know), but it's the ferry itself that's worth noting here; dating back to the 12th century, it's the oldest ferry service in Europe, and may or may not have shuttled King Edward II.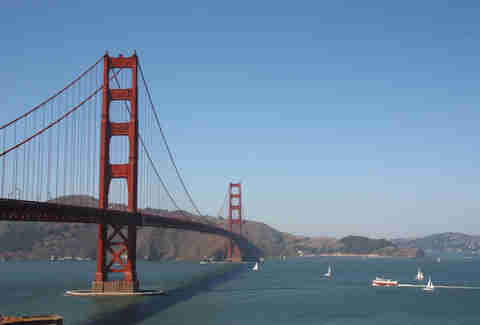 Between San Francisco and Sausalito
Forget the overpriced cable cars and take the ferry from San Fran to Sausalito; that way you can cross sights like Alcatraz, Oakland Bay Bridge, Angel Island State Park, and, of course, the Golden Gate Bridge off your bucket list.
Bateau Bus -- Monte Carlo, Monaco
From Terminal Croisières to Quai des Etats-Unis on the Monte Carlo Harbor
Monte Carlo isn't exactly where you'd expect to find a common bus, which is why -- in typical Monte Carlo style -- it's not just a bus; it's a fancy, solar-powered boat bus, and from its deck you can ogle incredible yachts in one of the world's most expensive ports, not to mention appreciate the city's famous hotels and the Prince's Palace.
Between New Orleans and Algiers Ferry
Traverse the Mississippi in only five, blissfully air-conditioned minutes while learning fun facts about the Crescent City. Catch a glimpse of the French Quarter as you head to historic Algiers Point on a ferry that's been operating pretty much since 1827.

Sophie-Claire Hoeller is Thrillist's über-efficient German associate travel editor, and has had frequent flyer status since she was born in a Lufthansa terminal. Follow her @Sohostyle.