A City-Dweller's Guide to Exploration
Taras Zaluzhny
Taras Zaluzhny
We all know the allure of exploring -- the thrill of discovery and novelty. But exploring isn't just in nature preserves. If you want to see your city differently, there's just as much mystery inside its limits as out. Don't be shy about squeezing through the cracks to discover the town's hidden secrets.
DIG UP SOME INTEL
A journey of a thousand miles begins with a single click, so start your explorations online. Just be sure to search deeper than "hikes in my area" if you want a unique experience. Maybe an eager discussion of breathtaking abandoned buildings of San Francisco will point you toward the Bay Area's best caves, leading you to discover San Francisco's Sutro Baths -- striking American ruins that beautifully mix urban decay with natural seascape.
While city subreddits are an excellent place to both search archives and ask specific questions, don't overlook authors' personal sites or more focused message boards like Urban Exploration Resource. And don't limit yourself to web pages; the value of hashtags and location-based social media posts is immeasurable when building your map -- or your network.
Seasoned city explorers can aid your online journey. Take Forgotten New York, a website packed with out-of-the-way crannies for the aspiring NYC adventurer. "There was no one out there who was really calling attention to the artifacts of a long-gone New York," writes founder Kevin Walsh of his blog's mission. Once he started, his blog became a beacon for city-dwellers tracing their town's past.
Best of all, many of these sites offer tours. For the burgeoning city explorer, a guide is the best way to get your feet wet -- often literally. (Real explorers always bring spare socks.)
TAP INTO THE PHYSICAL COMMUNITY
A guided tour is also a great first step to making real-life friends to explore with. It can also point you toward a greater urban explorer community in your area. (Your town definitely has an urban explorer community. Trustus.) Beyond the core culture, show up at local nature events and sign up for classes on camping, survival, etc. Anything with an outdoor element is likely to have crossover with urban exploration. Unexpected activities from urban composting to parkour are enjoyed by people who look at the landscape with entirely different eyes. You'll be sure to find some friendly faces with wisdom to share.
Access to a community teaches you things it might take months to discover and observe on lone excursions. "As cliché as it may be, some of [my] adventures started in the sort of bars that were frequented by wharf rats like myself," says Jonathan Elsensohn. A seasoned city explorer, Elsensohn began having out-of-the-way adventures in his travels as a Merchant Marine once he started picking the brains of locals with a lifetime of knowledge on where to find both the natural beauty and manmade ruin of whatever city he was passing through.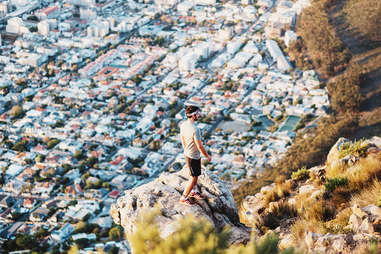 SCOUT A SITE AND USE SOME RECON
Don't worry that your exploration hours are about to be swallowed up by a new social group. Solitary sojourns are still one of the most rewarding things you can do -- especially if you're in it for the thrill of being out of your element. To that end, you can find lists of abandoned areas for almost any city -- Atlas Obscura even has a tag specifically for it, with Chicago a particularly rich example -- but do your own research first to ensure safety, legality, and current status. (For example, The Brach's Factory, once prime grounds for explorers, has since been demolished.)
Next step: Get out there. The most important thing to remember for any explorer is pure curiosity -- "The simple desire to find out where that river winds its way to or from, or what lies down that particular side street," as Elsensohn describes.
Investigate, and you'll stop thinking of yourself as a commuter or resident, but identify as an explorer. Soon you'll begin asking questions you haven't thought of before, even about places you thought you knew. What used to be in that vacant lot at the end of my block? What's the story behind that faded sign next to my grocery store?
You'll learn that exploring isn't only discovering new places -- it's also new things about familiar places. That garage you've passed by a hundred times on your way to a Revolutionary War battle site might also contain the last vestige of a Gilded Age -- like this arch in upper Manhattan, the last remnant of when the area was only pastoral fields and millionaires' mansions -- but only if you start looking at how everything fits (and doesn't fit) together. Once you observe the lay of the land, you'll be able to hit the records with some detailed questions you can use to...
RESEARCH THE ANSWERS
Even in today's perpetually plugged-in world, nothing beats getting dusty with some resources that can't be found online. Think about city hall, local historical societies, off-the-beaten-path museums, trade associations, your college archaeology department, or -- yes -- the library. A great example is the Brooklyn Library's Brooklyn Collection, which is loaded with resources from the borough's early days. A particular highlight is their Historical Fire Insurance Maps collection -- composed of vintage neighborhood and building graphs that you can only access on-site. Remember how you were curious about that vacant lot? Here's where you'll find answers.
And don't be shy if you're not entirely sure what you're looking for. An adventurous spirit and persistent attention are more than enough. "We don't ask any questions," says the collection's reference archivist, Sarah Quick, emphasizing that you don't need to be working on a PhD or flash any fancy credentials to get a look at their trove. "If you come in and say, 'I want this thing,' we'll pull it for you." Tip: Make an appointment first. The librarians will appreciate it, and may be able to dig up your materials so they're ready and waiting.
Along with being downright fun, doing your own research can lead you away from the tourist traps. "When I was living in Ireland, I'd check out used book stores for older or privately published guides," says Elsensohn. "They seemed to have recommendations for things that were either no longer as popular as they once had been, or niche enough that I wasn't going to run into a busload of people."
NOW GET OUT THERE ON YOUR OWN
To state the obvious: If you're going to be an explorer, you've got to explore. So, after you account for safety (Will you need water? Have you told someone you trust where you'll be?), it's time to grab a friend and pound some pavement. Just make sure everything you do is legal -- don't get yourself arrested or hurt, don't break any locks, and don't scare anybody.
This is the stage where you try out your new eyes: Look not only for what's there, but for what USED to be there. Sure, you might know that LA's Pike at Rainbow Harbor shopping center began as an amusement park from 1902, but can your eyes detect where any of the old rides and fortune tellers' pavilions once stood? You might just uncover a forgotten feature of a site people thought they knew -- such as a now-razed facility, a gulch before the river was underground, old power runs, anything to help you trace a building's bones and re-map secret gardens.
So go forth and get dirty. Discover something new. All the tools you'll need are the ones you already have: an adventurous spirit, a thirst for the unknown -- and, again, maybe the internet. You'll be entertaining your crew at happy hour with stories of your travels before you know it.