The Roar of Daytona: A Day at the Great American Race
Matt Meltzer/Thrillist
Matt Meltzer/Thrillist
What you don't understand about Daytona is that you can never hear. Every 45 seconds, whatever you're doing is interrupted by a roar that can only be compared to what you hear sitting on a lawnmower behind a jet engine. And it's the most adrenaline-pumping noise in the world.

That roar is why, from the top row of the bleachers at Victory Lane, I couldn't hear the crowd go nuts when Denny Hamlin made his historic charge to overtake Matt Kenseth in last week's Daytona 500. I didn't hear the cheers going up as Martin "Always a Bridesmaid" Truex, Jr. held the lead ever so briefly coming out of turn four down the final stretch. And I definitely didn't hear the absolute pandemonium that ensued when Hamlin passed Truex with just yards to go. All I heard was the roar. And when it got to terminal volume, what I heard but barely saw: two cars that were not Kenseth's coming to the closest finish in 500 history.
Beer: the official breakfast of NASCAR
The day started much more quietly, arriving before dawn on the infield at the newly renovated Daytona International Speedway through a tunnel under the track. When we emerged, RVs stretched literally for miles, and late-night revelers staggered by on their way "home." The infield, by the way, is MASSIVE. Like 180-acres huge with a LAKE! Yes, inside the track. It's insane.
We parked and walked through the eerily silent campground to the pits. I noticed a beer stand full of iced-down blue bottles. "Can we buy those already?" I asked the woman behind the booth. It was barely 6:30 in the morning.
"Technically, we're not set up yet," she said.
"But if I handed you $8, you'd give me one of those," I replied. She looked at her boss, who was standing next to her stocking cases of beer, and he nodded.
"That'll be $8," she said.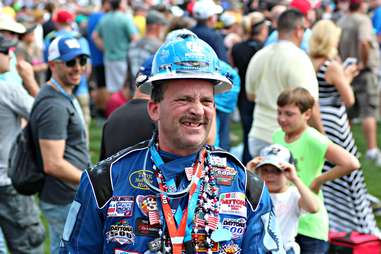 I wasn't the only one getting the party started early. At 7am, the Budweiser Bistro raised its shutters to a huge cheer from the fans assembled in the infield's Sprint Fan Zone. Despite the cold temps by Florida standards (around 58), most of the fans -- 90% of whom were male -- didn't bother with jackets. Or sleeves, really. You don't spend $300 on a "#3" tattoo so people CAN'T see it. It's like the NASCAR merchandising that keeps on giving.
NASCAR has exploded in popularity over the past 20 years largely because it harnesses that loyalty -- and rewards it by letting the fans be a part of the experience. Before the race, fans stroll around pit row, conversing with mechanics and crew chiefs. The grass between the pits and the track becomes a giant pre-party, where folks drink beer on the very track their heroes will race on a few hours later. Can you imagine having a beer at first base at Fenway before a big Sox-Yankees game?
Guys dressed in overalls with mullet wigs took pictures with female fans. Families sat in the grass. Frat boys tailgated. An old man in full coveralls blasted "Thunderstruck" out of a mini stereo. Fans signed the finish line, and tanned themselves on the 30-degree banked asphalt.
A view from the top of the world's first motorsports stadium
After spending a few hours soaking in the local flavor, it was finally race time; we made our way into the grandstands. The speedway just dumped a ton of money into creating what it's calling "The World's First Motorsports Stadium," complete with 1,400 TV screens, an extra level of seats, and a lower-level concourse where you can watch the race while waiting in line for The Big One. It is effectively NASCAR's answer to Texas and Yankee Stadiums.

Our seats were on the upper level and offered, what I like to think of as, a birds-eye view of America: 100,000 people packed into a mile-long memorial of sports worship. On a sunny day, you couldn't help but well up with pride as you hummed that Lee Greenwood Desert Storm song to yourself.
Gerard Butler grabbed a microphone and announced, "Drivers, start your engines." And then the air dropped silent, anticipation filled the speedway. Everyone who'd been there before knew what was coming -- the roar. The heart-pumping sound of unapologetic volume announcing, "It's time to fucking go." After a thick hesitation, all 44 engines started up at once, and the shockwave hit my ears for the first time. I felt the adrenaline release from my brain, and wanted to jump out of my seat and punch somebody. (Note: I'm generally not that violent. I absolutely blame the noise.) And even after the green flag dropped the roar never went away.

And that roar is a big part of why watching NASCAR on television offers you absolutely ZERO idea of what a race is like. Like, none. The drivers moved in a two-wide formation at over 185 miles an hour literally within inches of each other. To put it in perspective, think about that guy who rides your ass in the left lane when you're going 80 down the highway. Now, add 100 miles per hour to your speed and surround yourself with 42 other cars. And then, drive from Chicago to Pittsburgh! That's essentially what these drivers do for 500 miles. Watching that formation glide over the asphalt at deadly speeds is one of the most impressive things you'll see in sports.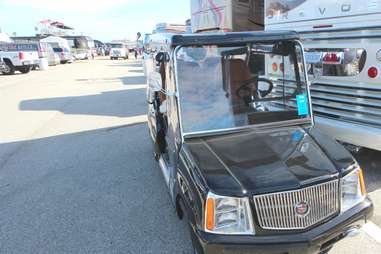 The world's nicest trailer park
But you can only really watch it for so long; which is why after about 20 laps at the top of the grandstand, I was like, I should move freely about the cabin. I headed back down to the infield, which I'd been told morphs into a macro beer-drenched orgy of mullets, rebel flags, and bad decisions come race time. A debauchery on par with the Kentucky Derby, without the air of class of sophistication.
What it is, actually, is a trailer park for the 1%. The majority of the fans are there in motorhomes that cost more than condos, complete with observation decks and stainless-steel appliances. Most opted to watch the race from the top of said RVs, or on a 60in TV mounted to the side.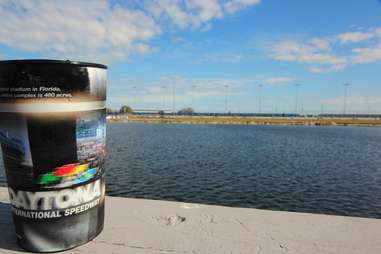 In fact, the only place that seemed to have anything social going on was the bar at Geico Shores, the branded name for the viewing area at the infield lake that looks out on to the backstretch. I bellied up to the bar next to two girls who combined might not have been 30. A fact that was apparently lost on the polo-clad guy from Charlotte trying to chat them up.
"How much for a souvenir cup?" I asked the bartender.
"$15 for a double," he said.
"What if I just want soda?" I asked.
"I can give you a $15 Coke if ya want it," he said. "But it's still $15."
"What about kids who want a souvenir cup?"
"Shit," the bartender smiled. "This is Daytona, man. Mom and dad'll drink enough of them that that kid'll be giving cups away at recess on Monday."
From the pier, I watched the swarm of metal and rubber fly by every 40 seconds, stopping every conversation mid-sentence to let the roar have our attention.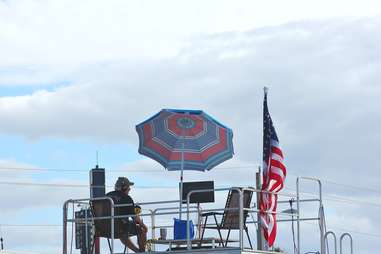 Don't let the tents fool you, this ain't no hippie campground
Past Geico Shores is a tent-camping area that looks like a refugee camp for people fleeing the SEC conference. Yes, we are talking about a campground inside a giant race track, just to be clear. Yet it had the feel of the camping areas at Bonnaroo or Outside Lands, sans the "smoke," and I even heard some acoustic guitar coming from a tent near the fence. Honestly, who is playing guitar in the middle of one of America's biggest car races? So weird.
I walked up expecting to see some hippie who hadn't shaved since '03 playing songs about social injustice in Tibet. Of course, as soon as I heard the words, "He lifts me up in my times of need," I remembered I was at a NASCAR race. God. Country. NASCAR.

While you can hear the race everywhere (I've mentioned the noise, right? Kidding!), only seats in the grandstand offer views of all the action. And those tickets can run you upward of $230. For people in the infield, though, the race is best viewed on the aforementioned televisions. Which is why I made my way back to the infield's Sprint Fan Zone from the morning -- which now contained thousands of people crowded around the scoreboard to watch a race that was maybe 200 yards away. And this is where I kinda pulled rank. Rather than jam myself into the crowd, I flashed my press pass and strolled into Victory Lane. There were 10 laps to go.
The greatest finish in history
And there I was in Victory Lane, surrounded by longtime NASCAR reporters lamenting about how this was one of the duller 500s they remember. Matt Kenseth had been leading the race for the last hour, and showed no signs of losing that lead; we watched him take the white flag, which signified only one lap left until he could pull into Victory Lane and celebrate. With us!

As I fiddled with my camera to catch Kenseth crossing the finish line, Denny Hamlin made one the most historic last-lap moves in racing history. The roar, however, left us clueless -- it drowned out even the track announcer. And by the time Hamlin crossed the finish line 1/100th of a second ahead of poor Martin Truex, Jr., I had no idea I'd just witnessed the greatest finish ever at the Great American Race.
Sign up here for our daily Thrillist email, and get your fix of the best in food/drink/fun.
Matt Meltzer is a staff writer with Thrillist and NASCAR's newest mega-fan. Follow him on Instagram: @meltrez1.