The eight weirdest places to stay in Canada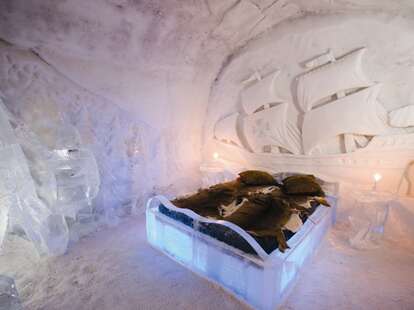 As if choosing to travel to Canada wasn't weird enough, the Great White North is loaded with lodgings as alternately hilarious and confusing as those adorable accents. But if you want your bed to truly be the strangest of brews, you'll have to consult our countdown of the eight most bizarre places to stay when visiting those nutty Canucks.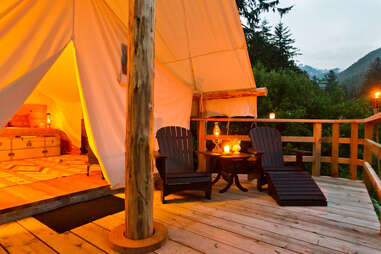 #8:Clayoquot Wilderness Resort, Vancouver Island, BC

Any place that trumpets itself as a prime place for "bear watching" should probably give you more than a sheet of canvas for overnight protection, but Clayoquot refuses to let either common sense or a few pesky ursine trespassers rain on their glamping parade. Oh, and while they have 12 new "luxury" tents, the other eight offer "prospector-style quarters". Hey kids, who wants to develop dysentery and catch a pickaxe to the face from a conniving neighbor!?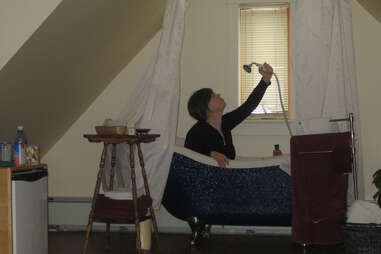 #7:Bombay Peggy's, Dawson City, Yukon

Remember in White Fang when they went through Dawson City to find some hookers, before laying into the remote Yukon in search of gold? No? Well, you probably should have had a more nuanced appreciation of literature in fifth grade, but you can still hit Bombay Peggy's, a former Klondike gold rush brothel, and see what it would have been like.
#6:Free Spirit Spheres, Vancouver Island, BC

How do you make sleeping in a treehouse as an adult even weirder? Well if you're Canadian, you make that treehouse a giant, floating orb. And ban anyone under 16 from staying there. And reference "the un-tamed spirit that exists in us all". And give them all individual names like Eve, or Melody. On the upside, it's now totally acceptable for you to fall asleep while inside Melody!
#5:The Boatel, Toronto

It's a boat. It's a hotel. It's a Boatel! This 65ft yacht complete with living room, dining room, two bedrooms, and baller mahogany interior is, unsurprisingly, Toronto's only BB&B (Boat Bed & Breakfast).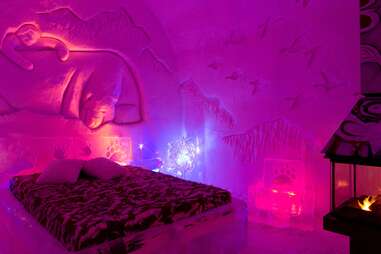 #4:Quebec City's Ice Hotel

Hands-down the coolest (!) hotel north of the border, QC's Ice Hotel is rebuilt with a new design layout literally every year, and made into a 40-plus unit luxury hotel. Everything here is made of ice, right down to the windows, furniture, bed, and the hearts of the people who decide minibar prices.
#3:Snow Village, Montreal

Every Canadian knows that the only way to one-up an ice hotel is to build an igloo hotel out of snow, but Snow Village wasn't going to rest on its weird-ass laurels. They've got an ice chapel, the Jagermeister Ice Bar, the Pommery Ice Restaurant (chilled vodka, bro!), and, of course, an open invitation to "hug" their mascot, a French-Canadian in a furry outfit who goes by the sleep-depriving name "Snoro".
#2:The Vancouver Aquarium

Turns out it's not just Luca Brasi who can sleep with the fishes, as just about anyone can make a special advanced reservation to throw a sleeping bag down inside of the Vancouver Aquarium. Bring on the penguin fights!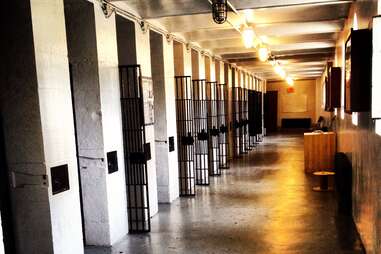 #1: Ottawa Jail Hostel

Perfect for the dude who wants all the luxuries of a one or two-person jail cell without the commitment of actually murdering someone, Hi Hostel's Ottawa locale was once a prison. Nowadays the cells are rooms, but the gallows from Canada's last public execution are still in the courtyard. And don't think they missed the opportunity to name their bar Mugshots.