What Makes Every Caribbean Island Special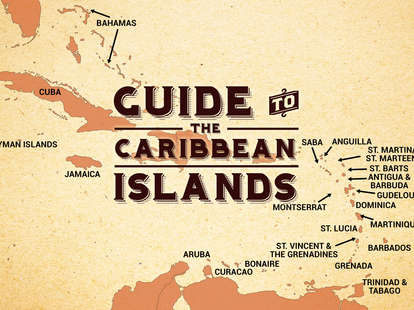 Jennifer Bui/Thrillist
Jennifer Bui/Thrillist
You can't really blame Americans for not knowing one Caribbean island from another. Our first exposure to them was likely the animatronic pirates firing fake canons at Disneyland. Or, if you're a little younger, Johnny Depp!

Either way, "the Caribbean" to many Americans is simply a collection of islands somewhere south of Florida; and you'd be hard-pressed to find somebody who knows the difference between the Greater and Lesser Antilles, much less where they are located.
And it's a shame, really. Because while every island down there boasts turquoise water, white sand beaches, and a lot of rum, that's pretty much where the similarities end. Which is why, in the name of education, and civic duty, and better vacation planning, we've put together this handy map and guide to what makes each of the 29 islands special.
NOTE: Round-trip airfare is calculated from JFK for a random week in May. We included all countries represented by the Caribbean Tourism Organization.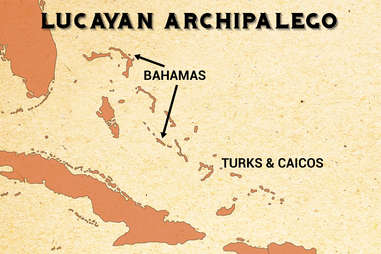 These are the islands closest to the US, a mostly-flat archipelago that stretches from just east of Boca Raton, Florida, south to Haiti.

The Bahamas
Independent (UK, 1973)
Capital: Nassau
Average RT airfare from the US: $350
Islands included: There of 700 of them in this flat-island chain; the most visited are Abaco, Bimini, Eleuthera, Exuma, Grand Bahama, Nassau, New Providence, and Inagua.
Why visit? It's the closest Caribbean country to the Unites States and a key stop on a lot of cruises. But past the straw markets and hair braiders, the Bahamas boast one of the best pink sand beaches in the world at Harbor Island, swimming with feral pigs, and the Atlantis resort if you're looking for a little bit of Vegas in the Caribbean.

Turks & Caicos Islands
British Overseas Territory
Capital: Cockburn Town, Grand Turk
Average RT airfare from US: $475
Islands included: There are 300 islands between the Turks & Caicos. The most populated ones include Grand Turk and Salt Cay in the Turks Islands, and Providenciales, Parrot Cay, North, East, South, West and Middle Caicos in the Caicos.
Why visit? It might offer the most turquoise water of any spot in the Caribbean, and the snorkeling at Coral Gardens in Providenciales is top notch. Also, if you hit the Da Conch Shack in Provo, the staff will actually dive in the water and catch your conch fritters.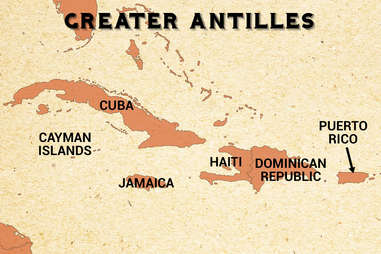 These larger islands are the next-closest group to the US, starting just south of Key West and stretching east to Puerto Rico.

Cayman Islands
British Overseas Territory
Capital: George Town, Grand Cayman
Average RT airfare from US: $400
Island included: Grand Cayman, Little Cayman, and Cayman Brac
Why visit? Though technically the Cayman Islands aren't part of the Greater Antilles, they lie in the same geographic region. The islands' reputation as a hub for offshore banking has helped lure a lot of big-time chefs drawn to big-time money. Miami's Cindy Hutson and New York's Eric Ripert of Le Bernadin have both opened restaurants in the past few years, and other big names in food are following.

Cuba
Independent (1902, United States)
Capital: Havana
Average RT airfare from US: N/A
Why visit?Cuba is truly unlike anywhere in the world, and a visit is somewhat akin to stepping back in time to 1960. You will drink the best mojitos of your life, however, and they will help you forget the Internet is ridiculously awful.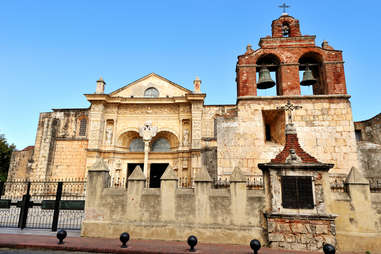 Dominican Republic
Independent (1863, Spain)
Capital: Santo Domingo
Average RT airfare from US: $325
Why visit? The beaches in the Dominican Republic have become the big draw in the past decade. But it's also a country of over ten million people and the capital city of Santo Domingo is a vibrant, exciting, historic spot to visit when the sand gets old. The cigars are as good as any in Cuba, and you can pretty much see a future MLB player if you catch a Domincan League baseball game while you're there.

Haiti
Independent (1804, France)
Capital: Port-au-Prince
Average RT airfare from US: $300
Why visit? Ok, yes, it's Haiti; and your first thoughts might not go to fruity drinks on a white sand beach. But the surfing near Pistons Beach in Jacmel (or further north at LaPointe) is the best in the Caribbean, and you'll experience Afro-Caribbean art and culture at its purest.
Jamaica
Independent (1962, UK)
Capital: Kingston
Average RT airfare from US: $435
Why visit? Obviously, if you're into reggae music; but even if Bob Marley isn't your jam, there are the beaches of Negril and their famous cliff divers, and the world's foremost adult resort at Hedonism II. Also, two spots in Jamaica fall on our list of cheapest Caribbean paradises.

Puerto Rico
U.S. Territory
Capital: San Juan
Average RT airfare from US: $469
Islands included: Vieques, Culebra, Mona, Desecheo, and Caja de Muertos are also part of Puerto Rico
Why visit? Traveling to Puerto Rico is like visiting a foreign country, but without leaving the US. Experiencing the country's Spanish Caribbean culture, food, and music is an easy way to dip your toes into Latin America if you've never been, and the beaches at Vieques and Culebra are some of the region's hottest new destinations of the past ten years.
The Lesser Antilles are the islands south and east of the Greater Antilles and are divided into three groups.The Leeward Islands are the northernmost section, and stretch from the US and British Virgin Islands south to Dominica.

Anguilla
British Overseas Territory
Capital: The Valley
Average RT airfare from US: $552
Why visit? Every bit as beautiful as its Leeward Island neighbors, Anguilla has remained relatively untouched by mega-resorts and casinos. Meaning the vast stretches of perfect beach aren't too crowded, and you'll enjoy a more remote Caribbean experience.

Antigua and Barbuda
Independent (UK, 1981)
Capital: St. John's, Antigua
Average RT airfare from US: $350
Why visit? There are two distinct experiences you can have on these islands: Antigua is more of the traditional Caribbean paradise complete with tropical rainforest; Barbuda, on the other hand, is all about the fantastic wildlife, including a bird sanctuary, native deer, and deep-sea fishing.
British Virgin Islands
British Overseas Territory
Capital: Road Town, Tortola
Average RT airfare from US: $618
Islands included: The BVI comprises 60 islands, including Anegada, Jost Van Dyke, Tortola, and Virgin Gorda
Why visit? Even if you're not going for Yacht Week, the BVI are a top destination for boaters from around the globe. And that kind of money lends itself to some spectacular private-island resorts, like the Bitter End Yacht Club and Cooper Island.

Dominica
Independent (1970, UK)
Capital: Roseau
Average RT airfare from US: $1,050
Why visit? Dominica (pronounced "Dominique-uh") is known as the "Nature Isle of the Caribbean" and is the spot for active adventure; from jungle hikes to waterfalls/natural hot springs to scuba dives where you feel like you're swimming in a champagne glass as tiny bubbles flow up around you.
Guadeloupe
Overseas region of France
Capital: Basse-Terre
Average RT airfare from US: $900
Islands included: Guadeloupe, Basse-Terre Island, Grande-Terre, La Désirade, Les Saintes, and Marie-Galante
Why visit? French culture. It's as prevalent here as anywhere in the Western Hemisphere. So not only will you enjoy some amazing food, but you can also sip on Bourbon Pointu coffee, a java bean typically only found on Reunion Island that sells for nearly $100 a pound online.

Montserrat
British Overseas Territory
Capital: Plymouth
Average RT airfare from US: $590 (includes connecting flight from Antigua)
Why visit? While the beaches are spectacular, the ruins of Plymouth (the result of a Soufrière Hills volcano eruption) are easily the most fascinating thing you'll see here. The mountain erupted twice in the 1990s, burying much of the island in ash and lava and earning it the nickname "modern-day Pompeii."
Saba
Special Municipality of the Netherlands
Capital: The Bottom
Average RT airfare from US: $850
Why visit? Aside from getting to land on one of the world's scariest runways, Saba feels like a remote island village with a destination dining scene and some of the best diving in the Caribbean.

Saint-Barthélemy (aka St. Bart's or Saint-Barth)
Overseas Collectivity of France
Capital: Gustavia, Saint Barthelemy
Average RT airfare from US: $900
Islands included: Saint Barthelemy, Île Chevreau, Île Frégate, Île Toc Vers, Île Tortue, Gros Îlets, and Île Fourchue
Why visit? It's known as "The Hamptons of the Caribbean," mostly because it's a weekend escape for wealthy New Yorkers and celebrities. Who knows, on some Fridays it's probably even quicker to get to.
Sint Eustatius
Special Municipality of the Netherlands
Capital: Oranjestad
Average RT airfare from US: $820
Why visit? Statia, as it's known locally, was a major trading port in the 18th century and maintains some fascinating colonial architecture. It's also not terribly overdeveloped, so you can enjoy it without too many other people. Visit and catch a glimpse of what the Caribbean was like 30 years ago.

Saint Kitts & Nevis
Independent (UK, 1983)
Capital: Basseterre, Saint Kitts
Average RT airfare from US: $625
Why visit? The black sand beaches at St. Kitts -- both islands are volcanic mountains and the ancient eruptions gave the island one of the largest concentrations of them in the world.
Saint Martin/Sint Maarten
Overseas collectivity of France/ Constituent country of The Netherlands
Capitals: Marigot/Philipsburg
Average RT airfare from US: $488
Why visit? Aside from taking videos of yourself getting blown back by a 747 while you lie on the beach? Plenty. This island is controlled by the French and the Dutch, so you'll experience both cultures without having to go more than a few miles. Much less across an ocean.

US Virgin Islands
US Territory
Capital: Charlotte Amalie, St. Thomas
Average RT airfare from US: $380
Islands included: St. Croix, St. John, and St. Thomas
Why visit? It's the most Caribbean place you can go without needing a passport. You get the natural beauty and exotic feel of the islands, but with American infrastructure and nonstop flights. Somehow, though, the culture remains relatively untouched by America -- so all the better.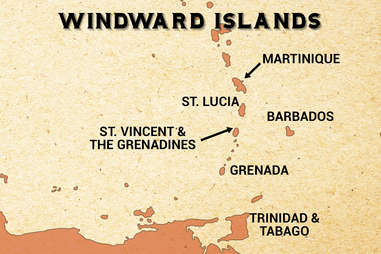 Still part of the Lesser Antilles, this group stretches from Martinique in the north to Trinidad and Tobago in the south, just north and east of Venezuela. They are collectively the hardest islands to reach from the US, as most flights require a lengthy layover in Port of Spain.

Barbados
Independent (UK, 1966)
Capital: Bridgetown
Average RT airfare from US: $443
Why visit? Carnival, done to celebrate the end of Crop-Over, is sort of like the Bajan Thanksgiving. Except instead of stuffing themselves with food and laying on a couch, people dress up in colorful costumes and dance in parades throughout the island. Check it out from June until the first week of August.

Grenada
Independent (1974, UK)
Capital: St. George's
Average RT airfare from US: $530
Islands included: Grenada, Carriacou, Petit Martinique, Ronde Island, Caille Island, Diamond Island, Large Island, Saline Island, and Frigate Island
Why visit? Though many people know it only as "that place we invaded in 1983" and "where British Airways accidentally sends people trying to go to Granada," the more-traditional nickname is the "Spice Islands." That name comes mostly from Grenada's abundance of nutmeg, which is best sampled in its famous sweet potato pudding.
Martinique
Overseas region of France
Capital: Fort-de-France
Average RT airfare from US: $635
Why visit? If you want great French food -- and even better Champagne -- but don't have time to fly to France, Martinique is your spot. The tiny island is teeming with French-trained chefs who put an island spin on Gallic cuisine. And the area drinks more Champagne per capita than any region of France.

Saint Lucia
Independent (UK, 1979)
Capital: Castries
Average RT airfare from US: $450
Why visit? The Piton Mountains, where you can not only visit seemingly-remote villages, but also drive right up an active volcano.
Saint Vincent and the Grenadines
Independent (UK, 1979)
Capital: Kingstown, St. Vincent
Average RT airfare from US: $530
Islands included: St. Vincent and the Grenadines comprises 32 islands, nine of which are populated
Why visit? Next to the BVI, St. Vincent is the Caribbean's top destination for yachters. Also, medical students -- it's home to three medical schools with direct ties to the States.

Trinidad & Tobago
Independent (UK, 1976)
Capital: Port of Spain, Trinidad
Average RT airfare from US: $340
Islands included: Trinidad, Tobago, and the accompanying islands of Chacachacare, Monos, Huevos, Gaspar Grande, Little Tobago, and St. Giles Island
Why visit? The topography and the people of these islands are markedly different than the rest of the Caribbean. The population is heavily East Indian -- with a serious Asian influence -- so the food, music, and culture are unlike that found on other islands. And because they are the closest group to South America, the landscape is more mangroves and swampy jungles than tropical volcanic islands.
The final group of islands lie west of the Windward Islands, and north of Venezuela.

Aruba
SovereignState, Kingdom of the Netherlands
Capital: Orenjestad
Average RT airfare from US: $440
Why visit? Nature is the main draw here. The perpetual sunshine and lack of precipitation creates some spectacular inland desertscapes to complement the over seven miles of white sand beaches -- including Palm Beach, one of the best beaches in the Caribbean.

Bonaire
Special Municipality of the Netherlands
Capital: Kralendijk
Average RT airfare from US: $575
Islands included: Bonaire and Klein Bonaire
Why visit: Bonaire is a quirky little island in between its two better-known cousins. The night diving is some of best in the world; using UV lights, you'll spy spectacular underwater marine life.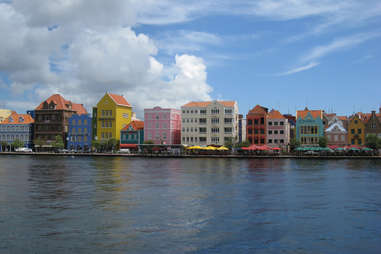 Curaçao
Sovereign State of the Netherlands
Capital: Willemstad
Average RT airfare from US: $460
Why visit? Curacao offers some of the most diverse culture in the Caribbean, including the oldest synagogue in the Western Hemisphere. The main harbor is also a UNESCO World Heritage Site.
Sign up here for our daily Thrillist email, and get your fix of the best in food/drink/fun.

Matt Meltzer is a staff writer with Thrillist. Follow him to Caribbean adventures on Instagram @meltrez1.