You must win a lottery to stay in this hotel
If your wooly jumper and wayward beard often lead people to mistake you for a Scandinavian fisherman, and that's exactly what you're going for, then this seafaring stand-alone hotel in the heart of London is probably for you. Overlooking (but not docked at) the South Bank of the River Thames, A Room for London is a popular "installation" boat that doubles as a solo hotel room, and requires prospective guests to enter a lottery just for the chance to spend a single night aboard.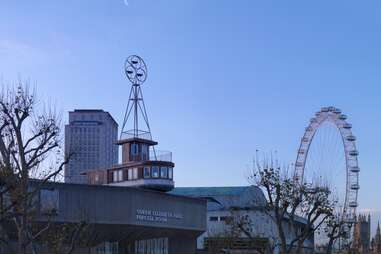 Perched high atop the Southbank Centre's Queen Elizabeth Hall (where it'll stay through the end of 2014), your room is within easy walking distance of the Tate Modern, Shakespeare's Globe, and the Royal Festival Hall.

Inspired by author Joseph Conrad (who served as a riverboat captain in the Congo in the 1890s), the room was conceived by artist Fiona Banner and designed by David Kohn Architects. Both defeated over 500 applicants in an international design contest to win the commission.
Pretend you're Jimmy Stewart in Rear Window and use the boat's onboard binoculars to not peer into local rooms and/or uncover a murder conspiracy that plunges you, your classy blonde girlfriend, and your all-knowing nurse in undue danger, but instead spy the view from Big Ben to St. Paul's Cathedral.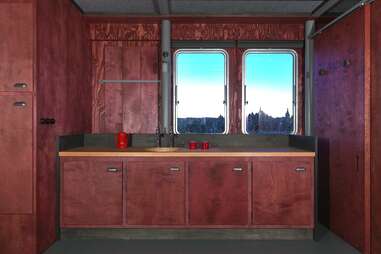 While the boat may look small, it rocks an en-suite double bedroom, small galley, library, and viewing deck -- plus, it's tricked out with enough varnished wood to make Ron Swanson beam.
Less Jack Sparrow and more Moonrise Kingdom, expect polished timber furnishings, nifty enclaves (for stashing books and jigsaw puzzles, of course), and ridiculous panoramic views of the city while lying in bed.

And that's not even just from the main cabin. You can spy the London Eye from this porthole above the head, or loo, if you'd prefer to avoid proper nautical terms.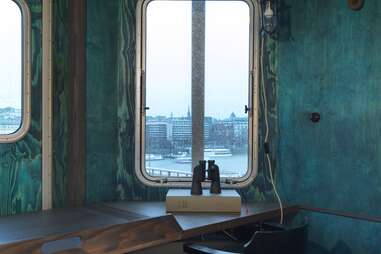 Finally, as on all good seafaring vessels, there's even a logbook -- in which one guest sketched an impressive rendering of St. Paul's Cathedral while another simply quoted the great words of Lonely Island and T-Pain, "I'm on a boat".
Now if you too want to be on this boat, you'll need just under $500 (if there are two of y'all) or around $200 (if you're going solo like a true sailor); for info about entering the lottery, go here.
Chloe Pantazi is an editorial assistant on Thrillist's travel team. She once partied on a boat on the Thames. River + booze + that Pitbull song from 2009 = too many kinds of sickness. Follow her on Twitter at @ChloePantazi.