If you've ever been standing on the subway platform with a bunch of awesome people and thought, this would be the perfect place to go swimming (or dancing, or to look at art, or eat a Michelin-starred meal), then you and Paris mayoral candidate Nathalie Kosciusko-Morizet might have dated briefly in the late '90s. Because that's exactly what she's proposing to do with Paris's neglected "ghost station": revamp it into a sexy new pool, club, restaurant, or art gallery that -- with the help of architect Manal Rachdi and urban planner Nicolas Laisné -- will look something like these renderings.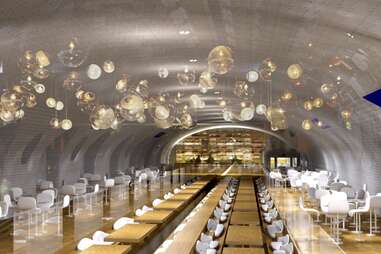 A restaurant?
Finally, you'll be able to check "Eat dinner in an abandoned Parisian subway station" off your bucket list. Whewww. Now you just have to hit the rest of these weird restaurants around the world.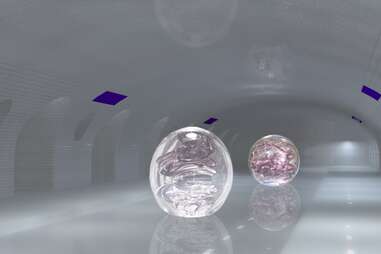 An art gallery?
Eschew the pickpockets and ticket scams at the Louvre and head downstairs to this sleek underground gallery instead. Like London's Tanks -- a below-ground-level exhibition space housed in the old oil reserves of the Tate Modern (formerly a power station) -- an art gallery in Paris's metro could make a cool exhibition space with ample room for all sorts of art installations. So, what's the over/ under on how long it'll take Marina Abramovic to get down there?

A garden?
Paris already has its own railroad park in the form of the Promenade Plantée (like New York's High Line, the French version was built upon a neglected railway line), but it's above ground. This could be the first garden to flourish underground.

A swimming pool?
Caaaaaaanonnnbaaaaalllllll!!! Seriously, if this this plan goes forward, get ready for one epic Parisian pool party. This underground pool could easily give one of these a run for their chlorine.
A club?
If you're one of those riders who enjoys blasting your tunes on the subway, stop doing that -- we can all hear you listening to One Direction. Also, this after-hours underground club is probably for you.
A theater?
We're accustomed to seeing drama on the subway anyway, so why not make a proper show of it?
Chloe Pantazi is an editorial assistant on Thrillist's travel team. She once got very lost on the metro, and still doesn't know how she got to Versailles. Follow her on Twitter at @ChloePantazi.