The cupboards are full, the stores stocked, and the kitchen sinks still overflow with dishes. The only thing missing is people -- they got outta dodge about a hundred years ago.
Yea, call them ghost towns without ghosts. Once bustling with bars, brothels, and bandits, today these 10 (mostly mining) hamlets are eerily abandoned, freakishly desolate, and so perfectly preserved that you'd think they'd been deserted overnight.
Recommended Video
The Most Overlooked Mediterranean Paradise in Europe
All that glitters may not be gold, but it can still make you a fortune. Copper lured brave miners to this remote Alaskan spot in the early 1900s after two prospectors stumbled upon what turned out to be $200 million worth of the metal while resting their horses.
With the help of some famous financiers, namely J.P. Morgan and the Guggenheims, they formed the Kennecott Copper Corporation in 1903 and turned the place into a country club town, complete with tennis courts and an ice skating rink. By 1938, however, the copper grew scarce and the miners restless.
Today, Kennecott sits in the heart of the massive Wrangell-St. Elias National Park and visitors can take tours of the original mills and old mines.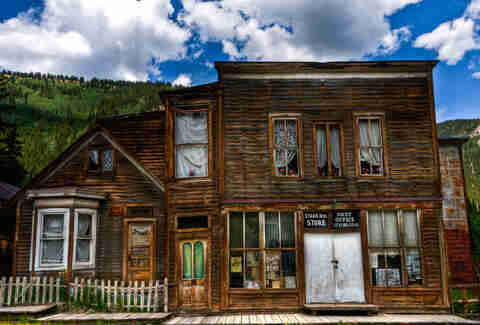 Established in the late 1870s, St. Elmo was once a highfalutin gold mining town and popular whistle -stop on the Pacific Railroad. It boasted 2,000 residents, 130 mines, and enough hotels, brothels, saloons, and dance halls to keep everybody in town happily cutting a rug. When the Alpine Tunnel closed in 1910, however, the piano music stopped.
Today, there's little left save a cabin where you can stay and a general store (open during the summer) that sells antiques and rents four-wheelers.
Like a straight up Wild West movie set, Bodie is one of the most famous (and the largest unreconstructed) ghost towns in America. With 200 original, perfectly preserved structures including a jail, saloon, and schoolhouse, you wouldn't be at all surprised if John Wayne came riding through.
Established in 1859 when William S. Bodey discovered gold in the area, the original camp of 20 miners exploded during the California Gold Rush into a city of over 10,000. By 1880, the town boasted 60 bars and a red-light district. Fast forward to 1942, however, and Bodie was empty.
Today the town is a national historic site protected by the California parks system and in a state of "arrested decay". Basically, that means there are fully stocked stores packing your favorite Adolphus Busch beer, not to mention queued up pool tables, chairs, and cutlery resting exactly where it was left over half a century ago.
Upon discovering silver in 1880, two prospectors eager to make a quick buck created a Miner's Protective Association, and in a mere two weeks, recruited 20 people to lay out streets and build a courthouse. Within five years, Ashcroft boasted 20 saloons and more than 3,500 residents. But like most mining towns, at some point they ran out of stuff to mine, and by the end of 1885 only 100 residents remained.
Interest was renewed in the 1930s as winter sports became popular, and there were plans to turn the town into a European-style ski resort; in fact, the Highland-Bavarian Lodge was even built by Ted Ryan and the captain of America's gold medal Olympic boblsed team, Billy Fiske. When Fiske died fighting in WWII, however, plans fizzled and Ashcroft's been a bona fide ghost town (with only about nine buildings) ever since. Interestingly, the plans for the ski resort moved about 10 miles north, to a then much smaller town named Aspen.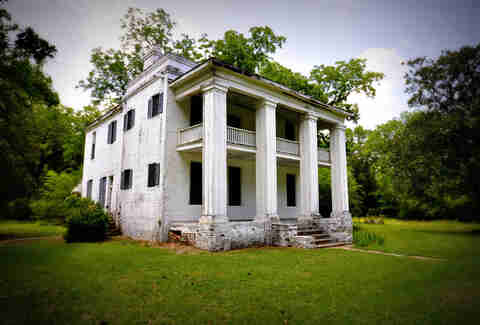 Cahawba has a pretty illustrious history for a ghost town: from 1820 to 1826, it served as Alabama's state capital before flooding enough times that most of the residents fled for drier pastures (and took the title of capital with them).
After years as a hub of cotton distribution, a massive Civil War prison known as Castle Morgan was built there from 1863 and 1865 -- it housed over 3,000 Union soldiers. In a not-at-all-surprising development, though, Cahawba kept flooding (shocker) and by 1900 was effectively abandoned. Residents left nothing but a few empty buildings, a cemetery, and some ghost stories behind.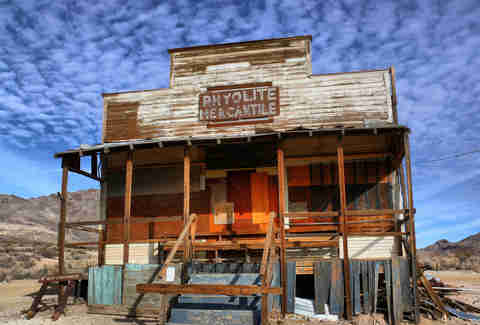 Live fast, die young: this Gold Rush town did just that, having been founded in 1904 and deserted by 1916, despite allegedly being the third largest city in Nevada for a time.
Sitting on the edge of Death Valley, Rhyolite offered residents hotels, a hospital, and an opera house and symphony, and even its own stock exchange. Its red light district was infamous, and rumored to have lured scarlet ladies from as far away as cosmopolitan San Francisco.
Abandoned for almost 100 years, the town lived on thanks to the silver screen, and has been featured in a number of Westerns; Paramount Pictures restored its so-called bottle house (made of thousands of bottles of Adolphus Busch, now Budweiser) in 1925 for The Air Mail.
Today, visitors will still see the skeletons of a three-story bank, part of the old jail, the general store, as well as Rhyolite's train station.
Former home of the famous frontierswoman, Calamity Jane, this old gold-mining town (Est. 1863) was known for its rough-and-tumble, hard-knock ways. In fact, the remote spot didn't have law enforcement or a justice system and, as a result, could brag about a seriously high crime rate. Robberies and murder were the norm, and gangs of outlaws, known as road agents, killed 100 people between 1863 and 1864 alone.
Virginia City briefly served as the capital of the Montana Territory, and at one point 10,000 residents called it home. While more than half of the city's buildings are still originals, they've been restored, and the town -- which now rocks tours, live music, and period-style cabaret shows -- has been turned into a tourist spot by the state.
Named for the red gems prospectors in the 1860s discovered there in lieu of gold, Garnet lasted as long as the mines did; which is to say, not that long. In its heyday, though, the isolated town maintained 13 saloons, four hotels, two barbershops, a doctor's office, and a school, as well as a daily stagecoach route to nearby towns.
A fire razed most of Garnet in 1912 and lead to an exodus of the residents. Now, 30 historic buildings (a dozen cabins, a store, a saloon, and part of the J.K. Wells Hotel) remain, their interiors practically untouched and still full of dishes, furniture, and clothes.
Elk Falls, KS
Despite billing itself as "the world's largest ghost town", there are actually still about 100 people (mostly members of an artsy commune) living among the ruins of Elk Falls. So, it's not technically abandoned, but close enough.
Founded in 1870 by R. H. Nichols, the settlement at its peak maintained two stores, a dentist, doctor's office, and multiple barber shops, not to mention a school with 200 pupils. When the town lost its bid to become the county seat in 1873, though, everybody split.
A lot of original structures remain, including over 40 outhouses that you can visit on a popular annual tour!
With a name derived from the Swedish word "bastu" (meaning sauna), this Jersey town was once a bustling ironworks that supplied the Continental Army during the Revolutionary War.
Founded in 1766, it was essentially a "company town" owned/run for 92 years by William Richards before the discovery of coal in Pennsylvania led to a steady decline in the New Jersey iron industry. Industrialist Joseph Wharton (yep, that Wharton) stepped in and bought the town in 1876, experimenting with agriculture and manufacturing before also throwing in the (terrible?) towel to presumably start his little business school in Philadelphia.
Over 40 of the original structures remain today, including Batsto mansion, a sawmill, a blacksmith, ice and milk houses, a carriage house and stable, and a general store. You can even mail letters at the post office -- it's totally open. The buildings have been fully restored and are maintained as a historical site, with a museum and visitors' center.

Sophie-Claire Hoeller is Thrillist's über-efficient German associate travel editor, and has had frequent flyer status since she was born in a Lufthansa terminal. Follow her @Sohostyle