Can I Get an Abortion While Traveling Abroad?
From Canada to Australia, here are the countries that assist foreign visitors with unwanted pregnancies.
When I was 25 and traveling in New Zealand, another American confided in me that she might be pregnant and didn't want to be. New Zealand's abortion laws were restrictive at that time, especially for a tourist with no local medical network. She would've had to fly 7,000-plus miles back to the states to terminate the pregnancy in her home country had the test come back positive. It didn't.
Seven years on, with abortion now criminalized in 14 states, discovering an unwanted pregnancy while abroad could be the best-case scenario for an American. While Roe v. Wade's polarizing demise made the Land Of The Free one of the least abortion-friendly countries in the Global North, the general shift to telehealth amid COVID made abortions easier than ever to get outside the US. Since 2020, New Zealand has deemed it legal to prescribe abortion pills over the phone.
"Across the globe, we've seen an overwhelming trend towards the liberalization of abortion laws, with over 60 countries liberalizing their abortion laws in the past 30 years," said Katy Mayall, director of strategic initiatives at the Center for Reproductive Rights. In that time, she said only four countries, including the US, have become more restrictive.
If you're traveling, depending on where you are in the world, you could cop a prescription for abortion pills just by calling a hotline or even buy them over the counter in any old drugstore. Mayall said the pills are sometimes accessible even where abortions are restricted "just because of how those systems work." They're as obtainable as Tylenol in parts of Mexico, even though the country's abortion laws lean conservative.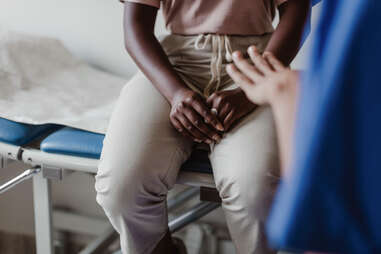 Slightly more than half of all abortions in the US occur outside of a clinic and are induced by a combination of two pills, misoprostol and mifepristone. There are pros and cons to getting a medication abortion as opposed to an in-clinic procedure, but let's say you choose the pill route while traveling because you want privacy, you aren't comfortable at a clinic in a foreign country, or you don't have transportation to and from a medical center. You can safely self-manage an abortion if you know what the pills are supposed to look like and you take them early on—the earlier the better.
In the US, the Food and Drug Administration approves medication abortions for pregnancies up to 10 weeks along, but every country has its own regulations. As long as it happens within the first 12 weeks, the World Health Organization recognizes that just about any medical professional can administer this kind of abortion, including community healthcare workers, pharmacists, and midwives. But where the medications are unregulated, be cautious of counterfeit or poor-quality pills.
According to Ipas, misoprostol and mifepristone come in white pills or tablets, never capsules. Misoprostol, the main-acting pill, is often hexagonal whereas mifepristone, the follow-up, is round. When they're packaged together, these "combi-packs" are "rarely counterfeit," Ipas says. Now, here's where to find them around the world.
Canada
Clinics in Ontario and the Women's Health Clinic in Winnipeg (about 60 miles from the North Dakota border), have seen slight upticks in clients coming from the US for abortions post-Roe, says Joyce Arthur, the executive director of the Abortion Rights Coalition of Canada. Abortions are legal on request throughout Canada, though gestational limits range from 12 to 24 weeks and are determined at the provincial level. Tourists can access both surgical and medication abortions for a fee. Mifepristone and misoprostol are available by prescription in the first nine weeks. Arthur says it's possible for non-residents to get the prescription in Canada or in their home countries to be filled in Canada.
Latin America
Mexico decriminalized abortions on a national level in 2021, but there remain restrictions that vary by state. In Tamaulipas, bordering Texas, both regulated and unregulated abortion drugs can be bought from drugstores without a prescription. You may or may not have a consultation with the pharmacist about how to use the pills, which can cost as little as $50 for a pack.
Further south, abortion is restricted or prohibited across Central America. The pills are widely sold on the black market there and throughout much of South America, so the few countries with progressive legislation are safest: Argentina, Uruguay, Colombia, Guyana, and French Guiana. In some of these places, proof of residency is required to get an abortion. That's not the case in Argentina, where people who live in largely conservative, pro-life Brazil often go to terminate pregnancies. You can buy misoprostol and mifepristone informally here, but getting them legally requires a prescription. In-clinic abortions are also an option—no questions asked.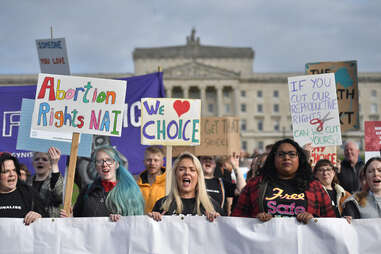 Europe
All of Europe allows abortions on request except Finland, Poland, and parts of the U.K. In some countries, like Germany, "pregnancy-conflict counseling" is mandatory. To bypass the red tape, hop across the border to the Netherlands, where there's no such requirement. "Abortion in the Netherlands is very safe and free of judgment for residents and non-residents alike," says Femke van Straaten, managing director of the Bloemenhove clinic in Heemstede. The Netherlands legalized abortions in 1984 and scrapped the mandatory five-day waiting period this past January. Now, you can walk into Bloemenhove (with an appointment) and get the procedure at 22 weeks. In the first eight weeks, you can get prescribed a combi-pack.
The drugs are far easier to come by in England, though, where they've been available by post since the start of the pandemic. Medication abortions are permitted in the first 10 weeks, and you don't even have to visit a clinic for them—just schedule a phone or video consultation with a prescriber.
Abortions are free for European residents wherever they're covered by universal healthcare schemes, but non-residents pay out of pocket. The British Pregnancy Advisory Service provides assistance to international clients, but a representative said the organization hasn't recently encountered Americans seeking abortion services.
Africa and Asia
Africa and West Asia have some of the most restrictive abortion laws in the world. Sub-Saharan Africa, specifically, is where people "face the greatest risk globally for an unintended pregnancy to result in an unsafe abortion," according to the Population Reference Bureau. Legislation varies by country and is most liberal in South Africa, Mozambique, and Turkey, plus some more remote pockets of Africa.
For better access to legal and safe abortion care in this part of the world, East and Southeast Asia might be your best bet. China's one-child policy of yore meant abortions were forced on residents for decades. Today, abortions are readily accessible and perhaps less taboo in China than in other countries, but the policy is constantly changing with the country's fluctuating population.
As of late 2022, in-clinic abortions are given on request at any time during the first 20 weeks in Thailand. The Planned Parenthood Association of Thailand operates 10 clinics around the country and does provide medication and surgical abortions to tourists. Cambodia and Vietnam are similarly abortion-friendly. But don't expect the same treatment if you're a tourist in Singapore. Even though the city-state is listed as an "on request" territory on the Center for Reproductive Rights' global abortion rights map, only people who have lived there for at least four months have access.
Australasia
Australia and New Zealand are increasingly pro-choice, both providing medication and in-clinic abortions to tourists on request. Regulations vary by state in Australia, but medication abortions are allowed within the first nine weeks and surgical abortions with varying gestational limits or none at all. Abortion pills are prescription-only, but Australia broadened the range of healthcare professionals who can prescribe this past July. No longer do they require specialist certification.
In New Zealand, where abortion was just decriminalized in 2020, you can get the medication just by calling 0800-DECIDE, so long as you're within the required 10-week timeframe. Decide, a.k.a. the National Abortion Telehealth Service, will prescribe and courier the drugs to you—no need to leave your hotel, Airbnb, or wherever. Visitors are free to go the in-clinic route, too.
In both New Zealand and Australia, non-residents who aren't covered by the national healthcare schemes are expected to pay for abortions out of pocket. They can cost the equivalent of $250 to $5,500 USD. In the US, for reference, abortions generally cost between $500 and $2,000 without insurance.