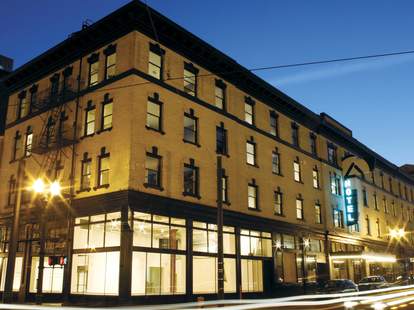 So Portland-hip that you're almost required to wear skinny jeans and a fedora to get in, the Ace is located in a certified-green building smack-dab in the middle of downtown, with acclaimed restaurants like Kenny & Zuke's deli and cocktail masters Clyde Commons located right on the bottom floor.
The place is dominated by repurposed wood and filled with locally sourced art, as evidenced in the lobby, where you can kick back and read books from the in-house library. Next to the lobby lies The Cleaners, an insanely popular spot for art openings and parties.
If you're in town for work, here's where you can get the job done. Or, if you're like 90% of Portlanders and don't actually have a job, you can sit around in it and post pictures of your cat to Facebook
Speaking of cats, each of the rooms features a different motif (like this kitty) and vintage furniture from around the world. Many are like upscale hostels where you get your own room w/ a separate living room, but share a bathroom. So Euro
Custom murals were created by a local artist, like this one that makes your old Spirograph art look like the drawings of a blind infant. Other rooms come stocked with turntables and other super-hip toys.
Wanna turn your trip into something that feels like college? Check into the "Band Room", where you and your buddies can pile into bunk beds and stare at a wall-full of rock posters.