Presented By

Why I Traded My NYC Apartment for Sky-High Adventures in Ecuador
I had beef with a mountain.
Presented By

Photo courtesy of Adam Aleksander; DESIGN BY GRACE HAN FOR THRILLIST
Photo courtesy of Adam Aleksander; DESIGN BY GRACE HAN FOR THRILLIST
Like so many when the pandemic hit, Adam Aleksander found himself unable to continue working in his chosen profession. But the experiential events designer had options: stay cooped up in his Manhattan apartment, or use this forced time off to check a few things off his bucket list—like conquering the Ecuadorian peak of Chimborazo. He had a score to settle: A year earlier, the stratovolcano had conquered him.

Since last March, Aleksander has spent months at a time traveling through sparsely-populated locales: the Adirondacks, the forests of North Carolina, the national parks of Utah. And now the avid climber and mountaineer is back in the colonial mountain town of Cuenca, Ecuador, (population 277,000) where for the past three months he's been tackling mountains and taking Spanish and salsa dancing lessons. He hopes this new trend of slow travel continues post-pandemic, at least for him. And he has his sights set on Colombia next. As told to Vanita Salisbury.
It's very expensive to be unemployed in New York. So I've been seeking alternatives, and finding new places to live and thrive. It's been a forced sabbatical, but also it's been a very healthy time where I'm able to get a lot of inspiration and fulfill some goals.
Cuenca is an expat city in the Andes. It's a World Heritage Site—you're walking down cobblestone streets and tiled sidewalks with historic churches everywhere. The people are very kind. They're also far more serious about mask wearing and hand sanitizing than the United States.
I have three hobbies while I'm here. One of my big goals is to learn Spanish, so I'm studying three to four times a week. A private Spanish professor—a college professor—is ten dollars an hour. I've also been taking salsa dance classes and recently graduated to partner classes. I tell them, you guys are born with salsa in the body; I'm born knowing how to dance to Grateful Dead and Phish.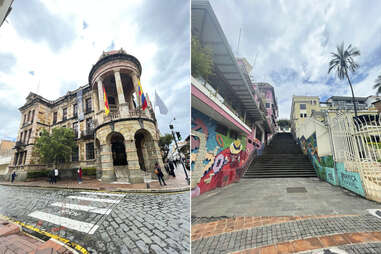 And there's climbing. One year ago, almost to the day, I attempted Chimborazo, the highest peak in Ecuador, and failed. I didn't have the fitness, or enough acclimatization. I was sold a climb without the company asking me these essential questions. I'd never failed at a physical activity before. It really got under my skin, festering like a wound.
This time I've been training since July, when I moved to the mountains of North Carolina. Training for a mountain is a combination of aerobic and anaerobic exercises: trail runs three to four times a week, strength endurance two times a week. Listening to Big Freedia made workouts much more fun.
Leading up to Chimborazo this time, I did several climbs gradually increasing elevation: 16,000 feet at Rumiñuai; 17,500 at Iliniza Norte; 19,500 for Cotopaxi; and finally, 20,500 feet at Chimborazo. I had a 63-year-old guide who has seen pretty much everything.

We started at night for Cotopaxi, and it's the most beautiful climb. And you don't realize that until you get to the top and the sun starts coming up. Coming down, you notice all these beautiful ice caverns.
And the horses. Cotopaxi is a large national park on a plateau that sits about 12,000 feet up, with llamas and thousands of wild horses. The llamas would be feeding and drinking from the lake, and the baby horses and their parents would be roaming around these huge plateaus. They would come up to me looking for carrots. But I had no carrots, and I realized it was a pay to play.
We let go of a lot of norms in 2020: like shaking hands, wearing pants, and (most importantly) working in an office. You're no longer tied to a commute — so why should you be tied to one place? Enter: Landing, the startup that's reinventing apartment living. Thanks to its network of fully furnished (and unfurnished) apartments across the country, you can have the freedom to live (and work) practically anywhere. With perks like a 24/7 online member support, fast and easy lease transfers, and waived security deposits, you'll have more flexibility than ever before, too.
At Chimborazo, I had a lot of nervous energy because I was scared. I'd had only three hours of restless sleep, because you're sleeping at 16,000 feet on a gravelly camp, and you have to wake up at like 11 p.m. I rallied: I made strong coffee, I ate some food, I made some mate de coca—tea made from cocaine leaves. It's a common natural remedy for altitude sickness.
Chimborazo is a challenging mountain because there's no place to stop. Most mountains have large rocks to hide behind and have a snack, or you go through these flat grottos where ice caves are surrounding you, but Chimborazo is just a very large, steep face with no place to sit down. You have to take your ice axe and carve a seat. And you have to be very careful. At any point in time, you could just fall through into some sort of crevasse.
After a while my insulated Camelbak froze, and the wind was cutting through my three pairs of gloves. At around five a.m., we reached the second-to-last summit. It was getting to peak coldness—about 15 degrees without the wind chill, zero degrees with—when a raging storm blew in.
Even though the highest summit was only like a two or three-hundred feet difference, it would have taken an hour to get there. As I was taking photos my guide looked at me and said, this storm is too bad, we need to turn around. And I was like good, I'm too tired anyway.
I think at a certain point you realize, it's not about this goal of getting to the big summit, this macho goal to conquer things. You start climbing and you're like oh, it's about the enjoyment of the climb.
And I love the camaraderie. When you're climbing or traveling, you see the same people in the same path. There were some Russian climbers from New York who were so fun to talk to. They were really into their boombox. Back at camp, they were DJing and dancing, very Russian-style.
After the exertion of Chimborazo, I had to have a moment. It was like, I was working towards this goal for so many months—what's next?
I took a trip to Baños, in the country. It's a traveler's town. You can do a dune buggy tour, you can go paragliding, you can do an Amazon tour. But they also have these wonderful volcanic hot springs. The water is legitimately sulfuric. It was brown, it smelled weird, and it was so hot. And you're just soaking with everyone, including indigenous women and their mustachioed husbands. They have all these grandbabies around and I'm just hanging out with them.
After soaking in the hot baths you dip into cold plunge pools, and alternate. It was all about the back and forth contrast. I stayed in Baños for two nights and it was just pure joy. It was enough to revive anybody.