While it seems like every cool historic building these days gets repurposed into a loft you can't afford, a slew of brewers have actually beaten the developers to the punch, turning some pretty awesome old digs into even cooler places to drink beer.
From strip clubs and churches, to bus terminals and banks, here are 16 breweries built in some unexpected spots.
San Diego, CA
Was/is: The Wonder Bread bakery
Quite possibly the best thing since sliced bread, this brewery's housed in a historic former Wonder Bread factory from 1894. With a 10,000-barrel-a-year capacity, Mission Brewery kicks out around 10 brews (plus a couple of rotating seasonals) and offers samples from a tasting room that overlooks the brewing facility.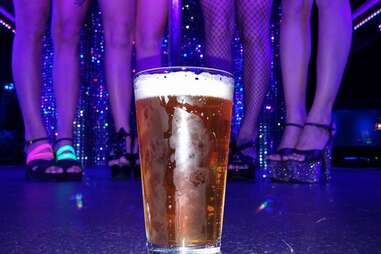 Dayton, OH
Was/is: A strip club
Aiming to combine two of men's favorite pursuits -- ogling exotic dancers while drinking exotic beer -- Pinups and Pints may well be the country's first microbrew nudie club. You'll find a 15-gallon brewing system conveniently located behind the stripper pole on the stage. "Now coming to the main stage: Alexis, where she'll not only dance but pour herself a pint of our signature Pinup Pale Ale."
Grand Rapids, MI
Was/is: A funeral home and an auto shop
Run by one of the founders of New Holland Brewing, the beer at this former funeral parlor is, of course, to die for. BV has two parts: the restaurant/bar is housed inside an old, 1900s-era funeral chapel, while the adjacent brewery is located in the former garage/livery.
After a $3 million renovation, the place is like a veritable beer basilica/cathedral with stained glass windows, vaulted ceilings, and 15 French/Belgian-inspired brews on tap. Step inside, and you'll think you're in heaven.
Williamsburg, OH
Was/is: A firehouse
Ironically (or not?), this new brewery built in a 1955 firehouse was opened by an actual former fireman. So unsurprisingly, the three-bay-doored taproom's decked out with -- in addition to dartboards and TVs -- original firefighter memorabilia like extinguishers, suits, and such. Unlike most breweries, though, there's no partition between the taproom and brewery itself, boasting instead a high-tech sprinkler system that allows them to sidestep that law.
For now, they're brewing five beers with names like Code 3 and Hoser Gose, and visitors can get growlers to go.
Hampton, GA
Was/is: A jail
A modern take on the drunk tank, this two-story brick jail was built in the 1920s and has probably seen its share of beer-fueled visitors over the years. Interestingly, it's also done time as a fire station, courthouse, mason lodge, and a sandwich shop. Today, JHBC offers tours of the building and brews beers with clever names like the Conjugal Visit Imperial Red Ale, Slammer Wheat, and Mugshot IPA.
Pittsburgh, PA
Was/is: The St. John the Baptist Church
While the former Roman Catholic church (built 1902) was officially deconsecrated in 1993, the stained glass windows, columns/arches, and converted pews offer current/former churchgoers that "Should I really be drinking in here?" twinge. Taking down too many of their award-winning beers (like Pious Monk Dunkel or Pipe Organ Pale) could also lead to an unexpected confession. Bless me Father for I have sinned...
Yardley, PA
Was/is: A bank
The Kickstarter-funded Vault Brewing Company's built inside the 1889 Yardley National Bank, where the original 8,000lb vault door now protects the beer-conditioning cellar. An old safe houses wine, deposit slips are part of the décor, and giant brewing vats sit behind original wrought iron partitions. The 310-gallon brewery offers five beers on tap (from a rotating lineup of around 25), including the signature Vault IPA and a Sweet Potato ale.
Portland, OR
Was/is: An elementary school
Housed in an old elementary school that was built in 1915 (but closed in 1975), Kennedy School's a mixed-use complex complete with a hotel, movie theater, concert venue, restaurants, bars, and Concordia Brewery, which opened in 1997 in what used to be the little girls' room. They've brewed over 3,000 kegs to date of favorites like the King's Landing IPA, Oatmeal Porter, and Concordia Pale Ale.
Asheville, NC
Was/is: A movie theater
No doubt a clever way to stop customers from smuggling in tallboys during Step Up: All In, this movie theater decided to brew beer onsite. The Merrimon Ave location of Asheville Brewing (it has three) is also known as the Brew 'n View, a 7-BBL microbrewery and dine-in cinema that charges only $3 a flick and rocks nine beers on tap, including a jalapeño-infused Ale dubbed Fire Escape. And if that wasn't enough, they also deliver growlers and six-packs to your door.
Willimantic, CT
Was/is: A post office
This little café turned seven-barrel brewery is located inside a post office that opened in 1909, but which sat vacant for years after shuttering in 1967. Today, its bartenders serve nine home-brewed beers (plus 30 others) on a majestic 60ft mahogany bar. There's also a logbook in which regulars can track all the beers they've tried.
Traverse City, MI
Was/is: A candy factory
The only thing better than being a kid in a candy shop is being an adult in a brewery... that's built in an old candy shop. Welcome to North Peak, the brewery in the former Big Daylight Candy Factory (est. 1899). Today, they brew seven craft beers (like Diabolical IPA, Northern Light, Smashing the Pumpkin Dark Ale) and pair them with upscale pub grub.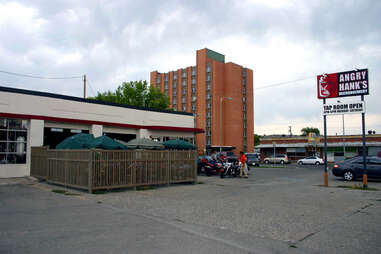 Angry Hank's
​Billings, MT
Was/is: A gas station
Who knows what the deal is with Montana beer laws, but this former gas station is only open four hours a day (from 4 to 8p) and restricts customers to three beers (48oz total) per visit. They have eight on tap, though, including the Anger Management wheat, Angry Hank's Blonde, and the Head Trauma IPA. Any of which you can take home in a growler.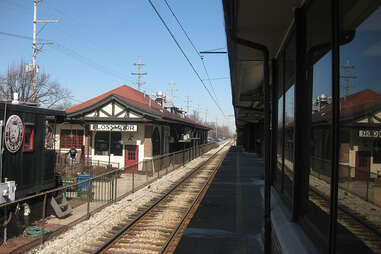 Flossmoor, IL
Was/is: A train station
Forget gravy trains; this one's full of beer. Built inside an Illinois Central Railroad station from 1906 (it was replaced by a modern Metra in the 1990s), the Flossmoor Station restaurant and brewery's won dozens of awards for its hand-crafted suds, including "Best Brewery in Chicago" by Chicago Magazine.
CP Brewery
Pearl Harbor, Honolulu, HI
Was/is: On a military base
For military personnel only, CP Brewery is located on the Pearl Harbor-Hickam naval base in Hawaii and pours two house styles, a JB (joint base) Brew and an American Amber dubbed Billabong.
Paducah, KY
Was/is: A Greyhound bus terminal
Set to open before the year's out, Paducah Beer Werks is taking over the city's old Greyhound terminal, which closed in 2010. The 7-BBL brewery plans to brew four beers (at least to start) and incorporate the building's history into its décor by displaying old ticket stubs, Paducah postcards, and bus route maps.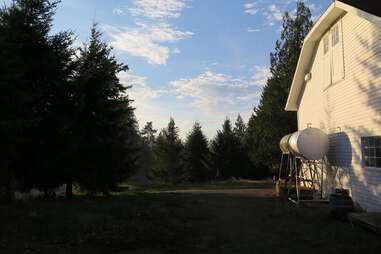 Newburg, OR
Was/is: A working hazelnut farm
Scheduled to open in early 2015, Wolves & People is a small, independent brewery set on the owner's childhood home: a 21.5 acre hazelnut farm. Once in full swing, the 6-BBL farmhouse brewery will focus on Belgian ales, barrel-aged beers, and other sour, funky flavors brewed using only homegrown hops, well water, and yeast made from the farm's fruit trees.
Sophie-Claire Hoeller is Thrillist's über-efficient German associate travel editor, and has had frequent flyer status since she was born in a Lufthansa terminal. Follow her @Sohostyle