Everything You Ever Wanted to Know About Swingers Cruises
All Photos Courtesy of Couples Cruise
All Photos Courtesy of Couples Cruise
Imagine, if you will, cutting through the pristine waters of the Caribbean Sea on a luxury ocean liner, while watching Goddess Phoenix and her slave boy cause a scene in a dungeon constructed in a repurposed conference room, right before you have sex with multiple people who are not your partner, but also with your partner. This could be you.
We've already told you everything you need to know about nude beaches, world-wide erotic vacations, and land-bound swingers resorts, but cruises have been completely unchartered territory. Until now! This is all you'll need to know before booking your first swingers cruise, from start to... erm… finish.
Alright, let's get right down to it. What actually goes down on these things?
Well, sex! Just not on balconies for safety reasons. However, public playrooms and dark room parties -- where indiscriminate sexual contact occurs under poor lighting in passengers' private cabins -- are always an evening option and all manner of adult entertainment abounds, such as Cirque Du Soleil, comedy shows, parades, couples massages, theme nights, and pool deck competitions. "Like Spring Break for oversexed adults!" said travel agent Kevin (who tells us it's not typical to use last names publicly in the adult travel industry), co-owner of TheSwingerCruise.com and longtime lifestyle -- another term for swinger -- cruiser.
Wait, wait. Go back to that "playroom" idea.
Oh, right! Picture a child's toy room with a Fisher-Price kitchenette and eleven thousand Legos, and then immediately forget it because this is nothing like that and these two ideas should never, ever be associated. Instead, we're referring to a repurposed conference room brimming with beds meant for group sex stuff from 11pm until around 4am. Though, if you feel like having sex with only one person who's not your spouse, it's fine, you can still check out the scene -- voyeurs are very welcome.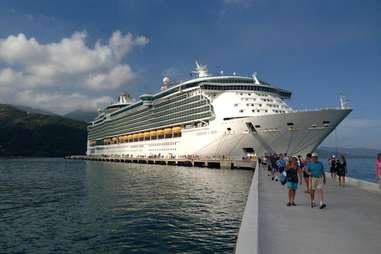 Does sex stuff happen all day long too?
Not exactly. During the day, passengers can check out seminars on topics such as using toys, dealing with jealousy (smart), enriching your relationship through communication, and finding the G spot, which should definitely be the name of the nightclub in this place. BDSM classes are also offered, which educate on everything from flogging, to beginning rope tying, to advanced rope tying. When in port, private clothing-optional excursions like beach parties or catamaran tours are often available, but so are normal activities like zip lining and diving while not having sex.
So we have to be swingers?
Not quite. First and foremost, these cruises are a kid-free zone for couples, and rarely marketed as strictly a swingers cruise, or strictly a nude cruise, or strictly any other kind of fringe interest cruise. Simply, bars are open later, orgies are completely elective, and pole dancing/hand sanitizer is heavily encouraged. "Freedom is the biggest thing," said Bob, founder of Couples Cruise, the main charter company that's hosted 11 of these jaunts as of this writing. Along with his wife Tess, Bob basically invented these things. "You can be sexy, be flirtatious, be who you are -- some people never get nude." The point is you totally can get naked (in specified locations) if you want to. Kevin confirmed, "Everyone flies their own freak flag and nobody judges." At least not out loud.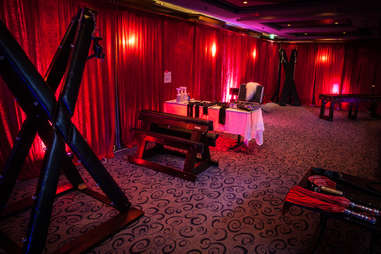 We're in! How do we book?
There are two main charter companies for large-scale, full-ship takeovers, typically out of Florida: Bliss Cruise and the previously mentioned Couples Cruises. These charter companies have symbiotic relationships with the big vanilla -- the term to describe conventional lifestyles -- cruise lines, such as MSC Cruises and Celebrity Cruise. Bliss and CC then work with the ship's cruise director to develop a suitable lifestyle program, i.e. accommodating dungeons and fetish rooms.

Should we use a travel agent?
Swinger-specialized travel agents -- like TheSwingerCruise.com, Right Connections Travel, Topless Travel (the in-house travel agency for dating site Swing Life Style), Dream Pleasure Tours, and Erotic Adult Travel -- can help you pinpoint exactly what you want from your cruise, and which ones are meant for partner swapping (since that's not always obvious). However, these folks all offer the same cruise for exactly the same price, so no matter how you book, you'll be on the same boat, and ready to bang everyone in sight.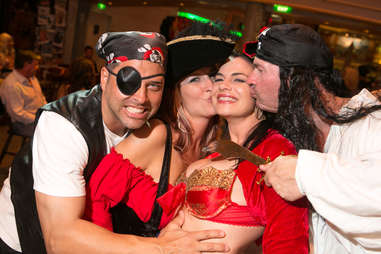 Who goes on these things?
Ages are on a bell curve, but 48 years old is average. The majority are white, middle class couples and single women with varying political inclinations. But careful now -- single men are forbidden. Kevin said, "At least half of the women are bi/bi-friendly. It's a matriarchal society, believe it or not."

But what if I'm a single male with a friend who's a girl? Do we have to prove we're a romantic couple?
Nope! As long as the couple is male/female, or female/female you're good to go.

Will vanilla cruisers who don't want to have sex with us be mixed in here?
It totally depends on which cruise you take. In this article we're mostly referring to full boat takeovers, but half-takeovers exist, as well as vanilla cruises that only allot swingers a designated deck. Talk to your travel agent!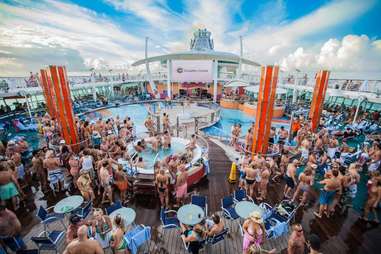 Is the boat clean?
You betcha! Sheets are changed constantly by the charter company's volunteer staff, and hot tubs are drained every night, though use caution if you want a hot soak around 4am because it's probably not just water in there.

Are the people clean?
Condoms are not provided, and sexual health is addressed much in the same way it is in the single dating world. As Kevin said, "Most are careful, few are fastidious. For example, never have I ever seen a dental dam in use, but 99% use their own condoms." Not each others' condoms, their own condoms.
Are they family friendly?
Somehow! As long as said family is over age 18. "Interestingly, there are even relatives on board, but not in the same cabin," Kevin said. So for all you mothers and sons, and uncles and nieces out there, just keep an opposite schedule. Or don't! I don't know your life.

How do we meet other couples who are not family?
Most people on these things are friendly and open to meeting new people, obviously, so all you have to do is get yourselves into the right place at the right time. Don't sit at a table for two in the dining areas and if you meet a couple you like during the day, make plans to have dinner with them one night. Or "dinner". It's a cinch.
Okay, this all sounds great if we want to leave from Florida. But what if we want to have high seas group sex internationally?
You're in luck! There are tour operators of the more luxury lifestyle vacation persuasion. LLV, and the less-publicized SDC, charter much smaller ships to more exotic locations, like Rio, Buenos Aires, and the Croatian Riviera. Though Couples Cruise does offer the occasional European river cruise.
What should we bring?
According to Matt and Bianca from Everbody Swing, a couple's card with contact info and a photo will help others remember who you are, and a dry erase board and photo for your door is good for said others to find you at a later time for friendly conversation/sex. Additionally, a robe makes retrieving all your belongings after a romp in the playroom way easier, not to mention some cruise operators don't want their staff exposed to your exposure. Perhaps too obvious are condoms and lube, and less obviously, a large water cup to help you stay hydrated! They actually recommend a large water cup to help you stay hydrated.

Final question! Do you want to go on a swinger's cruise with us?
Yeah, I'll get back to you on that.

Carrie Dennis is an Associate Editor for Thrillist and definitely wants to experience one of these first-hand... for journalism. Follow her on Twitter @CarrrieDennnis.