Photo by Styrmir and Heiðdís, courtesy of Pink Iceland
Photo by Styrmir and Heiðdís, courtesy of Pink Iceland
Imagine hiking to the top of an 11,000-foot mountain at 2:30 am, getting changed into your wedding garb at the summit, reciting your vows in front of nature and each other, and jumping into a freezing cold alpine lake.
That's how Christina Janansky and her partner Anthony Rieder celebrated their nuptials on a Colorado road trip, with a photography package through Adventure Instead. After their engagement in 2019, the stress of trying to plan a pandemic-era wedding prompted them to take a non-traditional route.
"We're adventurous people who love the outdoors and creating our own traditions," Janansky says. "It was genuinely the best day of my life and every memory from the day feels crystal clear and perfect for us."
In recent years, adventure elopements have become a popular way for couples to personalize their wedding days by hiking, paddling, or flying by seaplane to their ideal spot before declaring their love for one another in a natural setting—with a friendly photographer in tow.
While the trend itself isn't new—Shawn Miller's company Young Hip & Married has been leading helicopter elopement trips throughout British Columbia since 2014—it's really taken off lately thanks to couples posting their experiences on social media.
"People don't know what they don't know and a lot of people don't think they can hire a helicopter, take a ride in the backcountry, and get married on the top of a snow-capped mountain," says Miller.
Maddie Mae, founder of Adventure Instead, credits a disillusionment with social norms among millennials and Gen Z—as well as the COVID pandemic— for the recent rise in popularity.
"It was around 2016 or 2017 when I think this niche kind of exploded," she says. "In 2017, I photographed 55 elopements in 13 countries… and then COVID just poured gasoline on that fire. I got 284 inquiries for elopements in May of 2020 alone."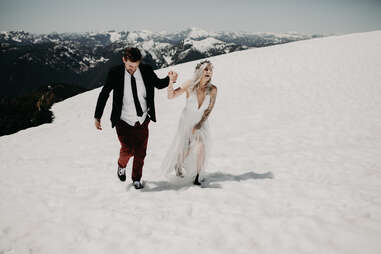 So, why would a couple prefer an elopement over a traditional wedding day? For Janansky, it was all about focusing on her partner instead of stressing out over guests and vendors, and making the day as memorable as possible.
"This really allowed us to say all we wanted to say to each other in our vows, which were 15+ minutes long each, packed with curse words and inside jokes, lots of happy tears, and special moments," she explains. "We would never have been able to do that with an entire audience watching, so this was really a special moment for us—and for us only—that really set the stage for our marriage."
And then, of course, there's the appeal of saying your vows in nature. "Many people, myself included, feel more spiritual under the sunny or starry heavens—under the open sky—and feel more connected to the universe," says John Ruskey, founder of Quapaw Canoe Company, which has been running adventure honeymoons since 2002 with its company partner Mississippi River Expeditions. "The great outdoors makes us feel more romantically inclined."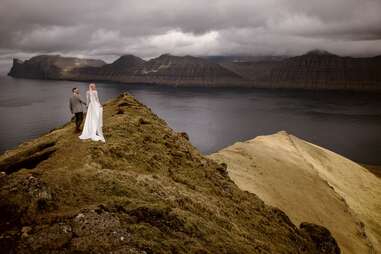 For adventurous couples, there's also no reason to stop at a single elopement. Sara Blair and her partner Nick first met while teaching abroad in the Marshall Islands. Following a change of heart about the idea of marriage and Blair's cancer diagnosis in November 2020, the two decided to tie the knot. The couple has since celebrated their love legally in North America, and in ceremonies during trips to the Galapagos Islands, Bora Bora, and Antarctica. Their latest wedding happened during Intrepid Travel's Premium Iceland in Winter tour.
"Our guide picked the most perfect little chapel, on old Viking temple grounds, and made it a short stop on our tour one day," says Blair. "It worked out perfectly. The people on our tour were our guests and even helped with the ceremony and photos. It took very little stress on our part."
Blair, who is now in remission, says that they plan to do similar ceremonies on every continent, and that other couples thinking of doing this should reach out to tour companies to better weigh their options. "The more open you are to the adventure of what the wedding will end up like, the easier it will go and the more fun it will be."
If you're interested in an adventure elopement but worry about upsetting friends and family back home, Miller's advice is simple. "Do it. Just do it," he says. "It's incredible. It's so much fun."
Maddie Mae believes loved ones will ultimately understand. "Once they see the photos of how amazing your experience is and realize that you got to do this once-in-a-lifetime adventure and prioritize your wedding day around the two of you, what you two love, and what matters most to you, they're gonna be on board. I've never ever had a couple regret eloping."
And she would know, given that she eloped to the mountains of Peru with her partner in 2019. "It was absolutely everything I ever wanted, and being able to say my own vows in complete privacy just absolutely solidified that I truly believe this is the best way to get married."
Adventure elopements can also be a great option for people who aren't able to celebrate with their families. "Many of our LGBTQ+ couples would love to fill a ballroom with people celebrating their love but lack the support of family and loved ones after coming out," says Hannes Sasi Pálsson, co-founder of Pink Iceland. The Iceland-focused destination wedding planner specializes in adventure elopements for LGBTQ+ couples and allies who want to fully immerse themselves in nature on their big day. "These elopements hold a special place in our hearts and we make sure that these couples know they are loved and celebrated for who they are."
But for those looking to involve family, there are options."We sent out pre-paid envelopes with blank stationery to our closest friends and family, asking them to write us letters to open on our elopement day," says Janansky. "We read these letters at the summit over some snacks and Champagne, and it really made us feel like our favorite people were still there in spirit."
Whatever couples decide to do during their elopements, Janansky has some advice to offer. "Part of the fun of it is the unexpected; it's called an adventure elopement for a reason. So lean into it, laugh at the fumbles, and expect it to be perfectly imperfect.