Even though the Extreme Seal Experience isn't a soulful R&B camp, you'll still do plenty of breathing exercises during this 7 or 14 day-long period of grueling Navy Seal training in Chesapeake, VA, all put together by former seals and dudes returning from Afghanistan. So, if you're into jumping out of helicopters, shooting sniper rifles, and painful supermodel divorces... then this is the trip for you!
Recommended Video
Spend the Night in This Suspended Mountainside Glass Pod With the Best Views in Peru
It may look like things start off real nice, settling into a cozy cabin... but that charade ends as soon as they rip you out of bed, and off to "Hell Night."
What is "Hell Night"? It's a 24hr version of the infamous "Hell Week" Seals go through. Sleep deprivation will be the least of your worries as you're pushed to the limits of intense physical and mental challenges like log PT, hand-to-hand combat, and stepping on legos basically just getting your ass handed to you over and over.
Following that experience, take a dip into the "pool work", which is slightly different than that high school job, considering the qualifications didn't include drown proofing, proper breath holding techniques, and underwater knot tying.
Launch Zodiacs through a 50mi race around Knotts Island, also where underwater knot-untying will come in handy.
Much to the chagrin of Silent Scope fans, the Advanced Operator Training (AOT) actually teaches you sniper field craft, and, unlike the game, you'll be loading these long range combat weapons with bullets, not quarters.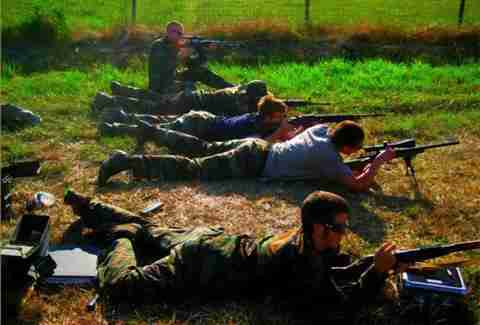 Two days of the journey will be spent in marksmanship training, where you'll be live-firing 11 different weapons incl. shotguns, that M4, and various pistols.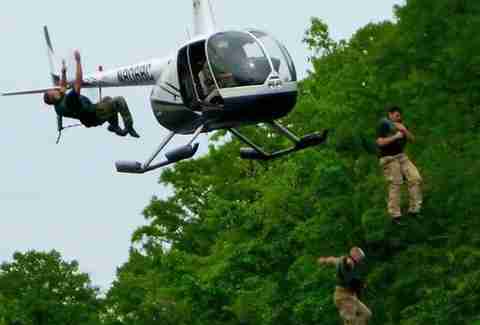 Ever heard of "helo casting"? Well, it's where you jump out of a helicopter into water -- yes, it's as badass as it looks.
When not jumping out of a helicopter, take to the side of a building learning the ropes on advanced rapelling, climbing techniques, and fast-roping.
Learn to bum rush into the giant commando training compound fully commando clearing rooms, maneuvering in & out of ambushes, and "kill house patrolling," which Hugh Laurie thoroughly disapproves of.