Jason Hoffman/Thrillist
Jason Hoffman/Thrillist
The Taliban Shot Me, and I Still Say You Should Vacation in Afghanistan
The first leg of our trek up the mountain was in total darkness. For two hours we marched single file up a steep flank, loose rocks twisting our ankles as we struggled to keep upright, gasping in the thin air. Far below, a raging whitewater river wound between the mountains. On the distant slopes opposite us were terraced farms hand-hewn by generations of families whose ancestors first inhabited the region thousands of years ago. By the time we reached the first ridge, the sun had finally crept over the top of jagged peaks in the distance and bathed the valley below in a warm yellow glow.
At that moment it occurred to me: Afghanistan would make one hell of a tourist destination.
I say this a lot, actually. I tell people Afghanistan is worthy of appreciation beyond the scope of soldiers, journalists, aid workers, and academics. I say it has abundant natural beauty and rich history. That far from being one big desert, it actually has peaks and vertical faces mountaineers and rock climbers would kill to tackle, plus dramatic rapids for kayakers and rafters, and craggy steeps for snowboarders, skiers, and mountain bikers. It's an outdoorsman's paradise! I tell them.
They look at me like I'm nuts. Most say something like, "Isn't it dangerous there?" Those who know me well gently remind me that maybe I'm probably not the best person to advocate on Afghanistan's behalf, seeing as how I was actually shot in the head there a few years ago while covering the war as a reporter.
And, OK, point taken. I may not be the ideal spokesman for this oft-misunderstood country. But I'm not the only one who feels the way I do about its potential. There are actual tourism companies operating in Afghanistan, offering regular tour packages and custom itineraries for people looking for something unusual and off the beaten track, even if that something happens to be marred by "kidnapping, hostage taking, military combat operations, landmines, banditry, armed rivalry between political and tribal groups, militant attacks, direct and indirect fire, suicide bombings, and insurgent attacks," in the words of the US State Department.
So who are these people who will pay good money and undertake real risk to travel to a place whose very name, at least among blinkered Westerners, evokes little else but sand and endless war? Hoping to find out -- and, sure, to vindicate myself in the eyes of everyone who looks at me like I'm crazy when I launch into my spiel -- I called a bunch of them up.
1. Fact: There is zero chance of getting hit in the face with a selfie stick in Mazar-i-Sharif
"When you visit Afghanistan, you aren't walking through Rome and eating pizza with hundreds of other tourists and taking selfies at the Colosseum," says Jonny Blair. Blair, a 36-year-old Northern Ireland native. Blair, who chronicles his travels on his blog, ventured into Afghanistan on foot, crossing the border alone from neighboring Uzbekistan. He took what's known as the "Friendship Bridge," the span that the Soviets famously used to pull their remaining troops out of the country in 1989 following a decade-long losing battle against the US-backed mujahideen fighters. "It was eerie walking on my own across that bridge," he says. On the other side, he met the guide he'd booked prior to his travels and traveled to Mazar-i-Sharif, a city in the north.
Mazar-i-Sharif isn't a hotbed of Taliban activity, but the militant group has waged attacks there, and its members can, and do, move undetected around the city. "There's definitely a real tension in the air," Blair says. To blend in, he dressed in a salwar kameez -- a baggy, flowing garment worn by many men in Afghanistan usually coupled with a vest and some form of headwear. He spent three days in the city, taking in sites like the famous Blue Mosque, a Buddhist monastery, and the local markets, and dining on meals of lamb, rice, and mantu, a popular dish made of meat-stuffed, steamed dumplings topped with chaka: a thin, watery yogurt sauce. "It was just a different world to me," says the man who has traveled to more than 100 countries. "I'd never seen anything like it."
2. Tour companies are more sensible about avoiding landmines than I was
Blair booked his guide through Untamed Borders, one of the handful of companies offering tourist travel in Afghanistan. These firms vary in their approaches, and prices vary depending on the itinerary, but most will help set you up with a local guide, plan out an itinerary, book room and board, facilitate border crossings and permits, and provide security when needed. Travelers are usually on their own for airfare and obtaining visas through their respective Afghan embassies -- though those traveling through Dubai can pick up their Afghan visas at the embassy there. (The UAE mission has a reputation for being pretty quick about it.)
Untamed Borders was founded by James Willcox, a Brit. When he was younger, Willcox, now 38, traveled widely through the Middle East and Asia. Wanting to see where those two worlds meet in his late 20s, he made a daring trip though the famed Khyber Pass from Pakistan into Afghanistan. At the time, that meant walking straight into Taliban country, but he did it without incident, and made his way to Bamiyan Province -- the location of centuries-old Buddha statues that were destroyed by the Taliban in 2001. Thousands of years earlier, Bamiyan was where traders from Europe and Asia came to buy and sell their wares, making this now-sleepy corner of Afghanistan a bustling, cosmopolitan crossroads. "Ideas and people from around the world passed through there," says Willcox, excitedly. "Bamiyan was like Hong Kong or Dubai today."
Working with two local guides, Willcox set up his company in 2006 and soon began taking foreigners on guided tours of Bamiyan -- visiting the Buddhas, some of which are slowly being restored, as the Taliban has largely lost interest in the area -- as well as other sites such as the Band-e-Amir National Park, where a half-dozen deep-water lakes are a transfixing, crystalline shade of blue I've never seen anyplace else in the world.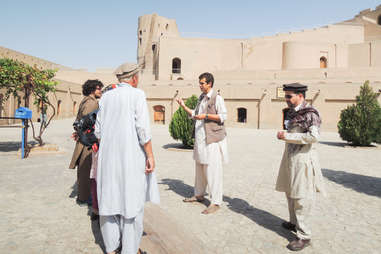 I can second the man's enthusiasm for Bamiyan. My first trip there was in 2005, which happened to also be my first assignment to Afghanistan. Accompanied by a Canadian photographer, a Greek physician, and our local guide and driver Hakimi, we made the slow, axle-stressing, rut-and-bump, overland journey from Kabul to Bamiyan in just over nine hours. When we finally arrived, the four of us explored the massive, hand-hewn caverns in the sandstone cliffs where the Buddhas once stood, ignoring hand-scrawled signs warning us that the Taliban had buried landmines all around the area. It wasn't one of my brighter decisions, given what I know now about the massive quantity of hidden explosives in Afghanistan -- perhaps one of the most heavily mined countries in the world – and it's not one I'd repeat, having in subsequent years witnessed the effects of those mines and IEDs on the people who had the bad luck to trigger them.
I ask Willcox whether any of his clients -- who he says range in age from 20s to 80s -- have exhibited dubious judgment like I did. Not really, he says. Potential clients are told upfront about the dangers of traveling to a place even like Bamiyan, a seeming oasis of tranquility surrounded by fighting and violence that's claimed an untold number of soldiers, militants, and civilians over the last 15 years. "We would certainly never say that a place is safe," Willcox says, but "most of the discussion we have are how we reduce risks."
3. Women travelers actually come to Afghanistan on purpose
When people do those lists of places where it's horrible to be a woman, Afghanistan almost always ranks among the worst. And yet, about half of the people who travel to Afghanistan for fun are actually women, according to tour operators. One of them is Teresa Dolan, a 44-year-old from Birmingham, England.
In 2011 -- incidentally the same year a Daily Beast report ranked Afghanistan 164th out of 165 countries in terms of women's rights -- Dolan visited Afghanistan's ultra-remote Wakhan Corridor, a thin sliver of mountainous territory jutting out of the country's northeast separating Tajikistan from Pakistan and bordering China at its tip. She booked her trip through a company called Wild Frontiers Adventure Travel, and left without telling anyone where she was going because she didn't want to worry them (this is... not advisable). When she arrived, she met an elder woman who was so shocked by the appearance of a foreign woman in their midst that she decided to spot-check Nolan to make sure she was the real deal. "The first thing she did was come up to me and feel my boobs," Dolan says, laughing. "She was probably thinking, I'll touch your tits to figure out if they are real. I imagine she would have grabbed my crotch if I were a man. Thank God she didn't."
Nolan spent 10 days traveling through the Wakhan, visiting with the denizens known for hacking out an existence with their bare hands and few modern amenities while braving the region's harsh, high-altitude climate. She speaks of the experience with near-religious reverence. "You get the distinct impression that this is a little bit of heaven in this otherwise potentially dangerous country."
Others in the Wakhan welcomed her and the others in their group -- six women and six men -- in more traditional fashion, inviting them into their homes for tea and conversations mostly consisting of hand gestures and facial expressions. At night the group bedded down in local homes with none of the amenities Westerners take for granted.
Heather Gowans, a 67-year-old New Zealander who was on the same expedition as Nolan, recalls it fondly. "The bathroom was an outhouse and showers, when you had them, were a heated bucket of water poured over you," says Gowans. "You have to be the sort of person that doesn't mind roughing it."
Gowans and Nolan did manage to get into trouble on their trip, however, by convincing their guides it was a reasonable idea to give them each a turn at steering their four-wheel vehicle on a dry riverbed. "We had them in stitches," says Nolan. "They couldn't believe we could drive this beast of a car." Their antics earned them a stern reprimand from the tour leader -- for potentially damaging their vehicle hundreds of miles from the nearest garage. Dolan says it was worth it.
4. There is actual skiing here, and it is insanely hard
A few years back, Richard James, a 31-year-old Australian filmmaker, was looking for a project. Afghanistan was in his blood. Back in the 1970s, his parents ran double-decker bus trips along what was then known as the "Hippie Trail," a long, meandering route from London, through Europe and Asia, all the way to Kathmandu. Before the war with the Soviets started a decades-long downward spiral into violence and extremism, Afghanistan was a favorite stop for counterculture seekers looking for beautiful scenery, good vibes, and cheap hash. "You could never do that today," says James, "but in those days it was perfectly safe."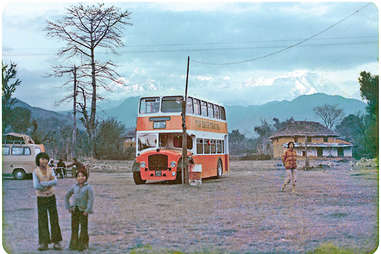 In his research, James came upon an article about a skier in Afghanistan who went to the Olympics in the 1970s. There was one slope back then, and one rope tow, since dismantled. James was surprised by this. Wanting to learn more, he booked a 10-day ski trip through Untamed Borders to the Bamiyan mountains in 2011, which runs about $2,500, not including airfare.
Once there, he linked up with an Italian ski instructor named Nando who was training a group of Afghan locals to be ski guides. Nando taught him and others the basics of backcountry skiing. There are no rope tows, much less chairlifts, so skiers had to attach stretches of fabric to the bottoms of their skis and shuffle back uphill after each run. "It was physically the hardest thing I've done in my life," James says.
Unlike a typical ski trip, there are no modern amenities to aid in your Afghanistan slope experience. At the end of the day there's no slope-side luxury resort serving hot toddies or suites with bubbling hot tubs -- just a basic guest house offering locals dishes for meals, a bucket of hot water to wash yourself and to keep you warm, and a wood stove that went out in the middle of the night.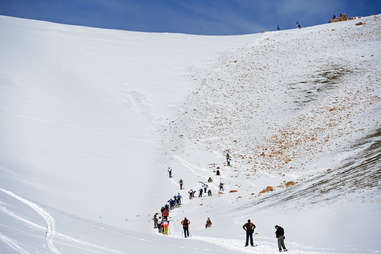 In spite of the difficulty, James was instantly enamored with the spectacular scenery, and even more so with the locals. "You just wandered the streets and walk into a teahouse and talk to people," he says, noting how no one in Bamiyan "wanted anything from me. People were genuinely interested in me, wanted to know about me as a person and why a foreigner would come to this place. It was the first time in my life I felt like a traveler and not a tourist."
James decided shortly after his first trip to arrange a second one, this time with a group of professional snowboarders in tow to make a documentary, White Silk Road, about their exploits there. "I had trouble convincing people it was a good idea," he says. It took six months of soothing and reassuring -- sometimes by Wilcox himself -- before the pro riders finally agreed to do it.
5. Danger is sexy, at least until somebody gets hit in the face with a rocket
When Colin Hathaway, a 71-year-old retired British doctor, announced he was going to Afghanistan in 2007, people told him he was mad. Hathaway, a widower and seasoned traveler, assured them he knew what he was doing. "I'm quite sensible about travel," he says, before adding with a charmingly devilish twinge, "though there is an element of danger that adds a little spice, doesn't it?"
Hathaway has now been there twice, visiting both Bamiyan and the Panjshir Valley, a winding crevasse though the mountains north of the capital Kabul. In addition to its beauty -- its steep flanks lining a verdant river basin where the waters are clean and icy cold -- Panjshir is renowned for never falling into the hands of the Soviet occupiers or the Taliban. Signs of the locals' tenacity are evident all over. Just outside the mouth of the Panjshir are the rusting remains of numerous Soviet tanks.
His first visit was during a period when the Taliban was quietly making its resurgence, a time when Washington's attention was focused almost solely on the fight in Iraq and not its initial front in the War on Terror. Hathaway was keenly aware of the war going on there, yet rationalized his visit in ways those seeking excitement often do: suggesting it wouldn't be possible to travel there with a tour company if it were really that dangerous.
Of course, that rationale doesn't always hold water, even in the small number of relatively stable places the tour companies tend to focus on. Just this past summer, a tour group visiting the Western Afghanistan province of Herat was attacked by suspected Taliban gunmen, injuring at least six people.
While talking to some young Afghan men, I heard a loud "WHOOSH!" I turned around and saw a rocket-propelled grenade screaming right at me.
The attack, along with an uptick in attacks by the Islamic State and the Taliban, has Afghanistan tour organizers reevaluating their security measures. Willcox at Untamed Borders says that his company does not "usually guide in areas where there is a history of opportunist attacks." If such attacks occur, "we either stop working there, or we ensure we have armed personnel," he says. Marc Leaderman, director and head of group tours for Wild Frontiers Adventure Travel, says it currently has no bookings for 2016 or beyond to Afghanistan. "Unless the security situation improves we can't imagine running trips to most areas of Afghanistan."
Hathaway's attitude is one with which I'm all too familiar, one I've employed repeatedly to justify all manner of "calculated risks" I've taken over the years in the company of American and Afghan soldiers. It was that same logic I employed in September 2010 while shadowing a platoon of soldiers on a mission to a remote village in Kunar Province, far removed from the places frequented by tourists, deep in Taliban territory.
While talking to some young Afghan men, I heard a loud "WHOOSH!" I turned around and saw a rocket-propelled grenade screaming right at me. I froze. Seconds stretched into lifetimes before it hit me on the side of the head, blinding me in one eye and crushing several bones in my face. By freak luck, it didn't detonate, and I managed to capture the attack on video. I was medevaced by helicopter, a blood-soaked bandage wrapped around my head, wondering if I'd lost my eye. Flying parallel to the mountain peaks that inspired my epiphany about Afghanistan, I looked out wondering whether I'd ever see this place again.
Following a series of operations to restore some of my vision and fix my caved-in face, I made it back. The first time I set foot outside the wire, embedded with American soldiers, my entire body jangled with fear. I cursed myself for returning to a country that had already tried to kill me once. But after a few patrols, during which I often repeated, "What are the odds I'll get hurt again?" like a mantra, I was able to relax, and once again appreciate the beauty of the place anew, even if I always kept my one good eye peeled for boogeymen trying to finish the job.
That's right: Even though Afghanistan almost killed me, I'm still one of its most ardent advocates, which should tell you a lot about the place. Sure, amenities like proper roads are lacking, creature comforts are nearly nonexistent, and even the so-called safe places are sometimes just as dangerous as the hotspots. But for the intrepid few seeking true adventure with a potent dose of risk, there are few places like it. As Dr. Hathaway put it: "Afghanistan is a whole other kettle of fish."
Sign up here for our daily Thrillist email, and get your fix of the best in food/drink/fun.
Carmen Gentile, whose work has appeared in The New York Times, USA Today, Esquire, and elsewhere, is the author of the forthcoming book Kissed by the Taliban.