Africa's Best-Kept Secrets Every Traveler Should Know About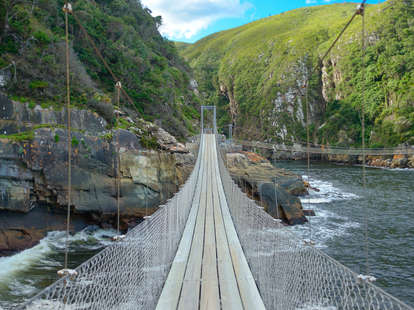 JaySi/Shutterstock
JaySi/Shutterstock
Africa may be synonymous with safaris, but that doesn't mean you should follow the khaki-clad set.
The best parts of the continent are far from the five-star safari camps, and if you're willing to stray from the paved-road package tours, you'll be rewarded with movie-set landscapes, villages stuck in time, and beaches that put the Caribbean to shame. All, of course, without the crowds and sky-high prices of the standard Africa circuit.
So, where are these hidden spots? Here are 12 that should be on your radar.
Mount Nyiragongo
Democratic Republic of the Congo
Why you need to go: Militia activity kept this gem off limits to tourists until 2014 and, even though things are safe now, it remains far from Travel Channel fodder. Be warned, though, that a trip to Mount Nyiragongo will blow your other travel experiences away: you'll climb up the side of an active volcano, peer down into a crater roiling with the world's largest lava lake, and then spend the night on the edge in its eerie red glow. It's Mars on Earth with the benefit of oxygen.
The one must-do thing: Schedule your visit to coincide with the annual Amani Festival in February, and you'll soak in some of the continent's best music. If you're feeling really ambitious after the climb, sign up for the festival's marathon -- it's only $10, and you'll get free entry to the concert.
Tofo
Mozambique
Why you need to go: Your hardcore diving buddies will know this place as one of the best scuba dive sites in the world, but its renown rarely extends beyond the wetsuit-wearing crowd. However, you don't need your PADI license to enjoy this five-mile stretch of Indian Ocean. The beaches are pristine, the rum is strong, and there are plenty of thatched-roof accommodations and beachside villas. If you have any inclination to get scuba certified, do it here -- and go easy on the Tipo Tinto.
The one must-do thing: Swimming with dolphins is for honeymooners; swish your fins alongside whale sharks, however, and you'll have an ace to play for any one-upper vacation conversation.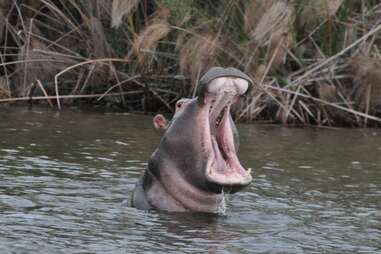 Akagera National Park
Rwanda
Why you need to go: Forget the Maasai Mara and Serengeti. If you want remote wilderness and a self-drive safari, take yourself to Akagera National Park. The park brought in lions just last year, so you can check off the big five without the safari-car wagon circles around every big-game sighting. Rent a six-person tent, bring in a crate of beer, and build your own bonfire in the protected camping area -- or opt for glamping at Ruzizi Tented Lodge.
The one must-do thing: Hippos and crocs are hard to spot on most safaris, but book the boat cruise on Lake Ihema and you're almost guaranteed to see both.
The Pyramids of Meroë
Sudan
Why you need to go: Sure, Egypt's got the pyramid market cornered, but if you're hoping to snap selfies around something other than King Tut's tomb, Meroë's 200 some-odd ancient pyramids are your move. You'll soak in your fair share of sphinxes and ancient tombs without the sunscreen-covered hordes stealing your shot.
The one must-do thing: Stay at Meroë Tented Camp for pyramid views and splurge on the camel ride to and from the pyramids. But bring lots of water; it's in the middle of the desert after all.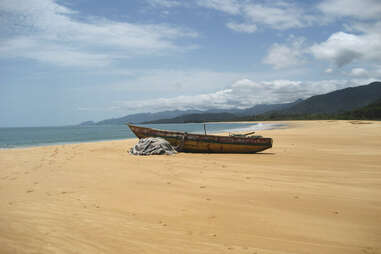 Bureh Beach
Freetown, Sierra Leone
Why you need to go: Think white-sand-meets-mountains and you'll get an idea of Sierra Leone's stunning coastline. Ebola slapped a nasty stigma on this Caribbean-caliber beachfront, but the country is now virus-free and, conveniently, tourist-free too. You'll find welcoming locals, fresh lobster, and a laid-back beach bar scene.
The one must-do thing: Bureh Beach Surf Club is a requisite stop. Whether you're a beginner or Jeff Spicoli, you'll want to catch some waves here.
Lamu
Kenya
Why you need to go: Accessible only by boat, this UNESCO World Heritage Site is an otherworldly experience and far from the safari-crowd crush. You'll find a maze of seashell-studded buildings, ornately carved doors, ocean-to-plate seafood, and affordable accommodations. No cars are allowed, so it's foot or one of the island's ubiquitous donkeys for transportation; just watch where you step.
The one must-do thing: Splurge on a night at Peponi Hotel, the island's most luxe accommodations. Or, if you're on a tight budget, skip the overnight and hit the hotel bar instead. Order the Dawa, a honey-lime vodka concoction that comes with its own pestle, giving you full muddle control.
Ganvie
Benin
Why you need to go: Southeast Asians and Italians aren't the only ones who can perch an entire village on stilts. Enter Ganvie -- the Venice of Africa. This rural town, where people have been living for generations, is all afloat on Lake Nokoué. Bars, a bank, and a hotel all hover a few feet above water. Even the market bobs in the current.
The one must-do thing: Take a daytime boat tour for the full spiel and plenty of pictures. But overnight elsewhere -- the bar scene is scant and pub crawls/aquatic sidewalks don't mix.
Jinja
Uganda
Why you need to go: This sleepy little town on the Nile River boasts some of the continent's best rapids and a host of other adrenaline-surging activities like mountain biking and bungee jumping. The big allure is paddling (read: flailing) through raft Class V rapids (Class VI = death trap), so come prepared for an overturned raft or two and then celebrate your survival at the cookout afterward.
The one must-do thing: Rafting is undoubtedly the main draw but don't miss the sunset horseback ride. Cheesy as it sounds, this is not your typical walk-a-pony-in-a-circle ride. Nile Horseback Safaris runs a solid stable with capable instructors, so you'll gallop through Ugandan villages, ford streams, take in sunset Nile views, and top it off with a complimentary gin & tonic or two.
Wild Coast
South Africa
Why you need to go: The Garden Route draws all the attention -- and the septuagenarian set -- with its whales, penguins, and wine, but ditch the kitsch and follow the Wild Coast for rugged cliffside vistas that resemble a Lord of the Rings set. You'll find surf-ready seas, stunning hikes, beach bars, and cafes so chill they smack of Haight-Ashbury in its heyday.
The one must-do thing: Stop off at Papazela's Pizza in Coffee Bay for made-to-order, wood-fired pies with homemade chili sauce and some of the coast's best views. Just don't get fancy or go gluten-free: this is strictly a pizza-and-beer establishment.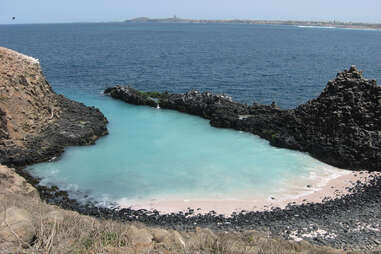 Parc National des Iles de la Madeleine
Senegal
Why you need to go: These two uninhabited islands off the coast of Dakar were formed by volcanic activity and comprise the world's smallest national park. Expect to find blue tidal pools rimmed by volcanic rock, ancient baobabs, and birdlife fit for your birder uncle's avian bucket list.
The one must-do thing: On your way, check out the Jane Goodall Institute in the Dindefelo Nature Reserve -- it's one of the few places you can still view chimps in the wild. Also, there's an epic waterfall.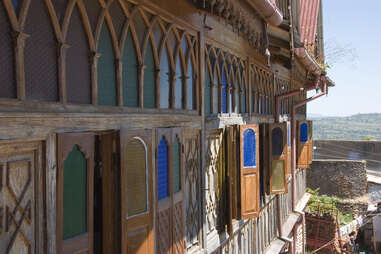 Harar
Ethiopia
Why you need to go: The stone churches at Laliabela get all the love in Ethiopia, but venture southeast to Harar, and you'll still get your fix of rock-hewn attractions. A 16ft stone wall wraps around the old city and its mosques, shrines, markets, and bars. Meander through the winding alleys to take in the oddball architecture, including the city's famous townhomes, which are painted as flamboyantly as a pair of Martha's Vineyard summer pants (or its gingerbread cottages).
The one must-do thing: Check out the "hyena men." Yep, that's a thing. Two groups of men feed these scavengers just outside the city walls. If you're really keen to get up close and personal with Simba's arch nemeses, you can feed them by hand -- or mouth in extreme cases.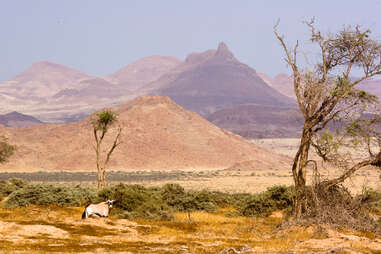 Damaraland
Namibia
Why you need to go: Namibia is known for Sossusvlei's red dunes, genteel seaside towns, and a sparse population. But if you really want to get away, head northwest for Damaraland, a rugged expanse of craggy mountains, plunging ravines, car-free roads, and open plains where wildlife really do roam free. Highlights include Namibia's highest mountain, your ancient ancestors' cave art, and a petrified forest.
The one must-do thing: The black rhino may be on the road to recovery after a close call with extinction, but don't miss this opportunity to catch them in the wild. Your best bet is the Desert Rhino Camp, which offers rhino-tracking by car or foot.
Sign up here for our daily Thrillist email, and get your fix of the best in food/drink/fun.
Lauren Everitt is a contributing writer who's traveled Africa extensively and lived in Kenya, Rwanda, and South Africa. She was particularly pleased to discover that lava pits exist outside of Indiana Jones. Follow her on Twitter: @LaurenEveritt.