You Can Now Book Airbnbs at the Very Last Minute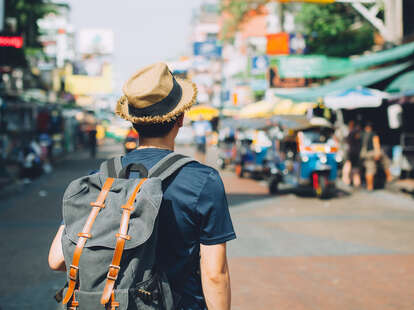 Airbnb has officially acquired HotelTonight, which is excellent news for anyone who enjoys staying somewhere charming and personable during their vacation but also loathes planning ahead. Airbnb announced the deal in a press release on March 7; it's quite possibly the vacation rental company's most valuable acquisition to date.
HotelTonight, the travel app that distinguishes itself from other booking services like Hotels.com or Kayak by offering discounted rooms to guests who book at the last minute, is a natural fit for Airbnb, whose number of same-day bookings is now doubling each year.
The two companies are still operating as separate entities for the moment. A spokesperson for Airbnb told Thrillist that over time, the company will curate a selection of rooms offered by HotelTonight that match Airbnb's hotel standards, which center around personal hospitality and the uniqueness of the space itself. In some cases, people looking for a place to stay who can't find anything on Airbnb will be able to search for properties through HotelTonight, too.
Speculation about the deal has been percolating since The Wall Street Journal wrote about the potential acquisition in January. Airbnb already includes some hotel rooms among its rental options, but the company has come a long way since being founded in 2008 by two San Francisco roommates who decided to turn their loft into a makeshift B&B to help pay rent. These days, Airbnb is valued at upwards of $30 billion, and this latest move is another step in the company's goal of becoming an "end-to-end travel platform" -- letting you arrange where you stay, how you get there, and what you do once you arrive all using the same service.
"A big part of building an end-to-end travel platform is serving every guest, whether they plan their trip a year or a day in advance," Airbnb CEO Brian Chesky stated in the press release. "Working with the incredible team at HotelTonight, we will offer guests an unparalleled last-minute travel experience that provides unique, memorable hospitality on every trip, on any schedule, at any time."
Sign up here for our daily Thrillist email, and subscribe here for our YouTube channel to get your fix of the best in food/drink/fun.