Rent maybe the coolest house in The District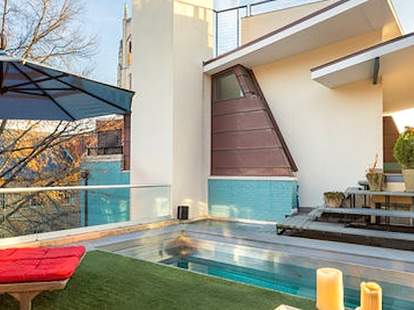 Taking up a solid 30 to 31 seconds of Celebrity House Hunters, this Airbnb pad is neatly tucked away in a private alley on the west end of Dupont in DC. Comprised of two carriage houses, you'll find it "surrounded by hundreds of restaurants and bars within blocks". HUNDREDS
Of course there's a British telephone booth that doubles as an elevator, and has a ho-hum 25ft indoor waterfall as a backdrop.
With a 2,000sqft roof deck/ terrace pool, parties will be no problem.
After those parties you will lay your head to rest in one of four bedrooms.
The billiards room allows you to pool downstairs as well
As some people prefer showering outside, this rainfall setup is private enough that the nosy neighbors will know nothing about your business, especially if you're a never-nude. In which case, you're weird.
The whole joint is fully connected with a central control system that adjusts the lights, security system, fireplace, TV, and multi-floor stereo system, but be prepared, as it will probably take you more than 30 seconds to figure it all out.