This converted water tower is way cheaper than a hotel
Unless you're a particularly enterprising hobo, living in a water tower might not sound like the greatest thing... until you're in this London-based number that's been fully, and awesomely, converted by a local designer.
Ahhh, take a look at that tower... proudly overlooking West London's Notting Hill; home to some of the city's best restos, stores, and bumbling romantic comedy leads (as is our understanding).
All of the three floors are connected by spiral staircase, with the top floor seeming a lot less easy to balance on for some reason...
This is the master bedroom; the whole thing clocks in at over 5,000sqft, or 7,000gallons, however you want to look at it.
The second bedroom is filled with designer goods (from the dude who built the place), and a comforter apparently constructed in Minecraft.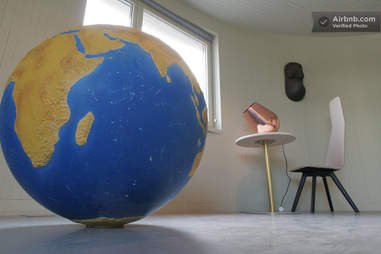 Also, this giant globe for some reason... probably to illustrate how worldly his designs are.
The tower's also equipped with a terrace & a fully fitted kitchen, and yes, it costs less to crash here than most places in the neighborhood... unless you just happen to be a particularly enterprising hobo.