The 10 most regrettable airline meals ever
The airplane food horror story is one universally told. The flight attendant cordially asks, "Beef, chicken, or pasta?", and the flyer -- upon peeling back the foil on their dinner trays -- finds everything from bolts and needles to cockroaches and maggots. Apparently, despite rigid guidelines for prepping in-flight meals (see how they're made, here), not all airlines are serving gourmet grub. In an effort to spare you the actual experience of consuming needle-using cockroaches, we tracked down some of the worst airplane slop ever served at altitude – it'll make your next in-flight meal look Michelin-starred. Bon appetit?
Singapore Airline: Rice porridge
This congee is served with chicken, peas, and what appears to be a hearty glaze of your favorite petroleum jelly. Perhaps a piece of bread would suffice?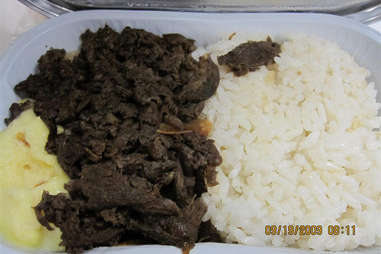 Philippine Airlines: Mystery meat
Mmmm, everyone's childhood favorite: unidentifiable brown-gray meat with rice! This grim-looking plate was served on a flight to Singapore. Notice the piece of stray meat, top right -- looks like its trying to run away, no? "Help me..."
Adria Airlines: Tuna sandwich?
The unfortunate recipient of this most unflattering sandwich (served on Slovenia's Adria Airlines) fondly described it as "bread seasoned with tuna crap". Given that Slovenia is one of Europe's most "water-rich" countries, maybe he's on to something?
Ryanair: Burger
Not only was some poor sod flying Ryanair served this revolting burger, but he actually paid for it. Hopefully, the flight attendant who took his order was at least one of these lovely ladies.
Cathay Pacific: Carefully cleaned potatoes, obviously
In life, when someone's compelled to tell you they are cool, or smart, or pretty, they usually aren't. Same rule applies to airline food: If your inflight meal has to insist it's clean, you should probably just put the foil back on. Also, is that even potato?
Air China: Breakfast soup (we think)
Oh goodie, two meaty balls swimming in a pool of white sludge -- thank you, Air China. Now, about that coffee...?
Jetstar: An omelette
It kind of looks like something is squirming inside this bland, undercooked omelette, no? Maybe a little? Either way, poke carefully with your fork whilst clutching the plane's safety instructions.
Lufthansa: Cucumber and cheese sandwich
Nothing is more upsetting than biting into a poorly made sandwich. Except maybe biting into a poorly made sandwich while also being forced to watch Eat, Pray, Love on an eight-hour flight to Romania. Yes, that would be worse. A few sticks of cucumber, intermittent smears of goo, and a slice of rubbery cheese on dry wholewheat do not a proper sandwich make. If only they served one of these.

All Nippon Airways: Your guess is as good as ours
Wait a second, look closely amongst the brown slop and stray lima beans. Are they serving Crunk Biscuits?!?!
Air Asia: "Hot Cup" of ramen
They call it: A pot noodle. We call it: Lunch in grad school. That said, given what we've seen, this is probably your best bet. And, at least, you get a souvenir cup out of it.
Chloe Pantazi is an editorial assistant on Thrillist's travel team. She will never eat on a plane again. She might continue drinking, though. Follow her on Twitter at @ChloePantazi.