How to Get Into All the Best Airport Lounges—And Which Ones Are Worth It
A lounge can be the perfect airport oasis... If you know how to get in.
With nearly three million people flying in and out of US airports every day, a few perks—like being able to escape the crowds and enjoy free Wi-Fi, snacks, and cocktails for a couple of hours—can be the difference between a satisfying flight and a stressful experience.
Enter airport lounges, exclusive havens accessible to travelers who have the right frequent flier status, premium-class ticket, credit card, or membership. Some, like the American Express Centurion Lounge, are located outside the security checkpoint (so you'll have to budget enough time to be screened afterward), while others are within walking distance of the gates, offering passengers ample time to enjoy their amenities.
There's a lot to consider when it comes to airport lounges; some are tougher to gain access to than others, and their perks vary greatly by brand. Every traveler has different needs and expectations, so determining which lounge is worth the money can be very subjective. If a status climber or frequent flier is loyal to a certain airline or credit card, for instance, they'll likely choose those lounges over the others. If, however, you simply want to spend a few hours away from the masses, a day pass might make more sense.
Here's a look at how airport lounges work, what it takes to get in, and whether or not they're worth the splurge on your next trip.
Airline Lounges
Since most airlines have airport lounges, we're going to focus on the three US legacy carriers: American Airlines, United Airlines, and Delta Air Lines.
There's a lot to unpack here, as membership can be offered to travelers who have high-level status with the airline or its alliance partners, those traveling with a business- or first-class ticket, and holders of the airline's credit card. Day passes are limited by club capacity, and since lounges tend to be overcrowded, that's not the most reliable way to go if you want to get in. Either way, you must be able to present a same-day boarding pass for a flight being operated by that particular airline or one of its alliance partners.
American Airlines
The American Airlines lounge network is made up of more than 30 Admirals Club sites and over 50 partner lounges worldwide through the Oneworld airline alliance. Members can also access three joint premium lounges, co-hosted with British Airways, at New York's John F. Kennedy International Airport (JFK), as well as the Arrivals Lounge at London's Heathrow Airport (LHR) when flying in business or first class on American Airlines or British Airways (or if you have high-level airline or Oneworld alliance status).
There are a few ways to get in: By purchasing an annual membership (rates range from $750 to $850—or 75,000 to 85,000 miles—per person, depending on your airline status); scoring free access through the Citi / AAdvantage Executive World Elite Mastercard; flying on qualifying business- and first-class tickets; having AAdvantage Executive Platinum, AAdvantage Platinum Pro, or Platinum status; or by being a Oneworld Emerald or Sapphire member (or an Alaska Airline Mileage Plan MVP Gold 100K, 75K, or MVP Gold) and flying certain transcontinental and international routes.
For those without status or a premium-class ticket, day passes can be purchased for $79 (or 7,900 miles) per person. Military personnel flying in uniform on an AA-operated flight may also enter Admirals Club lounges (with ID) and bring up to two immediate family members.
Once inside, you can enjoy a selection of snacks, drinks, craft beer and cocktails, made-to-order meals, customized customer service, and in some locations, a business center, conference rooms, and shower suites.
If you're traveling in Flagship First or Flagship Business First on certain international and transcontinental flights and are passing through Dallas (DFW), Los Angeles (LAX), or Miami (MIA), definitely pay a visit to the Flagship Lounge for an upscale food, wine, and cocktail program provided by the James Beard Foundation. One-time passes can be purchased for $150 per person if you want to check it out but lack the qualifying status or premium-class ticket to get in.
With so many lounges and so many ways to qualify for entry, it could be worth booking the right ticket, earning status with AA or one of its Oneworld partners, or paying for a day pass or annual membership if you travel often.
United Airlines
The United Airlines lounge network consists of more than 45 United Club lounges, one lite lounge (with limited to-go amenities) in Denver (DEN), and six premium United Polaris lounges. Thanks to its Star Alliance connection, members can also access over 1,000 partner lounges around the world, plus six exclusive Star Alliance lounges in Los Angeles (LAX), Amsterdam (AMS), Paris (CDG), Buenos Aires (EZE), Rome (FCO), and Rio de Janeiro (GIG).
United Club locations offer the usual perks—complimentary snacks, drinks, and cocktails, high-speed Wi-Fi— as well as customized customer service, and 24-hour access to newspapers and magazines via Readly.
There are several ways to get in, including purchasing an annual membership (rates range from $550 to $650 or 75,000 to 85,000 miles per person, depending on your status), scoring a complimentary membership through the United Club Infinite Card or the United Club Business Card (the United Explorer Card also provides two one-time entry passes per year), or purchasing a day pass for $59 per person. Those traveling in business or first class on certain United or Star Alliance partner international and transcontinental flights, passengers with Star Alliance Gold status, and those with high-level Air Canada Maple Leaf or Virgin Australia Velocity status may enter, as well as active duty US military members traveling in uniform and their families.
United Polaris lounges kick it up a notch by offering international business- and first-class passengers upscale amenities such as spa-like showers and day beds—complete with white noise and soft lighting—to help you relax pre-flight, and plenty of premium food and beverage options. You'll find six of these lounges in Chicago (ORD), Newark (EWR), Houston (IAH), Los Angeles (LAX), San Francisco (SFO), and Washington, DC (IAD).
To enter United Polaris lounges, you'll need to be flying in United Polaris business class on an international flight, or in international business or first class with one of United's Star Alliance partners. Polaris customers also have access to an Arrivals Lounge at London's Heathrow Airport (LHR), where you can shower and fuel up on breakfast upon landing. Unfortunately, day passes to these exclusive lounges are not available, and there's no way to enter them by having certain credit cards or airline status.
If you're a frequent United Airlines flier with status or a co-branded credit card, or if the $59 day pass to the United Club sounds reasonable, go for it—especially if you meet the qualifications to enter United Polaris lounges.
Delta Air Lines
Delta Sky Clubs are located in more than 50 airports globally, and offer amenities such as signature cocktails, craft beers, freshly brewed Starbucks coffee, a seasonal menu focusing on regional specialties, customized flight assistance services, free Wi-Fi, and shower facilities (in select locations).
The carrier is known for limiting the number of passengers in its lounges through strict membership policies as a way to combat overcrowding. To purchase or renew an annual membership (rates range from $695 to $1,495 or 69,500 to 149,500 miles per person), you must be a Delta SkyMiles Medallion member—even Gold, Diamond, and Platinum Medallion members flying in coach and premium economy must have another way in, while basic economy passengers can only gain access by having an eligible credit card (for now—more on that later).
Otherwise, your only real chance of getting in involves having the right credit card, level of airline status, or a premium-class ticket with Delta or one of its partners, as day passes are no longer available for purchase. Those traveling in Delta One or a business- or first-class product by a SkyTeam partner (or with elite status on a partner airline), as well as Delta Gold, Platinum, and Diamond members traveling in first class to Canada, Mexico, and Central America with a partner carrier, may enter. Delta Medallion loyalty program members may also opt to select Delta Sky Club membership as a choice benefit.
Delta made news in September 2023 when it announced upcoming changes to its loyalty program starting in 2024 and 2025. For this article, we're focusing on how access to Delta Sky Club lounges will be affected.
Currently, passengers carrying the Delta SkyMiles Reserve American Express Card or the Delta SkyMiles Reserve Business Card receive free Delta Sky Club access, however this will be limited to 10 visits per year starting on February 1, 2025. Similarly, cardholders of the American Express Platinum Card and Business Platinum Card will be limited to six visits per year. That said, cardholders of all four can earn unlimited access for the rest of the year as well as the following year after spending $75,000 with their respective card.
Starting January 1, 2024, Delta Sky Club access will no longer be provided as a perk for those with the Delta SkyMiles Platinum or Platinum Business cards (until then, you can still get in by paying a $50 per entry fee). Anyone traveling with basic economy level tickets—even those carrying the aforementioned American Express cards—will also lose access.
Some SkyTeam partners offer Delta Sky Club access for their high-level customers, so you may also be able to get in by accumulating status or flying in premium-level classes with LATAM, Virgin Atlantic, or WestJet.
If you meet the qualifications, spending time in a Delta Sky Club is definitely worth it, even if you're only limited to a certain number of visits per year—the amenities really are that good.
Credit Card Lounges
In recent years, credit card providers have created their own luxury lounges, meant exclusively for their premium-level cardholders to enjoy pre-flight.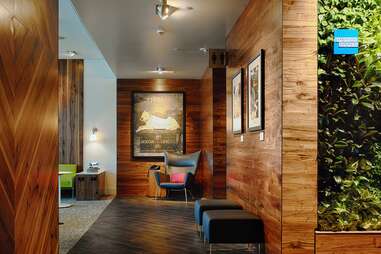 American Express Centurion Lounge
With more than 40 locations around the world, you'll find 13 Centurion Lounges in the US in Charlotte (CLT), Dallas (DFW), Denver (DEN), Houston (IAH), Las Vegas (LAS), Los Angeles (LAX), Miami (MIA), New York (LGA and JFK), Philadelphia (PHL), Phoenix (PHX), San Francisco (SFO), and Seattle (SEA). Three more will open in Washington, DC (DCA), Atlanta (ATL), and Newark (EWR) in 2023, 2024, and beyond. Eligible cardholders can also enter Escape Lounges and the rest of the Global Lounge Collection, extending access to more than 1,400 sites worldwide.
Centurion Lounges are reserved for those with certain American Express credit cards: the Platinum Card, Business Platinum Card, Centurion Card, Corporate Platinum Card, Delta SkyMiles Reserve Card, or Delta SkyMiles Reserve Business Card. If you have the Platinum Card or the Business Platinum Card, you can earn complimentary access for up to two guests per visit after spending at least $75,000 with your card within a year. Otherwise, it costs $50 per guest ($30 for children ages 2–17; kids under two get in free). It is not possible to purchase a day pass for these lounges.
Centurion Lounges offer a ton of fancy perks, including signature cocktails, curated wine lists, meals created by award-winning chefs, and amenities such as spa treatments and high-speed Wi-Fi. For eligible cardholders, complimentary entry to this oasis of an airport lounge is definitely worth it.
Capital One Lounge
With two locations in Dallas (DFW) and Washington, DC (IAD), and a third opening in Denver (DEN) in late 2023, Capital One Lounges offer amenities such as a coffee and espresso bar, handcrafted cocktails, chef-curated meals and to-go options made with local ingredients, not to mention artfully designed family-friendly spaces. Some locations even have yoga or cycling facilities and shower suites in case you need to work off some pre-flight anxiety.
All travelers are welcome to pay the $65 entry fee, though those with Capital One's Venture X and Venture X Business cards get in free with up to two guests (extra guests cost $45 each). If you have the Capital One Venture or Spark Miles cards, you'll score two free visits per year—to Capital One Lounges and partner Plaza Premium Lounges—and can pay $45 for additional entries. Note that Capital One Venture X and Venture X Business cardholders also get complimentary access to Priority Pass and Plaza Premium Lounge locations.
If you have one of the qualifying credit cards and are passing through one of those airports, it's worth checking out this lounge. Otherwise, unless you have a particularly long layover, it's largely skippable, especially for a $65 day pass.
Chase Sapphire Lounge by The Club
The latest credit card lounge network to come onto the scene, Chase Sapphire Lounge by The Club locations are currently in Boston (BOS) and Hong Kong (HKG), while additional outposts are coming soon to Las Vegas (LAS), New York (LGA), Philadelphia (PHL), Phoenix (PHX), and San Diego (SAN). You'll also find a Sapphire Terrace lounge experience in Austin (AUS).
To get in, you'll need to have either the Chase Sapphire Reserve Credit Card, J.P. Morgan Reserve Credit Card, or the Ritz-Carlton Credit Card, and be registered with Priority Pass, which comes as a perk of each of those cards. Depending on which card you have, you'll be able to bring up to two guests in for free (extras cost $27 each), or for those with the Ritz-Carlton card, bring in an unlimited number of guests. If you have a Priority Pass account through another credit card, you'll be limited to one visit to one lounge per year, with additional entries and guest access available for $75 per visit. Otherwise, day passes are based on availability and cost $100 per person.
If you have one of the eligible credit cards and are flying out of Boston or Hong Kong, definitely take a peek, as the amenities are quite posh—think bar and dining service, wellness areas, family rooms, showers, and a large outdoor terrace, depending on the location. If not, it isn't worth spending $100 for a day pass unless you've got a ton of time to kill before your flight.
Other Paid Lounge Memberships
Instead of honing in on certain brands, paid lounge passes offer access to a smattering of lounges around the world. Several credit cards offer free membership to Priority Pass, LoungeKey (an exclusive perk from select premium providers), or other similar products, so it's worth it to check your preferred card's included benefits first. If you don't travel often and have no loyalty toward a certain airline or credit card but still want to enjoy the perks of being in a lounge, any of the following could be a worthy investment.
Priority Pass
If your preferred credit card doesn't already offer a complimentary Priority Pass membership, you'll need to pay an annual fee. The $99 rate means you'll pay $35 each time you enter a lounge, while the $329 rate throws in 10 free visits for members, and the $469 rate covers all member entries (at each level, guests must still pay $35 to enter). Either way, you'll score access to more than 1,400 airport lounges in over 148 countries, plus the ability to book your spot ahead of time via the app.
Dragon Pass
Operating in a similar way, Dragon Pass offers access to lounges in over 1,300 airports worldwide, plus discounts at more than 1,000 airport restaurants. Annual fees range from $99 (with one free visit), $259 (with eight free visits), and $429 (with unlimited visits for members). All guests must pay $35 to enter.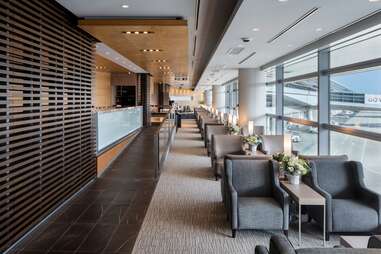 Plaza Premium Lounge
While membership may be included with certain credit cards, you could opt to pay for access to Plaza Premium Lounges, where all travelers are welcome no matter which class or airline they're flying. Rates vary by location; these lounges are also partners with Dragon Pass and accessible to those with certain Capital One credit cards.
Third-Party Reservation Services
Alternatively, it may be worth purchasing lounge access through third-party lounge reservation services like LoungeBuddy or Lounge Pass if you're usually an economy passenger or don't fly too often. Simply choose your departure airport, view the available lounges and their day pass rates (or any relevant status or ticket requirements), and make your purchase online.
Bottom Line
If you travel a lot for work, are a digital nomad who constantly requires Wi-Fi, or just want a relaxing spot to chill, imbibe, or load up on some snacks before a flight, securing airport lounge access is a no-brainer.
Depending on your preferred credit card, airline, or other factors like the level of status you carry with a certain carrier, you may prefer to stick with a particular brand. Or, if you're simply seeking time away from the crowds, you might rather pay for a one-time day pass. It really comes down to how much the perks of being in the lounge mean to you, or if you'd rather kill a few hours in an airport waiting in line for food, drinks, the restroom, and even the chance to sit down. Sometimes, even spending just a little time away from the masses can be worth it for some peace of mind.