Trend alert! After a nearly 70yr hiatus, during which things like jetliners, jetboats, and jet-Segways (if that's not a thing, it should be) rose to prominence as means of transport, Zeppelins have totally become cool again. Thanks to Airship Paris, you can board one to do some super-slow-motion-flying over France.
Recommended Video
This Doggie Pup-Up Is Heaven on Earth!
That's a Zeppelin. Back in the day before airliners were really a viable means of transport, the hydrogen-filled rigid airships were the hilt of luxe travel.
... That is, until the Hindenburg disaster put a sliiiight damper on the idea of attaching yourself to the bottom of what is basically a massive bomb.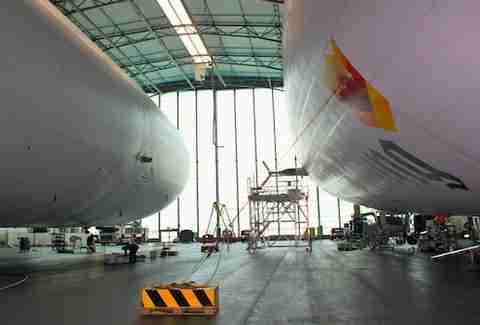 After a pretty lengthy and probably well-deserved hiatus, the company that made the original Zeppelins has started making the dirigibles again, only instead of that peskily lethal hydrogen, they now use epically safer helium, which is only ever used to blow up balloons. So, yeah, that's where Airship Paris scores its Zeppelins.
So when they say "rigid airship", this is what they mean... what looks like a balloon on the outside is actually supported by a very complex internal framework.
Airship Paris's Zeppelins, although not dissimilar in overall-size from the originals, have vastly smaller cabins/ cockpits.
The actual cockpit's not dissimilar in form and function from a plane's.
Like we said, at only 12 total seats, the cabin's pretty small. Interestingly, however, it opens right up to the cockpit, meaning that just by sitting there you'll be about as useful as the lazy bum co-pilot.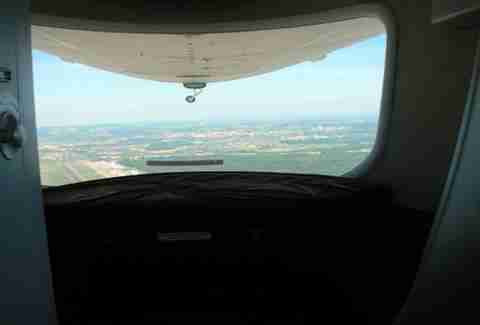 There's even an on-board lavatory, which they should definitely list in their brochure under "A Poo With a View".
Speaking of views, Airship Paris currently offers four different flight loops -- including Château de Chantilly and Valley of the Impressionist Painters -- that range from 30min to 1.5hrs.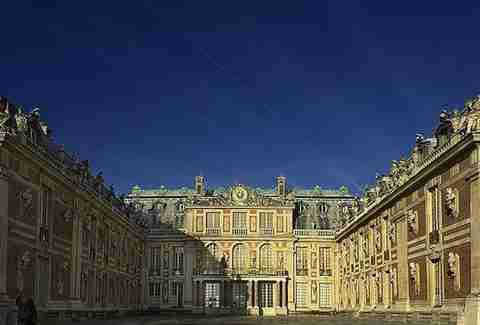 The speedier 1.5hr loop centers on the Palace of Versailles and follows the "royal road" from Monte Cristo to the Roi Soleil. Way to take advantage of the open skies there, Airship Paris.
Clocking in at an hour, the flight to La Roche-Guyon Castle peeps on all sorts of castles and mansions via some path along the Seine, which you'll totally see because you fly super-low when you're in a Zeppelin.
Should you not want to commit to an hour-plus of Zeppelin-ing, they've also got a 30min option that just flies over Paris to some nearby castles like Vigny, a centuries-old castle where, trend alert!, Rihanna recently filmed, so -- like Zeppelins -- it's totally a thing again.